Sustainable Investment Council
Leading our sustainable investing journey
Pursuing performance while making a difference doesn't just happen. It takes commitment. The Sustainable Investment Council advances our efforts to expand our expertise and create sustainable solutions that meet clients' needs. With a dedicated chair and members who champion environmental, sustainable and governance (ESG) integration, the Council brings structure and consistency as we address this ever-evolving area and continue raising the bar for ourselves. Ultimately, the goal is to help clients succeed as they invest for good.
The Sustainable Investment Council provides direction and rigor for the future.
The Beginning

Our journey started with a commitment to deliver results while benefiting our world.

The Evolution

It continued with growing our sustainable, impact and ESG investing capabilities.

The Progress

Now offering integrated, focused and impact solutions.

The Future

The Council now leads the way in evolving our sustainable investing efforts further.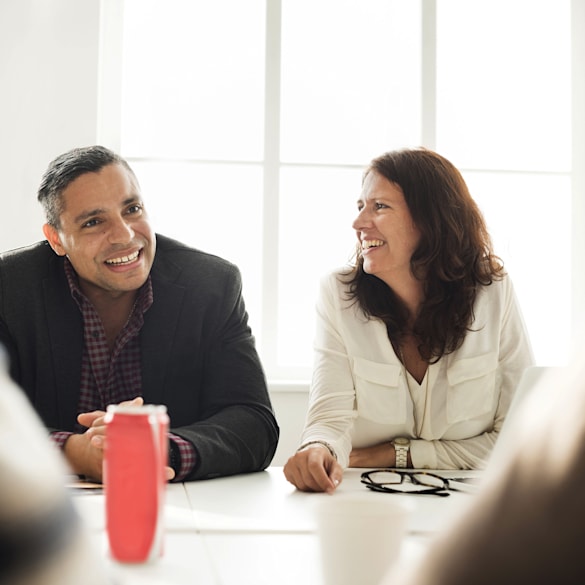 The Purpose: Results That Make a Difference
The Council focuses outward to hear what clients need and want in sustainable solutions; and inward to advance our knowledge, align processes and move us forward in helping make the world better.

Advancing Client Solutions
Portfolio manager members connect with clients to better understand their needs. Hearing the voice of the client helps us focus on what they want to achieve.

Furthering Sustainable Efforts
The Council stays on top of best practices and leads the charge in implementing them. This helps ensure our teams and processes are in lockstep with our sustainable investing efforts.

Expanding Our Expertise
Collaborating with our ESG team is an important piece of the puzzle. The two groups work on training, accountability and research topics to help expand talent throughout our investing teams.

The Future
Over time, the Council looks to continue the steady expansion of our ESG knowledge and resources, develop proprietary research and scoring systems, and further enhance overall product integration.
Meet the Council
Chairperson
Patricia Ribeiro is an ESG and impact investing leader who brings expertise and authenticity to our investing practices. As Council chair, she leads a select group of portfolio managers who represent all the firm's investment disciplines. She joined American Century Investments in 2006 and has nearly 30 years of investment experience. As senior portfolio manager, she leads a seven-member team overseeing both ESG-integrated and impact strategies focused on emerging markets. Ribeiro is a member of American Century Investments' Diversity, Equity and Inclusion committee.
Council Members
Council members include portfolio managers who represent our investment disciplines and advocate ESG integration efforts across their teams as shown below:
ESG & Sustainability:
Sarah Bratton Hughes, SVP, Head of ESG & Sustainable Investing
Global Growth–Global Non-US:
Raj Gandhi, CFA, VP & Sr. Portfolio Manager
Global Growth–US:
Rob Brookby, VP & Sr. Portfolio Manager 
Michael Li, Ph.D., VP & Sr. Portfolio Manager 
Joe Reiland, CFA, VP & Sr. Portfolio Manager
Global Value:
Al Polit, CFA, VP & Sr. Portfolio Manager 
Steve Rodriguez, VP & Sr. Portfolio Manager 
Brian Woglom, CFA, VP & Sr. Portfolio Manager
Global Fixed Income:
Jason Greenblath, VP & Sr. Portfolio Manager
Disciplined Equity:
Steve Rossi, CFA, FRM, Portfolio Manager
Multi-Asset Strategies:
Brian Garbe, VP & Sr. Portfolio Manager
Many of American Century's investment strategies are subject to the incorporation of ESG factors into the investment process employed by each strategy's portfolio managers.
When portfolio managers incorporate Environmental, Social and Governance (ESG) factors into an investment strategy, they consider those issues in conjunction with traditional financial analysis. When selecting investments, portfolio managers incorporate ESG factors into the portfolio's existing asset class, time horizon, and objectives. Therefore, ESG factors may limit the investment opportunities available, and the portfolio may perform differently than those that do not incorporate ESG factors. Portfolio managers have ultimate discretion in how ESG issues may impact a portfolio's holdings, and depending on their analysis, investment decisions may not be affected by ESG factors.
This material has been prepared for educational purposes only. It is not intended to provide, and should not be relied upon for, investment, accounting, legal or tax advice.