Tesla Case Study: What Does a Growth Stock Look Like?

We view Tesla as an early-stage growth stock. The company produces a product with many advantages over its electric and combustion engine competitors, and we believe it could be positioned for growth well into the future.
Tesla's growth potential is consistent with our growth investment process, which aims to find companies early in their life cycles. We think investing in early-stage companies provides an opportunity for investors to capture higher growth—and sustain it longer.
While others may focus on short-term results and quarter-to-quarter fluctuations in earnings, we think it's best to play the long game. Identifying above-average growers early in their lifecycles provides an opportunity to compound that growth overtime.
Tesla's Growth Advantages
We believe these key points capture Tesla's competitive position:
Quality.

 The company designs and manufactures higher-quality electric vehicles relative to traditional automakers who may retrofit existing designs and manufacturing processes for electric vehicles. Additionally, its innovation, safety record, performance and vehicle life may also provide advantages over combustion-engine vehicle makers.


Distribution.

 Tesla has built a direct-to-consumer business model. Its distribution model has had historically higher profitability because it builds each vehicle to order and offers its products through company-owned showrooms. Traditional auto manufacturers, in contrast, must build inventory and have higher overhead.


Selective focus.

 The company selectively enters segments of the vehicle market it believes are more attractive (e.g., SUVs, pickup trucks).


Technology.

 Its advanced battery engineering and chip technologies may provide competitive advantages over those of other electric vehicle manufacturers.


Data.

 The company enjoys an edge over competitors in terms of its massive amount of self-driving data and number of autonomous miles driven.


Growth outlook.

 Tesla's potential for sustained growth comes from market share opportunities (it delivers around 500,000 vehicles in an 80-million-vehicles-per-year global market), new products (semi-tractor and pickup trucks) and energy business opportunities.
Behind the Scenes
Many people see Tesla as an automotive manufacturer only. But we think it's more appropriate to view it as a technology company. Consider the other parts of the business: home energy, solar, power grid and Gigafactory (its giant battery manufacturing operation). It's also helping to transform  manufacturing processes through automation and robotics.
If Tesla succeeds in producing self-driving vehicles, it will transform personal and commercial driving and enable robotaxi services. While we don't value the company on these potential future businesses, we focus on its innovation and potential transformation of travel.
Some short investors (those who sell stocks and buy them back later at a lower price) and skeptics seize on short-term headlines to justify their negative views of Tesla. We think that makes the stock a good example of why it is important to focus instead on long-term growth and innovation rather than current news in isolation.
Consider Tesla's sharp selloff in early September 2020 when the stock price declined by a third in a matter of weeks. After finishing August at a record high, the stock was vulnerable to profit-taking (as investors were tempted to sell and realize gains).
One reason for the selloff was news that General Motors took a stake in electric vehicle startup Nikola. And while it's true that GM could help Nikola's vehicle production capacity, we don't see that either of these firms has significant battery production capabilities. And we believe this could be a differentiator and advantage for Tesla over time.
But the Naysayers …
The company's critics point to data that show Tesla owners have historically reported more reliability issues than owners of other vehicle brands, primarily relating to paint and body work rather than mechanical issues. Tesla has addressed these issues and refined its production process over the course of each model run to improve vehicle reliability. We should also point out that Tesla's vehicles enjoy a longer life and performance advantages compared with vehicles powered by traditional combustion engines.
Some have also criticized the safety of Tesla's Autopilot self-driving system. The company may be a victim of its own success—crashes are so rare that each one garners headlines. Tesla's data show one crash per 4.5 million Tesla Autopilot miles driven, versus one crash per 450,000 miles in conventional vehicles.
People have also complained that the cars are too expensive. It's true that early models had luxury vehicle prices, but as the company ramped up production and improved manufacturing processes, it brought down costs and shared those savings with consumers. Tesla is now producing a sedan and SUV at prices comparable with mid-level peers.
Playing the Long Game
In December, Tesla was added to the S&P 500® Index, which includes the 500 largest publicly traded U.S. companies. Its inclusion recognized its profitability, maturity as a company and position in a growing market.
The news of Tesla's place in the S&P 500 had a swift effect: Its stock price increased dramatically. Passive, index-based funds—in this case, those that follow the S&P 500—were forced buyers of the stock, leading to a surge in demand for Tesla shares. (Index-based funds invest in the same list of companies included in a specific index.)
Of course, past performance cannot guarantee future results. But it does pay to look at Tesla's stock chart and see the sharp volatility there. We think that's a good representation of what a short-term focus on financial results can do.

A Look at Tesla's Long-term (but Volatile) Stock Price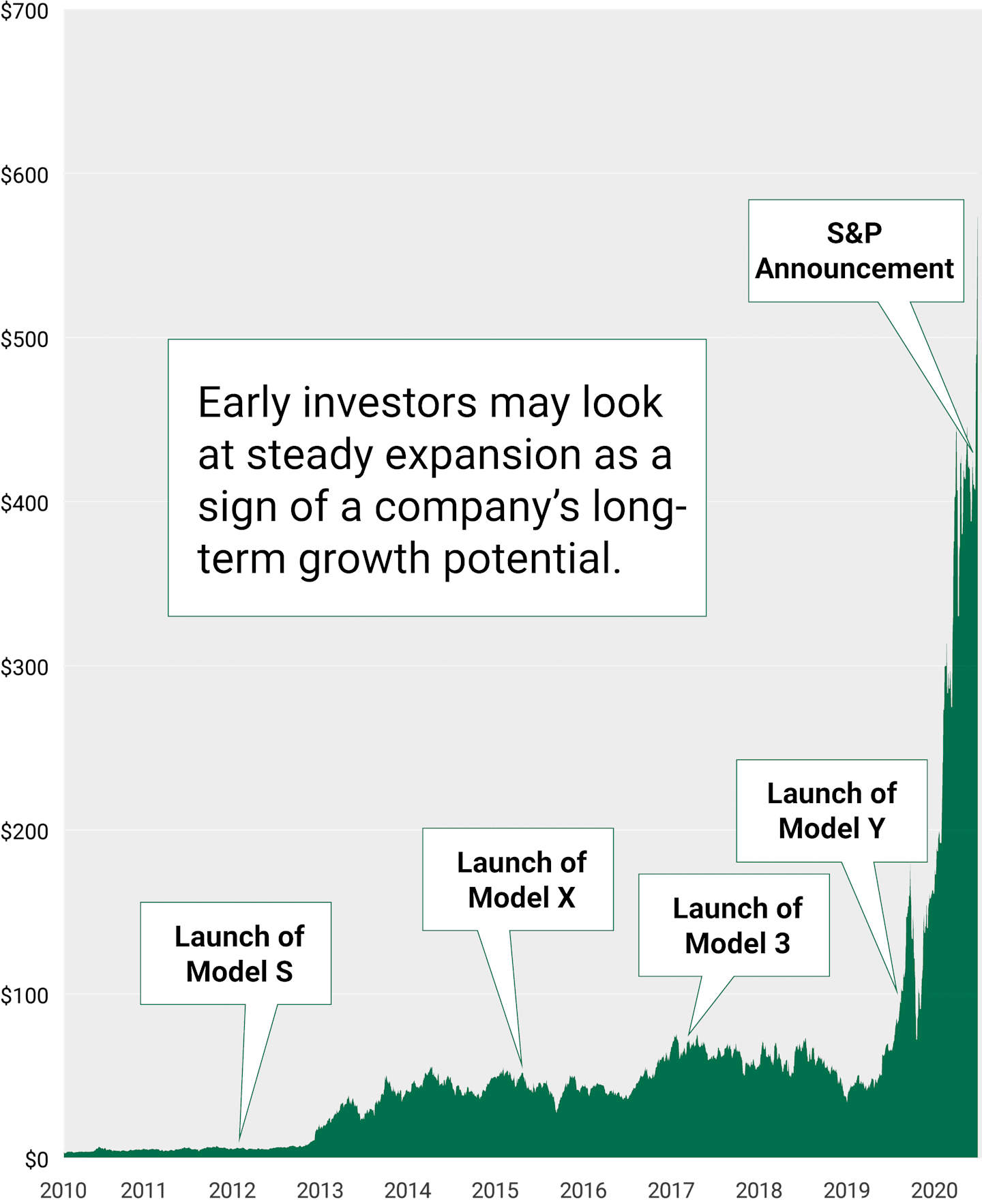 Data from 6/30/2010 – 11/30/2020. Source: FactSet. References to specific securities are for illustrative purposes only, and are not intended as recommendations to purchase or sell securities. Opinions and estimates offered constitute our judgment and, along with other portfolio data, are subject to change without notice. Past performance is no guarantee of future results.

Rather than view headlines or developments in isolation, we think it's important to evaluate Tesla and similar early-stage growth stocks in the context of their lifecycle. The stock may well be just as volatile going forward as it has been in the past. But ultimately, we believe Tesla remains attractive—to the extent it retains its competitive position and technological edge over time. 
And while we don't provide recommendations to buy or sell specific stocks, this research is representative of the in-depth, fundamental analysis we go through to evaluate potential investments for our growth portfolios.
Source: Tesla Q2 2020 Update, July 22, 2020.
Diversification does not assure a profit nor does it protect against loss of principal.
The opinions expressed are those of American Century Investments (or the portfolio manager) and are no guarantee of the future performance of any American Century Investments' portfolio. This material has been prepared for educational purposes only. It is not intended to provide, and should not be relied upon for, investment, accounting, legal or tax advice.
References to specific securities are for illustrative purposes only, and are not intended as recommendations to purchase or sell securities. Opinions and estimates offered constitute our judgment and, along with other portfolio data, are subject to change without notice.