Earnings Watch: Profits Matter as Volatility Rises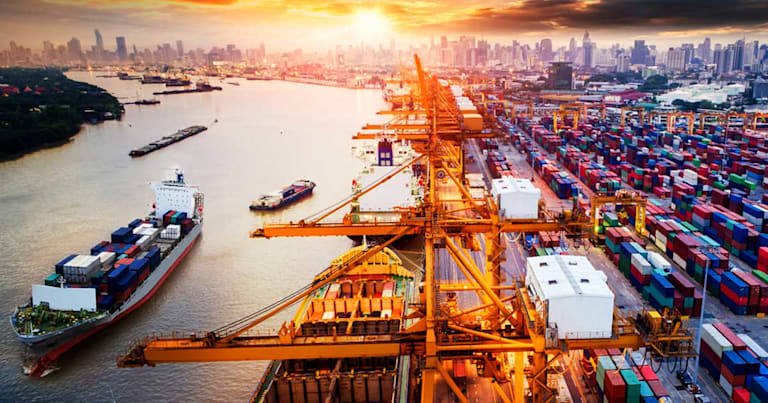 The impact of inflation and supply chain disruptions varies from company to company. Even within sectors, we see significant differences in how effectively companies manage their logistics and whether they can pass rising costs to their customers.
Efficiency and shifting customer preferences are emerging themes. Corporate management teams are turning to technology to improve productivity while consumers appear ready to spend on travel and other experiences.
Profit growth is set to slow. After four quarters of strong growth, analysts project that year-over-year earnings growth will slow to more normal levels in 2022.
Profit Growth Strong, but Decelerating
Global earnings growth remained robust as 2021 wound down. Europe led the way, posting 55% profit growth in the fourth quarter, outpacing the U.S. for the second quarter in a row. Still, the U.S. maintained a streak of four consecutive quarters of earnings growth of 30% or greater.¹
As expected, earnings growth showed signs of decelerating. Companies faced tough comparisons to unusually high growth rates over the last year, and the share of businesses beating analysts' expectations declined. Still, the percentage of developed markets companies beating estimates was in line with the five-year average while emerging markets lagged.
Individual Results Matter Even as Macro Factors Batter the Market
Worries about inflation, central bank policy and geopolitical tensions have weighed on stock prices and accelerated ongoing multiple compression during the first quarter. Selling pressure has been indiscriminate at times, with the market punishing companies regardless of their fundamental qualities.
Though the environment remains unsettled, we're seeing indications that investors are taking notice of earnings. Many companies reporting solid results with positive outlooks have withstood the volatility better than some of their weaker counterparts. Examples include Disney, Alphabet and American Express in the U.S., and non-U.S. companies such as Atlassian, Burberry, Recruit Holdings and Mercedes-Benz.²
Inflation and Supply Chain Impacts Are Company Specific
A clear takeaway from the recently completed reporting season is that we should not draw top-down conclusions about how companies are managing higher input costs and supply chain disruptions. Even within sectors, we've seen a wide range of results. Some businesses missed revenue targets because of supply problems or the inability to pass through higher costs. In contrast, others beat sales and earnings targets by wide margins because they raised prices without dampening demand. 
This scenario played out among semiconductor-related businesses. ASML, a global semiconductor capital equipment supplier, reported strong order growth and a healthy pipeline but missed revenue expectations due to logistics and supply chain problems. Contrast this with Taiwan Semiconductor Manufacturing (TSM), the largest global contract chipmaker and an ASML customer. TSM reported better-than-expected revenue with higher gross margins and raised its 2022 outlook based on strong demand. 
We see another example of company specifics making a difference when comparing the results of Hong Kong-based power tool company Techtronic with U.S.-based Stanley Black and Decker and Japan-based Makita. Stanley Black and Decker and Makita missed targets and guided estimates lower due to supply chain woes and the inability to raise prices fast enough to cover escalating costs. On the other hand, Techtronic, maker of the Ryobi and Milwaukee brands, has done a much better job managing its supply chain and is on track to meet analysts' expectations.
Management Comment on Supply Chain Disruptions:
Inflation Concerns Put the Corporate Spending Focus on Efficiency
With inflation at 40-year highs, it's hardly surprising that the cost of doing business is top of mind for virtually every management team. As shown in Figure 1, 73% of S&P 500 companies mentioned inflation when reporting fourth-quarter results.
Figure 1 | Inflation Mentions in Earnings Calls Hit a New Five-Year High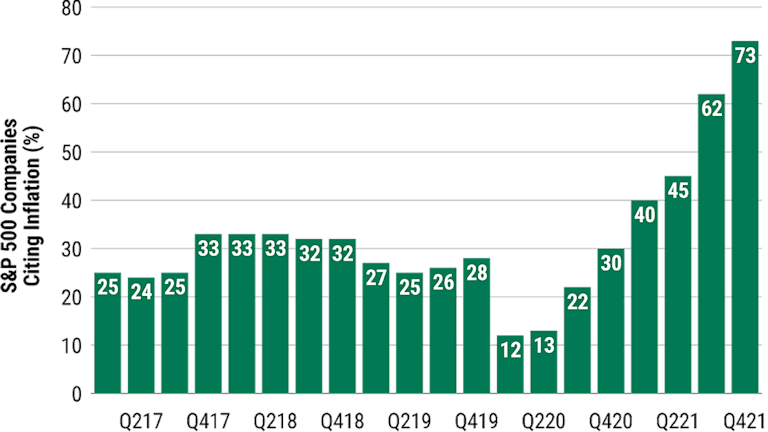 Data as of 2/14/2022. Source: FactSet.

Cost consciousness has spurred a shift in capital spending with a renewed focus on technology to improve efficiency and productivity. Upgrades include automation and technology solutions such as digitization, cyber security and cloud migration.
The attention to efficiency creates opportunities for companies such as France-based IT services company Capgemini. The firm reported better-than-expected results and strong demand. Similarly, Australia-based Atlassian experienced accelerating growth in its cloud business and beat revenue and earnings expectations.
Corporate spending on factory automation and robotic tools also has been strong. Beneficiaries include Japan-based Keyence, which reported strong earnings growth and improving margins despite rising costs. Fanuc, another Japan-based provider, beat estimates and raised guidance on the strength of healthy order growth. 
Management Comment on Efficiency:
Consumer Preferences Turning to Experiences Over Goods
With the pandemic showing signs of easing, many businesses believe consumers are ready to shift their spending to services and experiences. As shown in Figure 2, unusually high outlays on goods pushed overall consumer spending back to normal levels last year while there's still room to grow for services spending. 
Figure 2 | Consumer Spending is Back to Normal but There is Room for Services Spending to Grow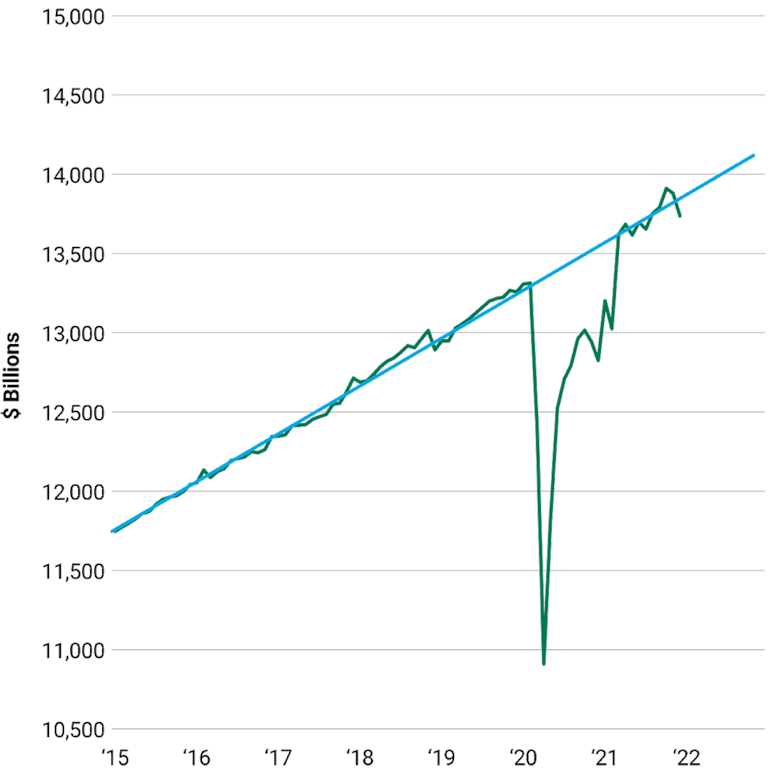 Real Consumer Spending: Goods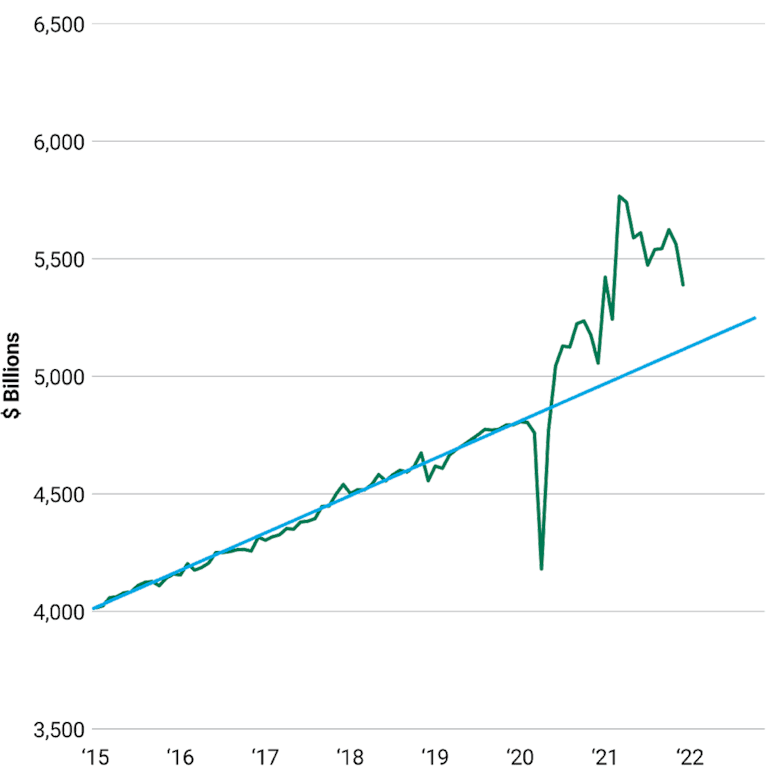 Real Consumer Spending: Services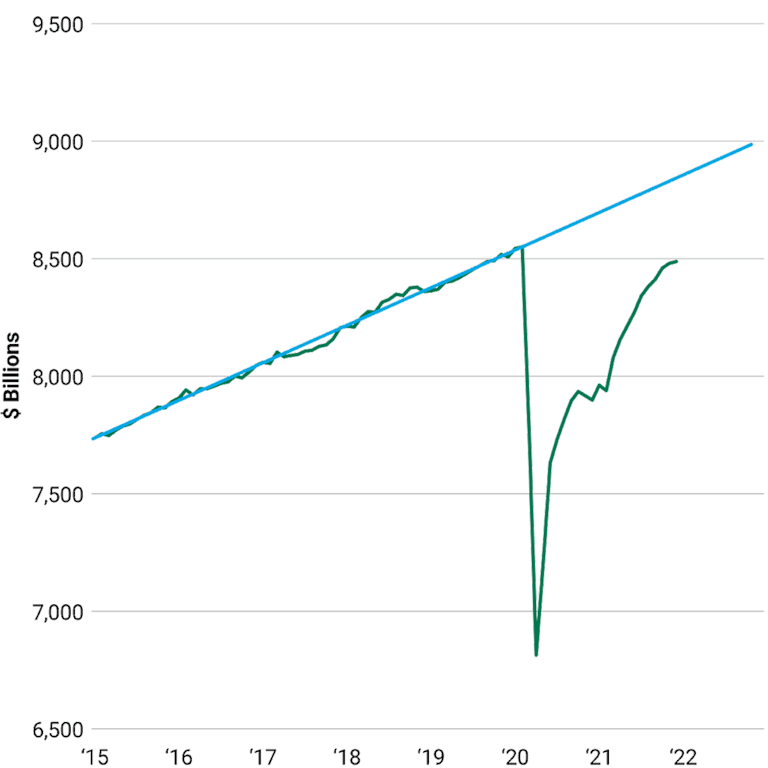 Data as of 12/1/2021. Source: U.S. Bureau of Economic Analysis. 

After several quarters of volatility due to spikes in COVID cases throughout 2021, company management teams are optimistic about consumer spending on experiences such as travel. This includes hotel companies Marriott in the U.S. and Whitbread in the U.K., which cited improved booking and occupancy trends.
Meanwhile, European low-cost airline Ryanair is still reporting losses but credited meaningful reopening progress in Europe with increased bookings trends. The company's summer 2022 bookings are just 20% shy of 2019 levels and improving weekly. In a similar vein, credit card company American Express reported that its travel bookings during the first two weeks of January 2022 were up 40% compared to January 2019.
Continued strength in luxury goods spending also is noteworthy. These purchases tend to be more of an indulgence than a necessity, so they indicate changing consumer preferences. Most of the top luxury goods companies are based in Europe, including LVMH, Hermes, Brunello Cucinelli and Burberry. All reported upside surprises with upbeat guidance for 2022. 
Management Comment on the Rebound in Travel Demand:
Earnings Growth to Slow
After four quarters of solid profit growth following pandemic lows in the U.S., analysts expect a slower pace in the first quarter of 2022. The current estimate is for 5.2% earnings growth for S&P 500 companies, revised from 6% before earnings season began.³
From a sector perspective, we expect the significantly higher oil prices will spur strong profit growth for energy companies. Forecasters also project 25% or more growth for cyclical sectors such as industrials and materials. Conversely, analysts expect communication services, consumer discretionary and financials to have negative year-over-year earnings growth in the first quarter.
Outside the U.S., analysts expect earnings to decelerate but remain strong. The current estimate is for the Stoxx 600 to outpace the U.S. with 11% earnings growth in the first quarter.⁴ Calendar year EPS had been revised lower coming into the quarter but improved as companies reporting season progressed. As in the U.S., analysts expect energy companies to post strong results along with capital goods, pharmaceutical and insurance companies.
Earnings Expectations Continue to Point to Investors Being Selective
With volatility rising in an uncertain environment and profit growth slowing to a more normal pace, we believe earnings will be a primary driver of stock prices. Historically, periods of multiple contraction have followed stretches of multiple expansion. This is shown in the blue-shaded areas of Figure 3. We are now experiencing multiple contractions and believe these conditions could lead to a higher dispersion of returns, creating a favorable environment for bottom-up fundamentals and security selection.
Figure 3 | Transitioning to an Earnings-Driven Market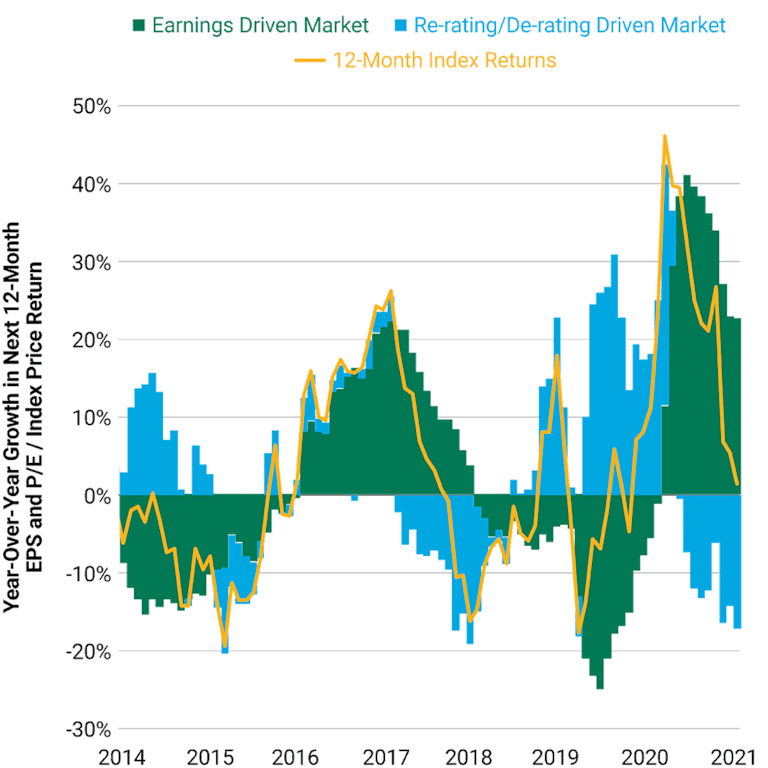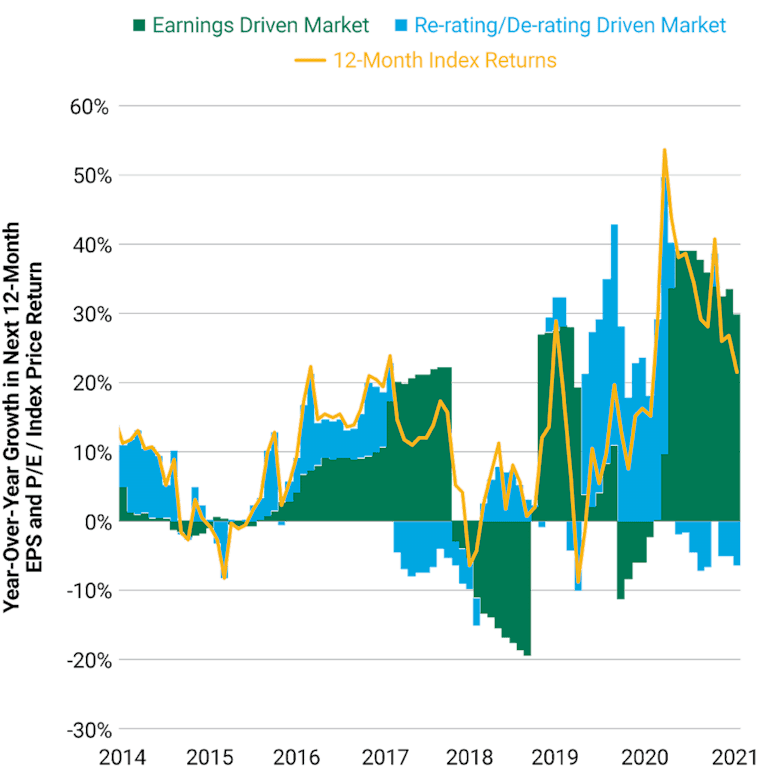 Earnings Driven Market = Year-Over-Year growth in next 12-month EPS. Re-rating/De-rating Driven Market = Year-Over-Year growth in next 12-month P/E ratio. Data from 12/31/2014 – 1/31/2022. Source: FactSet.
We expect supply chain and cost challenges to continue to test corporate management teams in the quarters ahead. And, as we saw this quarter, the results will be inconsistent within sectors and industries. We believe this backdrop points to the importance of security selection.
Source: I/B/E/S data from Refinitiv.
Source: Bloomberg, based on year-to-date performance as of 2/22/2022.
Past performance is no guarantee of future results. Investment returns will fluctuate and it is possible to lose money.
The opinions expressed are those of American Century Investments (or the portfolio manager) and are no guarantee of the future performance of any American Century Investments' portfolio. This material has been prepared for educational purposes only. It is not intended to provide, and should not be relied upon for, investment, accounting, legal or tax advice.
This material has been prepared for educational purposes only. It is not intended to provide, and should not be relied upon for, investment, accounting, legal or tax advice.
No offer of any security is made hereby. This material is provided for informational purposes only and does not constitute a recommendation of any investment strategy or product described herein. This material is directed to professional/institutional clients only and should not be relied upon by retail investors or the public. The content of this document has not been reviewed by any regulatory authority.