Opportunities in Global Small Caps, Despite Early 2022 Volatility
By
Trevor Gurwich,
Jim Shore, CFA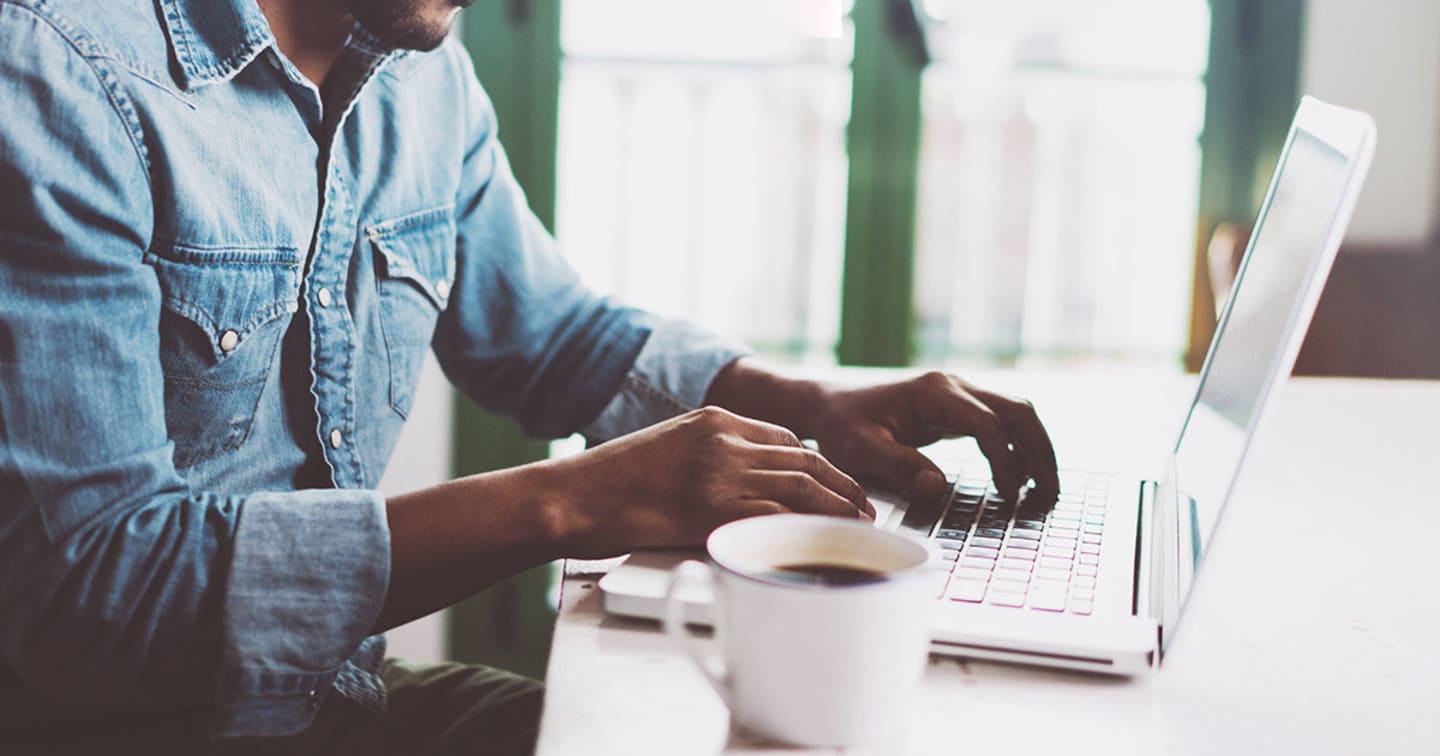 After strong economic growth in 2021, the early part of 2022 has been choppy. The rotation out of growth stocks, inflation fears and uncertainty around geopolitical events fuel the volatility.
As the Russia-Ukraine war continues, investors are increasingly concerned about its effects on inflation, energy and commodity prices, and global growth. Despite this uncertainty, we are considering investment opportunities we believe may better withstand the impacts of a prolonged conflict.
We believe market volatility will persist but think it will create certain small-cap investment opportunities across an array of sectors.
Recent Volatility Represents a Dramatic Shift in Market Dynamics
Last year, we saw a solid recovery as the pandemic moderated. The story has been different so far in 2022. We've experienced a significant rotation out of the growth-oriented investments in favor of value.
In our view, fundamentals have taken a back seat to factor rotation amid this severe shift in investor sentiment. As a result, the share prices of some companies with solid growth prospects have suffered. Though painful in the near term, we believe these conditions have created attractive opportunities.
Investors Lead the Rotation Out of Growth
We saw the sharpest monthly outperformance of value over growth in more than 10 years in January. This is reflected in the green bar farthest to the right in Figure 1.
And in Figure 2, we show the extreme dispersion in factor performance with momentum and growth substantially lagging value year-to-date as of March 31, 2022.
Figure 1 | Value Outpaced Growth in Early 2022...
MSCI ACWI Small Cap Growth Less MSCI ACWI Small Cap Value – One-Month Returns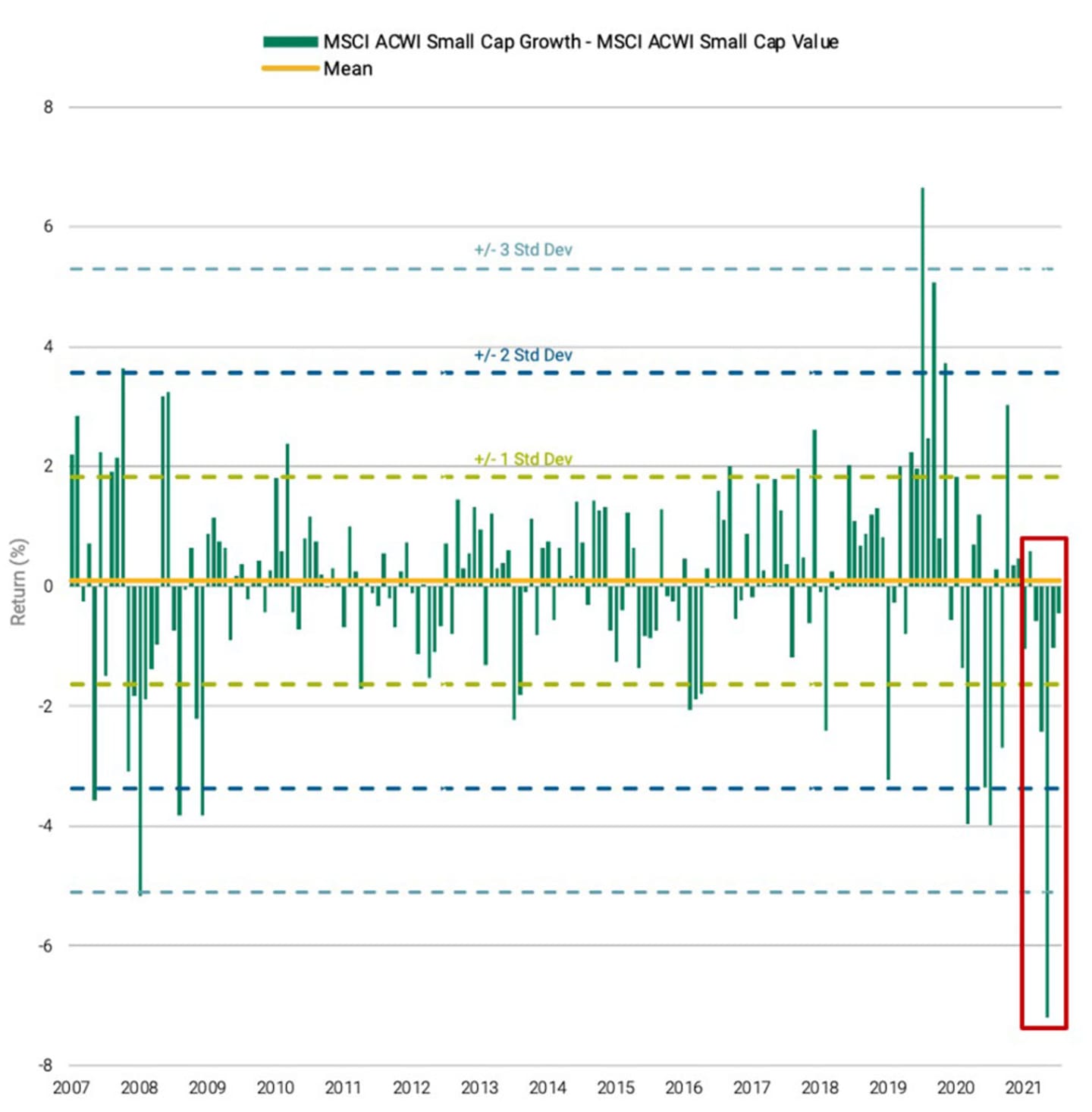 Data from 7/1/2007 – 3/31/2022. Source: FactSet.
Figure 2 | ...and Led Other Factors as Well
MSCI ACWI Small Cap Factor Performance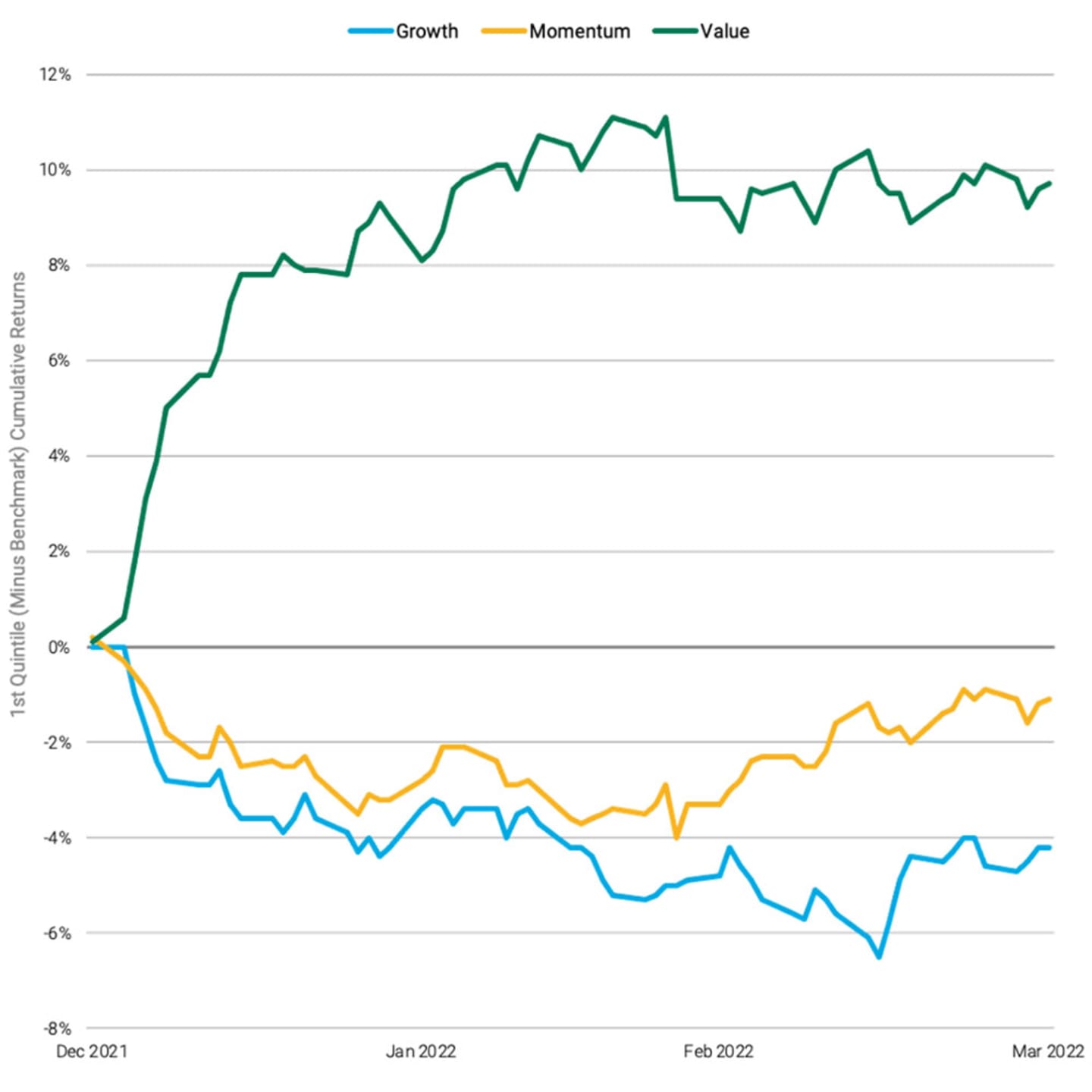 Data from 12/31/2021 – 3/31/2022. Source: MSCI.
Russia/Ukraine War Has Added to Investor Concerns
Volatility continued as the Russian/Ukraine crisis weighed heavily on investors already concerned about inflation and the lingering effects of the pandemic on global supply chains. Sharp variations in sector performance followed the invasion. Energy was the only sector that delivered positive returns in the first quarter, supported by strong energy prices.
Figure 3 | Macroeconomic, Geopolitical Uncertainties Weigh on All Sectors ex-Energy
MSCI World Small Cap Index Sector Performance Year-to-Date – Total Returns (Net) U.S. Dollar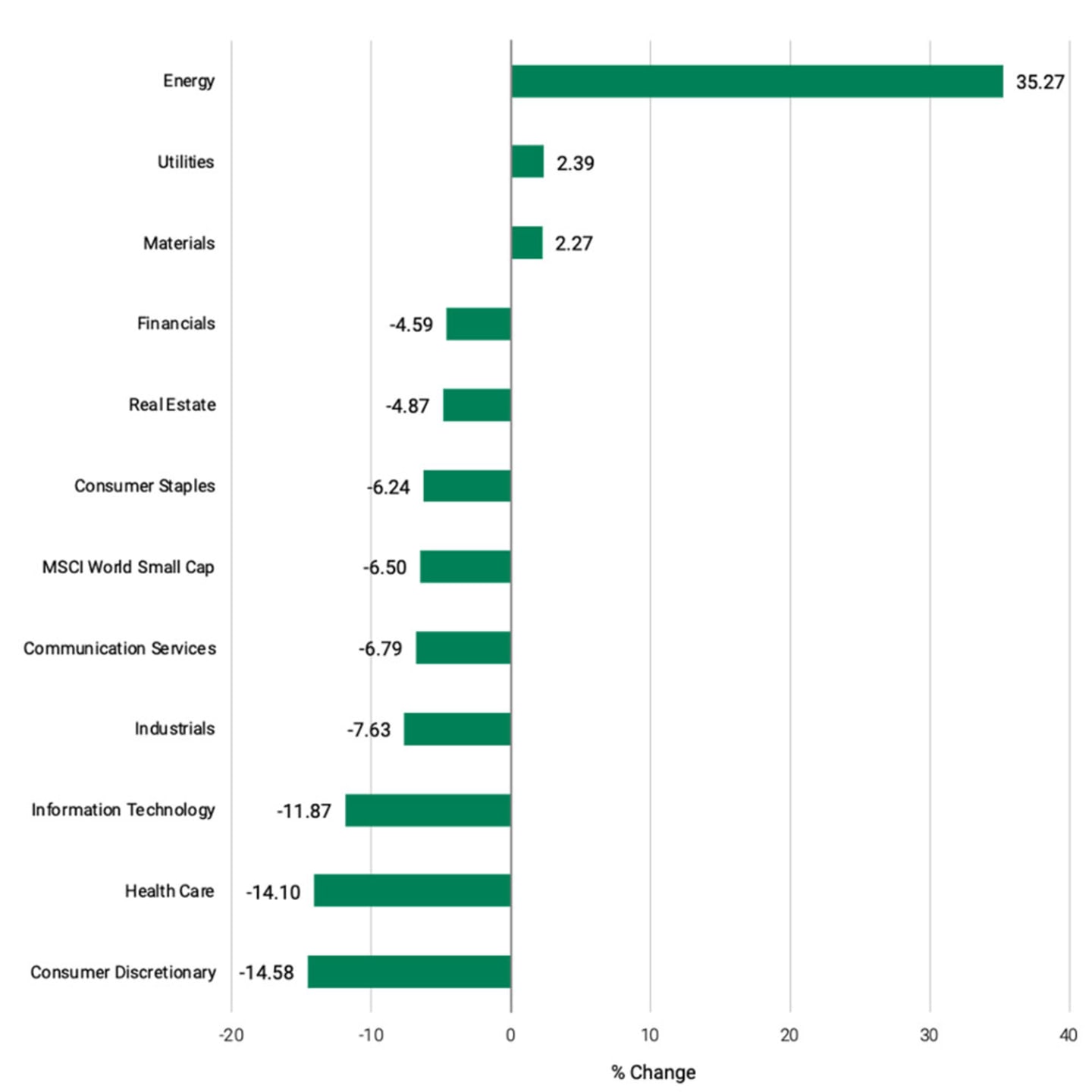 Data from 12/31/2021 – 3/31/2022. Source: FactSet.
Our Positioning and Outlook
We believe that we have broad exposure to companies whose accelerating and sustainable earnings growth makes them compelling fits for our process. Many of these firms are beneficiaries of reopening activity, rising inflation and interest rates, and strengthening commodities. We also like companies with strong secular drivers and solid defensive models. Given the high degree of uncertainty in the markets, we believe diversification is crucial.
Inflationary Pressures May Persist
We believe distribution companies, such as RS Group, which can pass through price increases, may continue to offer inflation protection. Inflation can also be a positive driver of earnings growth for companies with pricing power, such as residential and commercial warehousing property REITs. Examples include Tricon Residential REIT in Canada and Tritax Big Box REIT in the U.K. Tricon, a REIT focused on single-family home rentals, complements our investment process as well. We have also increased exposure to financials and real estate companies we believe may benefit from rising interest rates and inflation.
Russia/Ukraine Crisis Is Evolving
We are considering the potential short-, medium- and long-term impacts of the war, understanding that it is a developing situation. We may see a continued risk-off environment and a setback in European consumer confidence and growth in the short term. Energy and select commodity prices could increase further.
Additionally, we could see a shift to a more cautious stance from the European Central Bank and Bank of England. We may see a return to post-omicron rebounding economic growth in the medium to long term.
Faster diversification away from Russian oil and gas is possible, along with increased spending on renewables, nuclear power and defense. A progressive weakening of the Russian economy is a possibility. But there are many moving pieces with uncertain ramifications.
Focus on Potential Investment Opportunities
While we do not have direct exposure to Russia or Ukraine, we are closely monitoring how the escalating crisis may impact individual companies. This includes companies that may be affected by high and rising energy and commodity prices, sanctions and elevated risk premiums. The team is closely monitoring both individual holdings and risk exposures at the portfolio level.
Changes to Our Portfolio Positioning
We have been reducing exposure to high-multiple, low free-cash flow, long-duration firms and select consumer discretionary companies. We are also reviewing our exposure to European companies that may be directly affected by the conflict. We have become more positive toward several commodities, including fertilizers and nickel, as Russian sanctions are likely to disrupt supplies in the near term.
Higher Energy Prices May Present Opportunities
Within utilities, we like Acciona, a Spain-based company focused on renewable energy. We believe the company is well-positioned to benefit from an acceleration of renewable projects as Europe seeks to reduce its dependence on Russian oil and gas.
We also like Aker Solutions, which provides products and services to the energy industry. It operates in these three segments:
Renewables and field development.

Electrification, maintenance and modifications.

Subsea.
We believe the company's earnings growth is supported by improving end markets. The firm is also well-positioned, in our view, as energy markets continue to transition.
Information Technology Spending Remains Robust
In addition to ongoing secular trends, companies increasingly realize the importance of hybrid business models. Investment in online commerce, security, employee identification and payment processing are helping IT investment surpass that of physical plant and equipment upgrades. We continue to have significant exposure to IT but have reduced our exposure to select semiconductor companies.
Consumer Preferences Are Shifting to Face-to-Face Experiences
As the global economy recovers, stay-at-home trends are fading in favor of a return to more normal, in-person interactions. This transition benefits many brick-and-mortar businesses and experiential companies, including travel and leisure.
Many leisure companies faced a challenging 2021 but are now seeing earnings accelerate off a low base. On the other hand, inflationary pressures and geopolitical vents have negatively affected the demand outlook for discretionary products, particularly in Europe.
Valuations and Earnings Remain Attractive for Global Small Caps
Small-cap valuations remain attractive relative to large caps. Small caps are also projected to see solid earnings growth in 2022. We believe the asset class continues to provide many attractive stock selection opportunities.
Figure 4 highlights the consensus EPS forecasts for small caps relative to large caps. Consensus EPS growth numbers will likely decrease, and we may see a more challenging earnings environment in 2022.
We expect an improving earnings growth backdrop for small caps relative to large caps in the latter part of 2022 and into 2023. However, we anticipate substantial divergence in earnings growth from a sector and regional perspective.
The sectors that drove improving earnings growth in 2021 are unlikely to do so in 2022. We could see more robust earnings growth from financials, materials and select companies benefiting from economic reopening and rising interest rates.
Figure 4 | Consensus Earnings Estimates Favor Small Caps
Projected 2023 Calendar Year EPS Growth - MSCI ACWI IMI Regions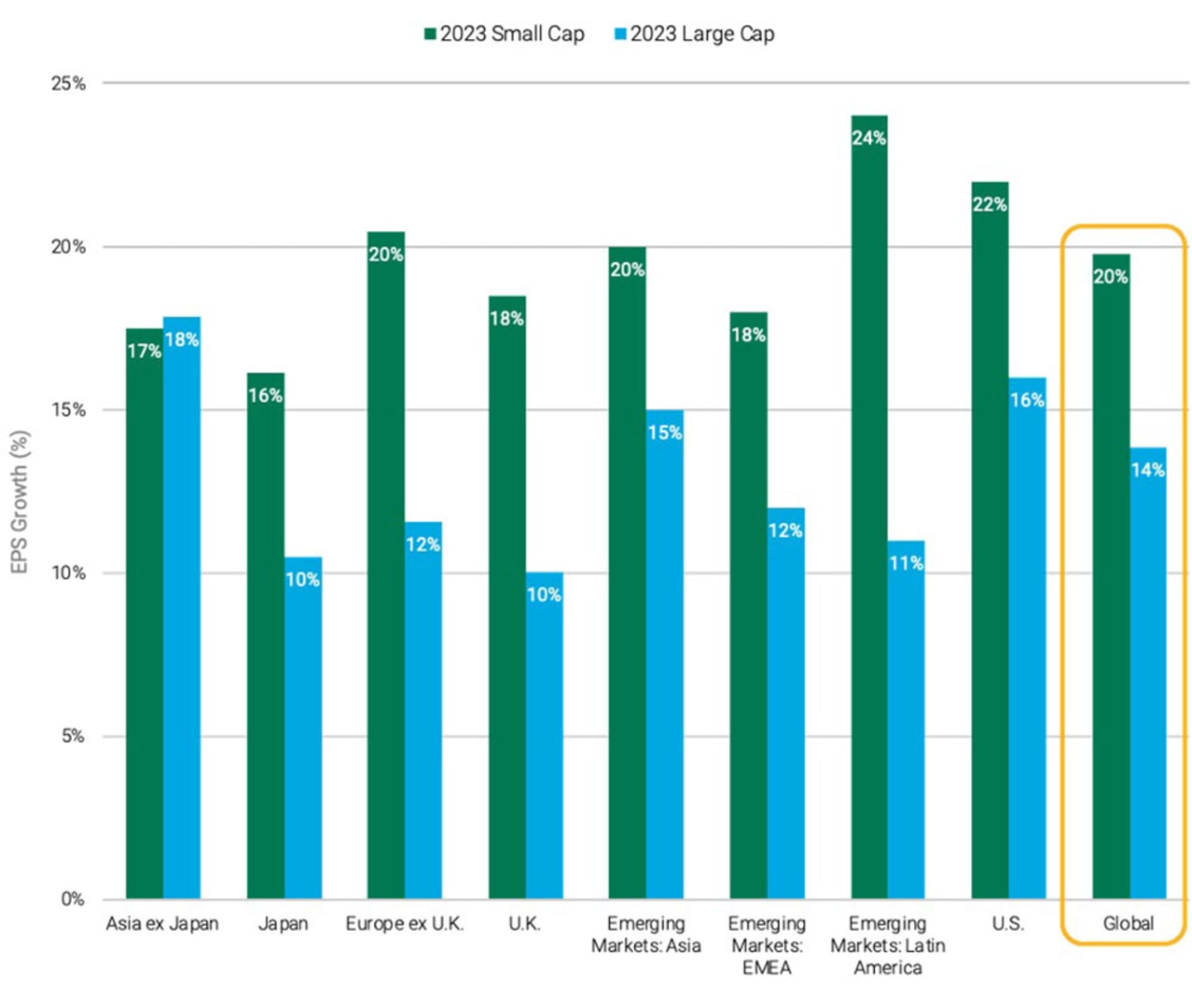 Evaluates equal-weighted average FactSet consensus estimate of EPS growth rates for index holdings in stock currencies. Small cap: < $5B, Large cap: > $5B. Data as of 3/31/2022. Source: FactSet. Forecasts are not a reliable indicator of future performance.
Volatility Creates Stock Selection Opportunities
While we expect obstacles on the way to economic recovery, we believe it's more likely they will be speed bumps, not roadblocks. Our analysts and portfolio managers seek to identify opportunities created by this volatility and companies that may help fund new investment ideas.
In this environment, we believe it is critical to maintain a diversified portfolio of companies that represent compelling process fits and companies with accelerating and sustainable earnings growth.
Past performance is no guarantee of future results. Investment returns will fluctuate and it is possible to lose money.
Diversification does not assure a profit nor does it protect against loss of principal.
Investment return and principal value of security investments will fluctuate. The value at the time of redemption may be more or less than the original cost. Past performance is no guarantee of future results.
The opinions expressed are those of American Century Investments (or the portfolio manager) and are no guarantee of the future performance of any American Century Investments' portfolio. This material has been prepared for educational purposes only. It is not intended to provide, and should not be relied upon for, investment, accounting, legal or tax advice.
This material has been prepared for educational purposes only. It is not intended to provide, and should not be relied upon for, investment, accounting, legal or tax advice.
No offer of any security is made hereby. This material is provided for informational purposes only and does not constitute a recommendation of any investment strategy or product described herein. This material is directed to professional/institutional clients only and should not be relied upon by retail investors or the public. The content of this document has not been reviewed by any regulatory authority.
References to specific securities are for illustrative purposes only, and are not intended as recommendations to purchase or sell securities. Opinions and estimates offered constitute our judgment and, along with other portfolio data, are subject to change without notice.