Earnings Watch
Global Profit Growth Decelerates
By
Jonathan Bauman, CFA,
Amanda Rehmann, CIMA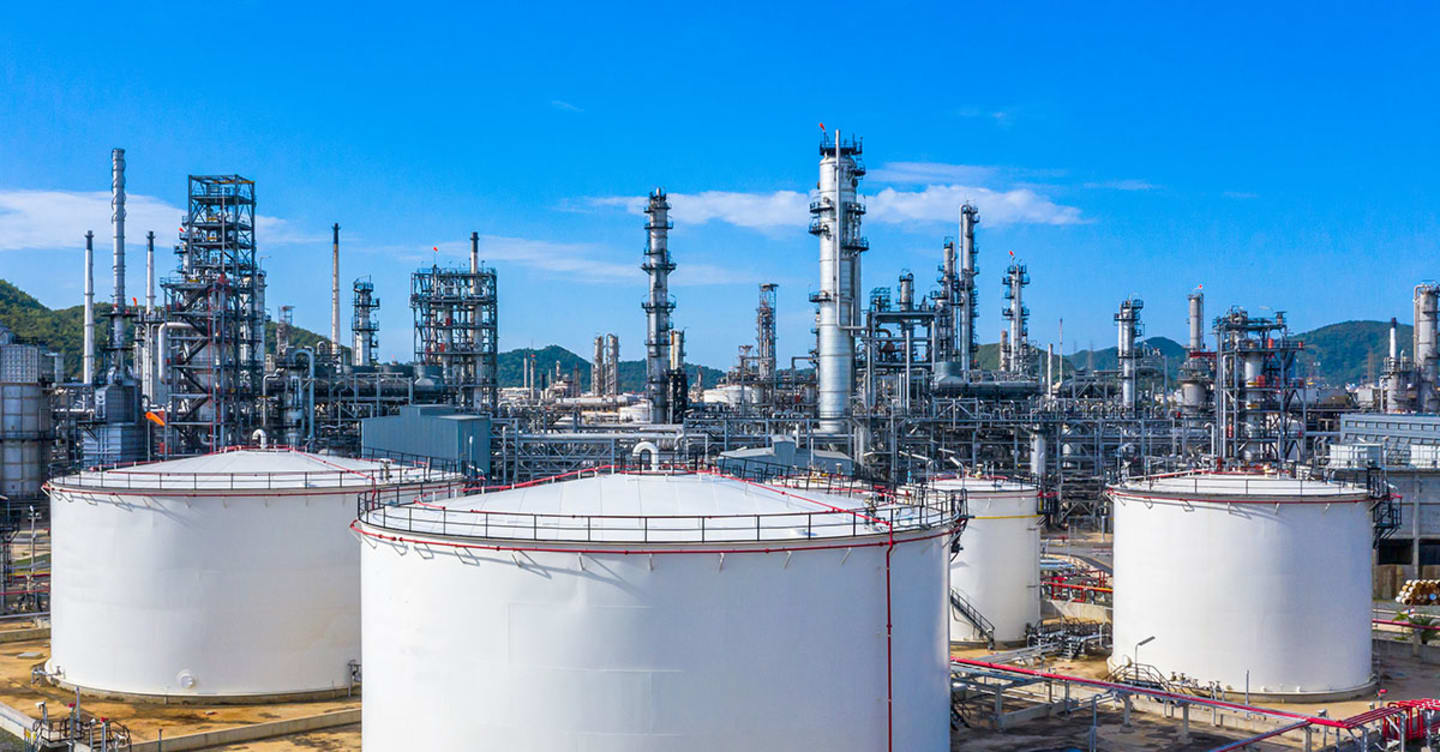 Global earnings growth moderated in the second quarter, with strong results in the energy sector masking weaker results elsewhere.
Management teams are adjusting earnings guidance, scaling back hiring plans and trimming spending in areas such as advertising to prepare for a more challenging economic environment.
Estimates for third quarter profit growth are flat or falling, while forecasts for 2023 and beyond are coming down due to expectations for slowing economic growth.
Energy a Bright Spot as Profit Growth Cools
With economic growth slowing and the cost of doing business rising, profit growth cooled during the second quarter. U.S. companies reported earnings growth of 6.7%, which was better than expected but a far cry from four straight quarters of more than 30% growth coming into 2022. European companies reported 16% profit growth.
Strong energy sector performance masked weaker results elsewhere. Bolstered by oil prices that averaged more than $108 per barrel in the second quarter, energy companies in the U.S. and Europe reported profit growth of 305% and 208%, respectively. See Figure 1. If you exclude energy sector results from the headline number, U.S. profits declined 3.7%.¹
Similarly, while high-level data suggests that profit margins held steady, a closer look reveals that margins outside the energy sector generally shrank. Furthermore, with labor and materials costs rising, half of the companies in most U.S. sectors reported lower margins. Energy, industrials and real estate were the only exceptions.²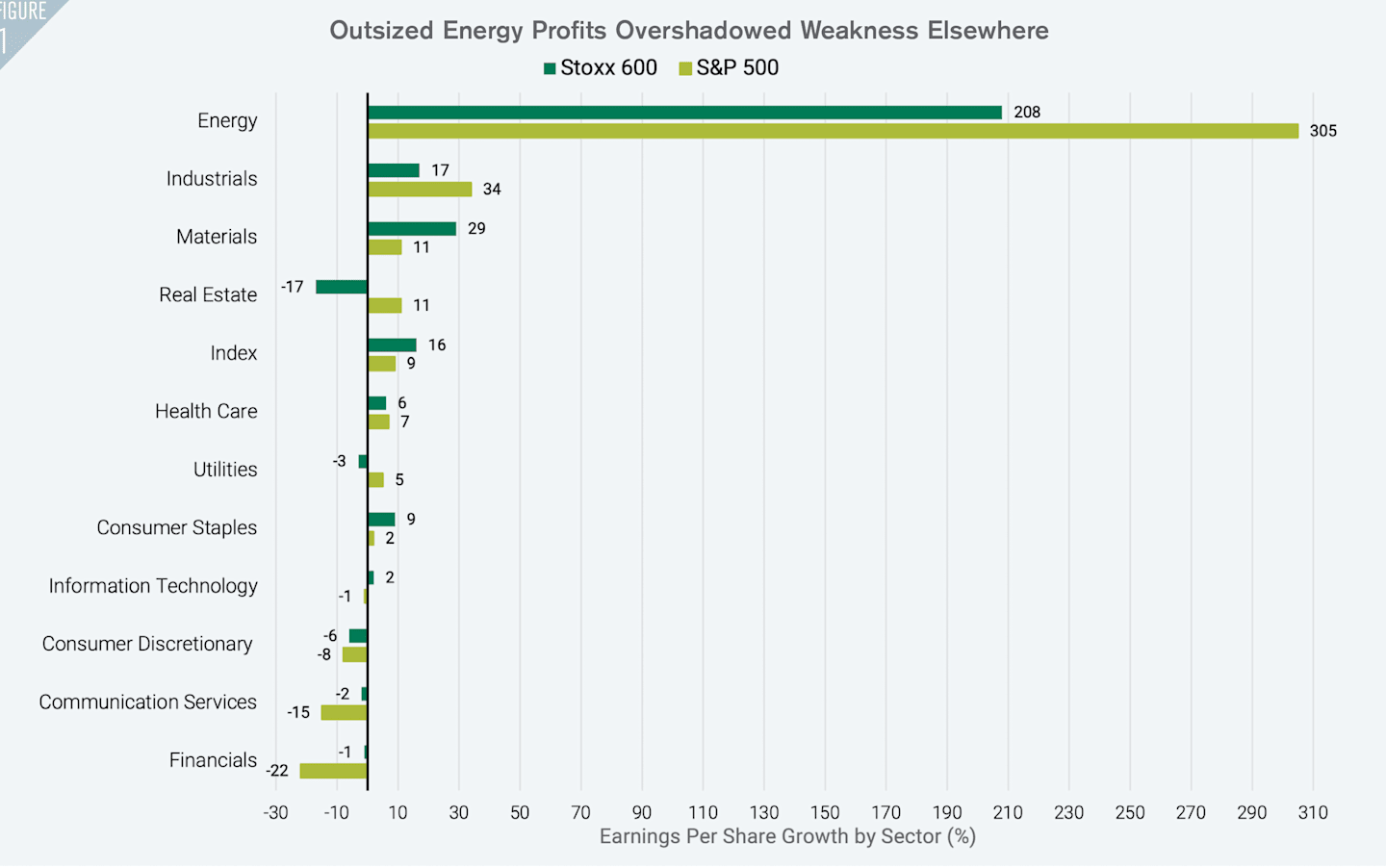 Data as of 8/11/2022. Source: FactSet. Data indicates earnings per share growth during the second quarter of 2022.
Investors Took the News in Stride
Despite the weakness, the market's response to earnings reports was generally upbeat. Investors rewarded companies for better-than-expected news and punished negative surprises less than usual.
As traders focused on macroeconomic data, stocks seemed to move less on actual reported results. During the earnings reporting season, the market rebounded strongly on expectations that we may be reaching a point where inflation fears start to diminish, and central banks won't have to be as aggressive as initially thought.
Even with the rebound, valuations are near the 10-year average and appear reasonable compared with their mid- 2020 peak, as shown in Figure 2.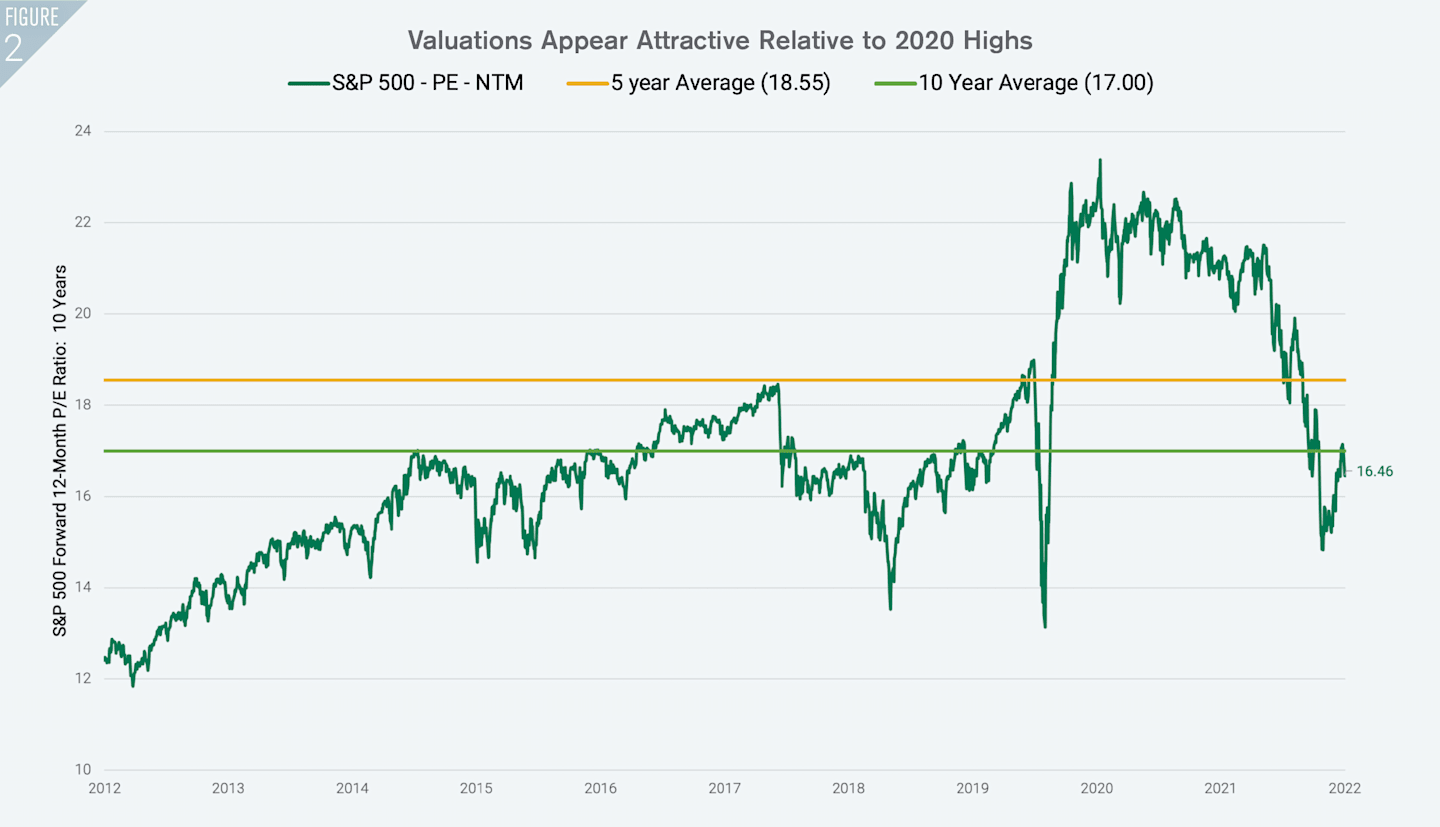 Data as of 08/22/2022. Source: FactSet.
Companies Successfully Passing Along Higher Costs So Far
Raising prices–rather than selling more things–is now the primary driver of revenue growth and is offsetting higher costs. Though they have successfully implemented higher prices without destroying demand so far, management teams are increasingly concerned about how much longer they can pull the pricing lever.
They have been under significant pressure for the last two quarters due to rising interest rates and supply chain problems. Acquiring components and raw materials has been challenging, and suppliers are pushing up prices. In turn, companies are increasing their prices to customers. This string of events–supply chain shortages, tight labor supplies, and interruptions in logistics and shipping–have contributed to significant cost and, ultimately, margin pressure.
Earnings Season Themes Reflect the Slowing Economy
Businesses and investors worldwide are closely monitoring the progress of central bank attempts to bring the economy in for a soft landing. So far, policymakers appear to be cooling the economy through tightening and higher rates, but we still don't know whether they can ease up in time to avoid a severe recession.
Management Comment on Offsetting Higher Costs:
"In this challenging environment, resilience and pricing power are crucial. Our sharpened focus on desirable top-end and electric vehicles, combined with ongoing cost discipline, allowed us to deliver strong earnings despite numerous headwinds."
Harald Wilhelm, Chief Financial Officer, Mercedes-Benz Group
In the meantime, many corporate management teams are positioning their companies for a slow- or no-growth environment. We've highlighted some of the maneuvering trends below.
Advertising Spending is Softening
When executives anticipate a slowdown, advertising is often one of the first expenses on the chopping block. This trend was apparent in the weaker demand reported by companies that depend on advertising spending, including social media company Snap. The parent company of the photo-sharing app Snapchat reported its slowest quarterly sales growth since going public in 2017.
Other digital platforms reporting slowdowns in ad spending include Twitter, Facebook parent Meta Platforms, and Google parent Alphabet.
Companies Scaling Back Hiring Plans
Many companies also are trimming staff or pulling back on their hiring plans in anticipation of slowing business conditions. In many cases, the cutbacks are coming at companies that hired aggressively to meet growing demand during the pandemic.
Amazon, which Bloomberg describes as the world's largest tech employer with 1.52 million employees, reported that it has been adding jobs at the slowest rate since 2019. Other big-name tech firms revealing they are tapping the brakes on hiring include Alphabet, Meta Platforms, Microsoft and Oracle.
Management Comment on Staffing:
"We appear to be entering a recession after a 10+ year economic boom. While it's hard to predict the economy or the markets, we always plan for the worst so we can operate the business through any environment."
Brian Armstrong, CEO, Coinbase Global
Stay-at-Home Bubble has Burst
After robust sales throughout the pandemic, companies that make personal computers and other electronics are experiencing a drop-off in consumer sales. Businesses are still buying gear for employees returning to the office, but companies like HP and Dell Technologies reported that they're seeing slower sales of lower-cost laptops for retail buyers. They're also hampered by lingering supply chain problems.
The slowdown in consumer demand for computers is affecting companies that make components. For example, chipmakers Intel and Micron Technology have toned down Wall Street's sales expectations.
The bursting of the stay-at-home bubble and tighter consumer budgets due to inflation have also hit video game makers. Activision Blizzard, Electronic Arts and Take-Two Interactive Software reported slower revenue growth.
Divergence Between Affluent and Lower-Income Consumers
Last quarter we noted a distinct shift in consumer spending patterns due to inflation. With sharply higher prices for groceries and other day-to-day basics, retailers reported proportionally less spending on higher-margin electronics and other discretionary items.
On the other hand, higher prices have not dampened the appetites of more affluent shoppers. Paris-based luxury goods maker Hermes reported a record quarterly profit margin. Demand for high-end brands has been robust in the U.S., where companies such as Prada, Gucci owner Kering and VMH Moet Hennessy Louis Vuitton reported sharp rises in income. The companies are planning to expand their U.S. footprints to take advantage of rising demand and offset the loss of business due to lockdowns in China.
Outlook: Continued Slowdown in Profit Growth
We expect revenue growth to slow over the next two to three quarters. Flat third-quarter earnings estimates in Europe and emerging markets and lower forecasts for the U.S. and Japan reflect these worries. When you remove energy from the equation, estimates for all regions are lower.
Analysts expect most sectors to deliver earnings growth for the 2022 calendar year. Consumer discretionary, communication services and financials are the exceptions. Looking out further, estimates for 2023 and 2024 are coming down due to expectations for slowing economic growth.³

Though the market staged a brief summer rally, we believe the deceleration in earnings growth contributes to an environment ripe for volatility. Investors are already on edge as they track central bank progress in tamping down inflation, and they're watching for signs that some regions are falling into recession. The market's reaction to the news on these fronts–both positive and negative–could spur turbulence.
The opinions expressed are those of American Century Investments (or the portfolio manager) and are no guarantee of the future performance of any American Century Investments' portfolio. This material has been prepared for educational purposes only. It is not intended to provide, and should not be relied upon for, investment, accounting, legal or tax advice.
This information is for educational purposes only and is not intended as a personalized recommendation or fiduciary advice. There are different options available for your retirement plan investments. You should consider all options before making a decision. Our representatives can help you evaluate all of your distribution options.
No offer of any security is made hereby. This material is provided for informational purposes only and does not constitute a recommendation of any investment strategy or product described herein. This material is directed to professional/institutional clients only and should not be relied upon by retail investors or the public. The content of this document has not been reviewed by any regulatory authority.