Playing The Long Game: Staying the Course Despite Volatility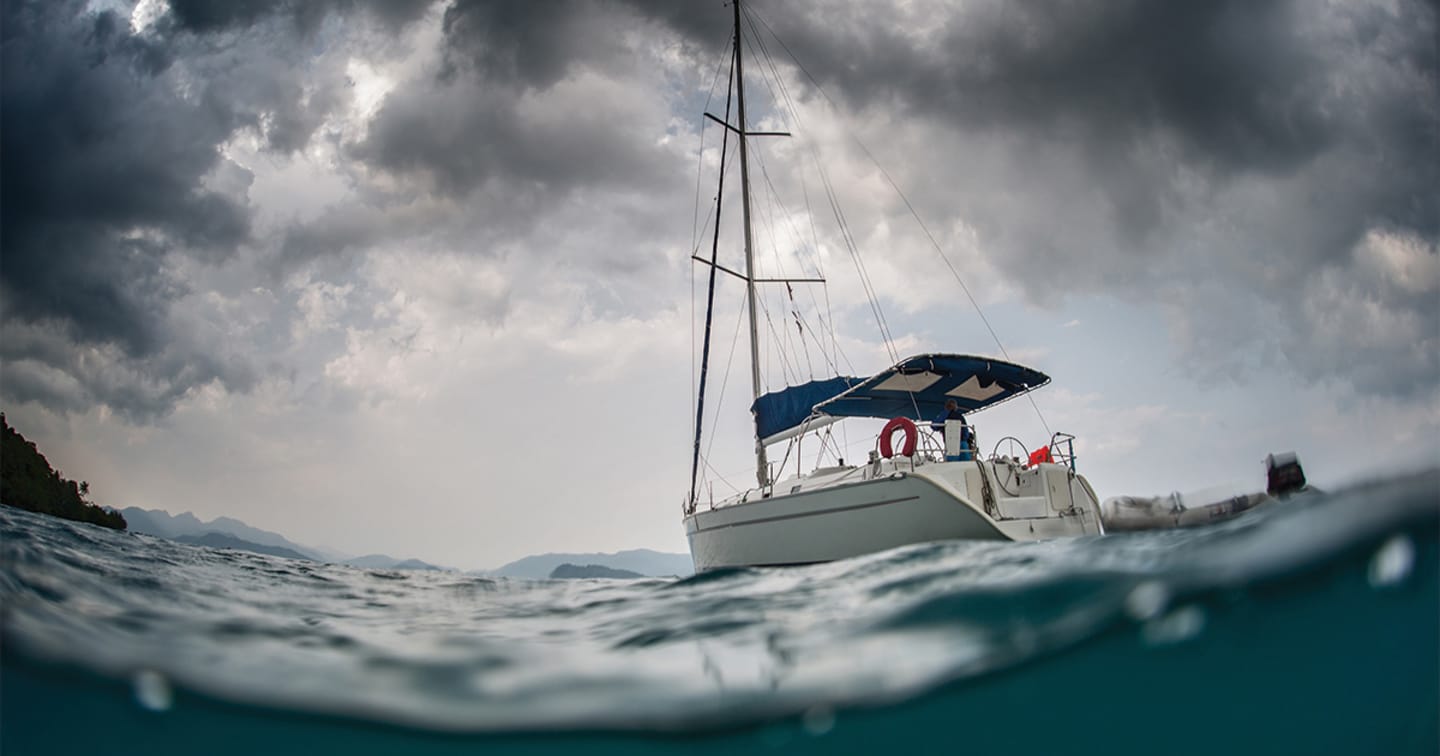 The accumulation of worries about inflation, Federal Reserve rate hikes, economic and profit growth, and COVID have triggered a sharp rotation from growth to value, punishing many fast-growing, innovative businesses.
The near-term change in market sentiment doesn't change the trajectory of enduring secular trends or the long-term outlook for high-quality, transformational companies that benefit from them.
We do not change how we invest or base long-term portfolio decisions on short-term market movements or transitory macro conditions, and we don't think you should either.
After an extended period of strong returns, growth-oriented stock investors have experienced a more volatile environment in recent months. Inflation worries are rising, the Federal Reserve (Fed) is accelerating its timeline for raising rates, and economic and profit growth are slowing. And, of course, the pandemic is a continuing source of uncertainty.
The accumulation of these concerns spurred a sharp equity style rotation from growth to value as 2021 wound down. While economic uncertainty and dramatic style shifts may test some investors' confidence, our view is quite simple: We don't capitulate. Instead, we double down on our process and concentrate on the highest growers and highest-conviction companies trading at what we consider to be compelling prices.
Growth Underperformance Is Reaching Historically Extreme Levels
The shift in market sentiment is reflected in the technology-heavy Nasdaq Index. Roughly 40% of stocks in the index are down at least 50% from their 52-week highs. And most have dropped 20% or more as of early January 2022.¹ This is painful, but we don't think it will last.
What's more, this underperformance has been concentrated in the highest-growth stocks. To illustrate this point, we ranked stocks in the Russell 1000® Growth Index based on earnings growth and divided them into quintiles. As shown in Figure 1, stocks in the highest-growth quintile performed the worst in 2021, while stocks in the moderate-growth quintiles performed much better. This reverses a long-running trend.
Figure 1 | Highest-Growth Stocks in the Russell 1000 Growth Index Underperformed in 2021
Russell 1000 Growth Return by Barra Growth Quintile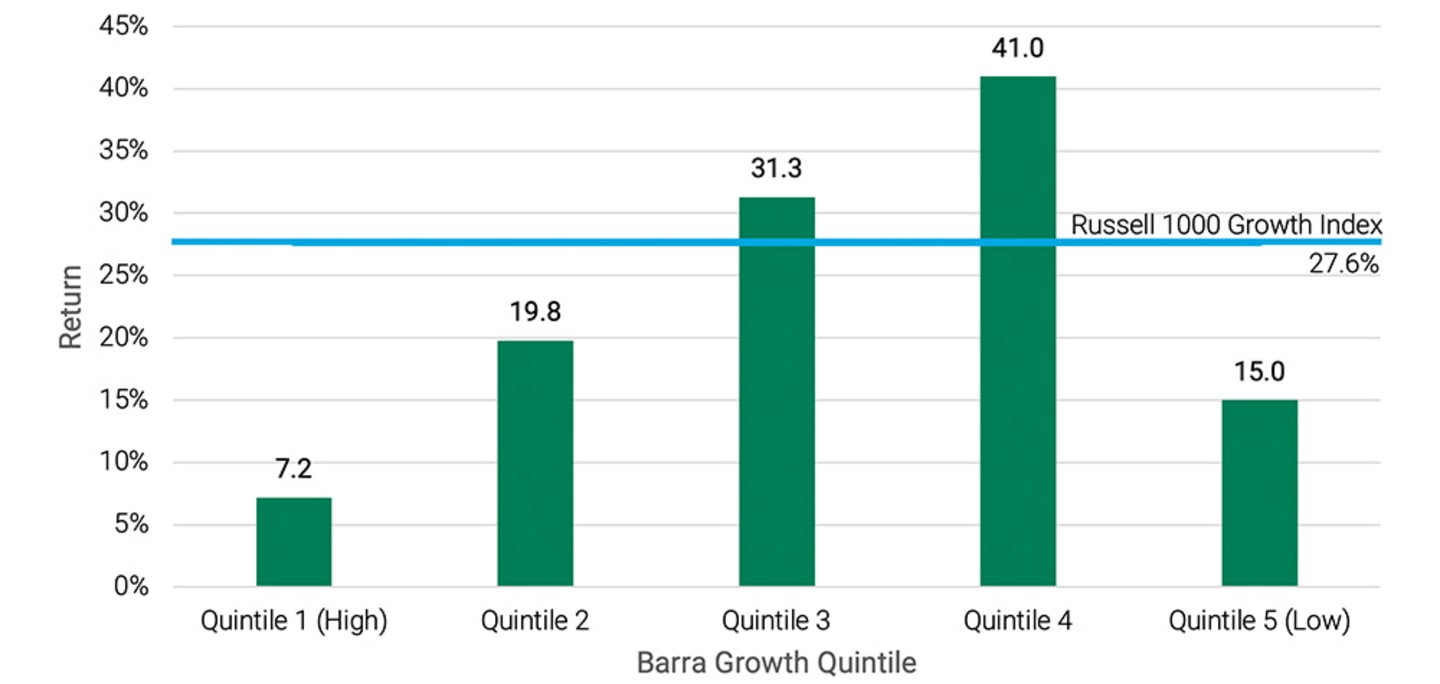 Data as of 12/31/2021. Source: FactSet.

There's No Putting the Tech Transformation Genie Back in the Bottle
We can't predict how the market will behave in the future. Still, the sharp sell-off among fast-growing companies suggests many investors believe companies and businesses will return to pre-COVID trends. That's not how we see it.
We don't believe we are ever going back to pre-pandemic approaches to working from home, digital advertising, social media, cloud computing, mobile technology and other aspects of consumer behavior. Nor do we expect a change in behavior and attitudes toward electric vehicles, alternative energy or environmental, social and governance (ESG) issues. Instead, we believe the pandemic accelerated and confirmed these trends.
Figure 2 shows the fundamental shift from an industrial, manufacturing orientation toward an information economy over the last four decades. In 1980, corporations devoted roughly 25% of their spending to software, computers, and research and development with the rest on facilities and industrial and transportation equipment. Since then, the direction of the trend lines has been obvious and inexorable.
Note that the lines finally cross in March 2020—the beginning of the pandemic. So, when we say there's no going back to a pre-pandemic normal, we mean there's no undoing the 40 years of progress reflected in the chart. We believe these are enduring transformational trends, not mean-reverting cycles.
Figure 2 | There's Been an Enduring, Secular Shift in Corporate Spending Toward Technology
U.S. Capital Expenditure Components

Data from 3/31/1980 – 6/30/2021. Source: Cornerstore Macro.
Secular vs. Cyclical Growth Helps Determine Style Leadership
Differentiating between secular and cyclical growth is another way to analyze long-term, transformational technology and market trends. Cyclical growth refers to corporate earnings growth tied closely to the economic cycle, whereas secular growth refers to growth trends that don't rely on the broader economy.
Technology spending is a textbook example of secular growth, which tends to benefit growth investors. The trend toward greater tech spending has endured regardless of economic fluctuations.
Earnings growth for value stocks, on the other hand, tends to be more dependent on the economic cycle. The pandemic triggered a sudden, sharp economic downturn, and now we're experiencing a similarly rapid rebound. This abrupt reversal is one factor driving the recent style rotation from growth to value.
Figure 3 shows a five-year earnings history and three-year earnings projections for both growth and value stocks, as expressed by the large-cap Russell style indices. As the economic cycle matures and growth slows, earnings growth for the Russell 1000 Value companies is expected to subside, while growth stocks produce more persistent earnings across the economic cycle.
Figure 3 | Value Earnings Growth Leadership Likely to Fade
Growth Trends of Style Indicies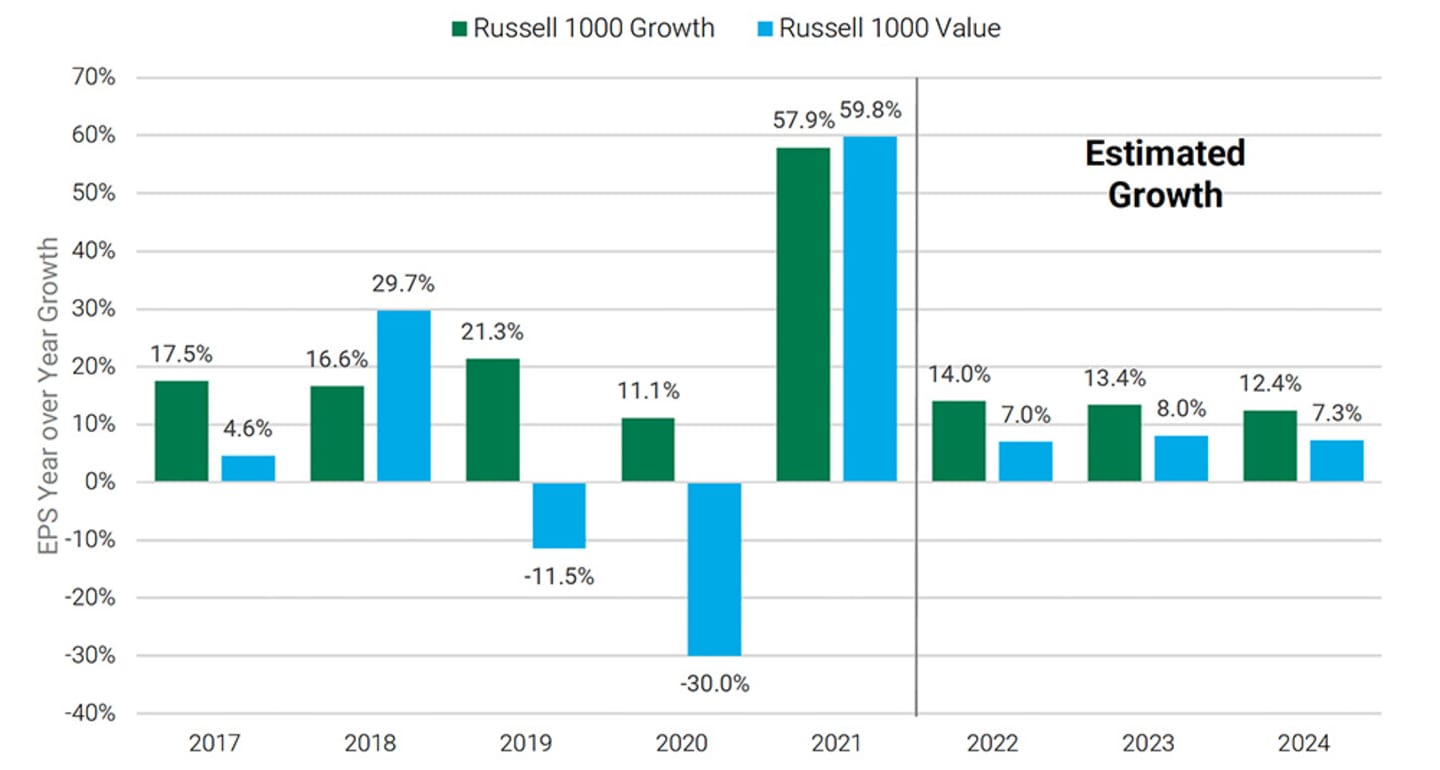 Data from 12/31/2017 – 12/31/2021. Source: FactSet. Estimates as of 1/7/2022. Subject to change.

Inflation Puts the Focus on Pricing Power
Inflation worries and concerns about the impact of the Fed's response to higher prices have taken a toll on stocks. While inflation readings hitting 40-year highs are worrisome, the effect of higher prices varies from company to company.
We believe growing companies with strong competitive positions and the ability to raise prices and make them stick are better positioned for this environment. With this in mind, we have focused our recent discussions with corporate management teams on assessing their ability to pass on higher costs for material, labor and other inputs and at least maintain their profit margins.
Some companies laid the groundwork for navigating this environment long before inflation was a concern through thoughtful business and marketing practices. They had the foresight to strike the right balance between the lifetime value of their customers versus near-term, short-lived profits. So, rather than push short-term prices to the highest tolerable level, they deliver greater value than their customers are currently paying. We have found such companies have room to raise prices to cover higher costs. Many may even see their profit margins improve if they choose to close the value-to-price gap.
Higher Interest Rates Are Short-Term Hurdle for Growth Stocks
Growth stocks are negatively correlated with rising interest rates in the short run. Of course, this tends to be true of the broader market as well. But data show stocks tend to recover and show gains within 12 months of the first step up in the Fed's rate-hike cycle.²
Even so, some investors will reflexively sell growth stocks when interest rates rise, putting downward pressure on share prices and valuations. The implication is that some of the world's most compelling companies will suddenly stop innovating or completely change their research and development spending or marketing efforts. We think this is the wrong way to look at it.
Our view is that high-quality, well-run, growing companies with large addressable markets are most likely to survive and thrive over time. This doesn't mean we disregard the impact of higher rates. We evaluate the health of the company's balance sheet, confirm and assess cash flows and look closely at its interest expense. Our analysis gives us a good understanding of whether a company can withstand higher borrowing costs.
Then recall that we are investing in what we believe to be well-managed, secularly growing companies in the early stages of their development. Now imagine if you had sold Amazon or Alphabet early in their life cycles simply because the Fed was raising interest rates. Of course, that would be wrong in retrospect. But we would argue it was also obviously wrong at the time. That's because we believe it's misguided to base long-term investment decisions on short-term market movements.  
Playing the Long Game
We seek high-quality companies with healthy balance sheets. The companies that have outperformed recently don't have these characteristics, and we can't justify buying them for the sake of chasing short-term performance. Nor are we allocating in and out of cash to try to time the market. That is a fool's game with massive potential negative consequences. Figure 4 shows just how costly it can be to miss even a handful of the markets' best days. 
Figure 4 | Attempting to Time the Market Can Have Massive Financial Costs
The Cost of Missing the Best Days of Russell 1000 Growth Performance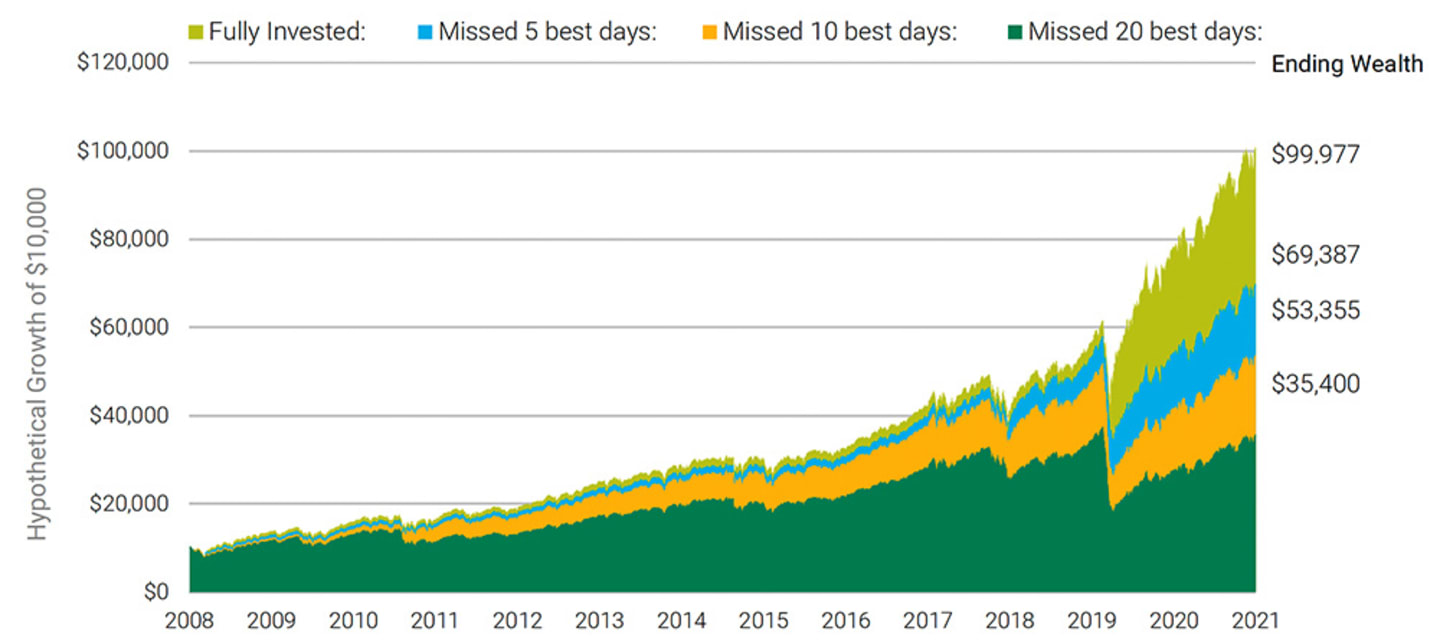 Data from 12/31/2008 – 12/31/2021. Source: FactSet. Mutual Fund available for investment only in the U.S.
Our horizon is many years long. We don't expect to outperform every day and every point in the economic and market cycle. Instead, we try to outperform across the entire market cycle. We buy what we consider to be dynamic, innovative growth companies with strong financials and cash flows so they can reinvest, grow and improve throughout the cycle.
We believe innovation, technology and the demand for greater efficiency and convenience are transforming our lives in meaningful, positive ways. And for that reason, we're disappointed when transformative companies are caught up in massive growth sell-offs as we've experienced recently. At the same time, however, we view these downdrafts as opportunities to buy incredibly innovative companies at attractive prices. 
Vildana Hajric, "Number of Nasdaq Stocks Down 50% or More Is Almost at a Record," Bloomberg, January 6, 2022; Lu Wang, "Morgan Stanley Suggests Rout in Expensive Tech Is Almost Over," Bloomberg, January 6, 2022.
Harry Robertson, "The Fed is set to hike interest rates in 2022. Here's what that means for U.S. stocks," Business Insider, December 21, 2021.
The opinions expressed are those of American Century Investments (or the portfolio manager) and are no guarantee of the future performance of any American Century Investments' portfolio. This material has been prepared for educational purposes only. It is not intended to provide, and should not be relied upon for, investment, accounting, legal or tax advice.
No offer of any security is made hereby. This material is provided for informational purposes only and does not constitute a recommendation of any investment strategy or product described herein. This material is directed to professional/institutional clients only and should not be relied upon by retail investors or the public. The content of this document has not been reviewed by any regulatory authority.