The Pandemic Has Shattered Historical Inflation Trends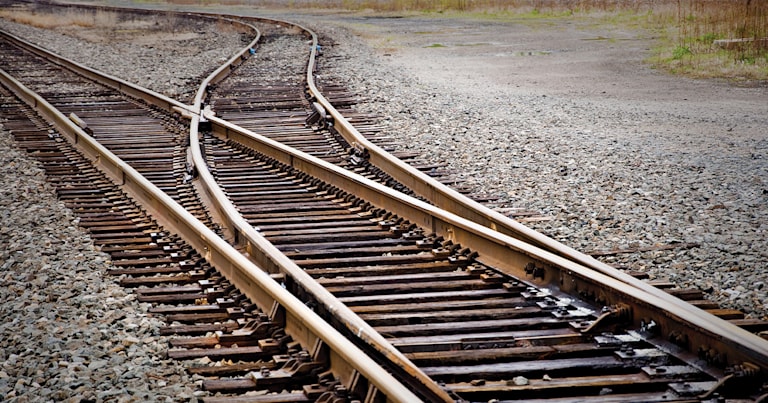 Our analysis reveals inflation's dramatic recent departure from its long-term trend.

Commonly quoted inflation data do not provide the historical context to fully understand the magnitude of the current environment.

This departure helps explain the Federal Reserve's increasingly aggressive inflation-fighting posture.

The recent spike has been so sharp that returning to a more normal long-term trend would require the unlikely scenario of prices remaining flat for two years.

Because this is such a sharp deviation from historical inflation norms, institutional investors should consider the scope and nature of the inflation-hedging strategies in their portfolios. 
COVID's Dramatic Impact on Inflation
Inflation is a hot topic on both Wall Street and Main Street. How the Fed and other policymakers deal with the biggest jump in prices in four decades will affect market prices and consumer sentiment for some time to come.
What's often missing from the inflation discussion is how far prices have risen compared to the historical trend. Commonly quoted inflation measures reflect price changes over a one-month or one-year basis. But these point-in-time snapshots don't provide the broader historical context. To better understand the magnitude of recent changes in inflation conditions, we looked at absolute price levels compared to their long-term trend.
Our analysis shows prices are 3.8% above the long-term trend as of January 31, 2022. We think this dramatic shift in a short window starting in March 2021 helps explain the urgency of the Fed's new timeline for reducing its monthly bond purchases.
Establishing a Baseline for Inflation
First, let's establish how we're measuring inflation. Figure 1 tracks the value of the core Consumer Price Index. That's different from the inflation growth rate the media often references. So, when you read that inflation is rising at the fastest pace in 40 years, this refers to the percent change in the index level from one year to the next.
Over the 26 years shown in Figure 1, we observe inflation cycles overlapping with well-known economic cycles. Between January 1996 and March 2021, we identify three high-inflation periods corresponding with economic expansions (shown in black) and three low-inflation periods corresponding with recessions (shown in red). The fitted trend line indicates the fairly steady progression of the index values over time until March 2021.
We use core CPI, which excludes food and energy, because it is more stable than the headline index. Over long periods, the two have similar growth rates, but short-term observations of headline CPI tend to be more volatile due to the impact of oil prices and the economic cycle.

Inflation trended at 2.1% to 2.4% during expansionary periods and 1.5% to 1.7% during recessionary periods. Across the entire 26-year period, the overall inflation rate was 2.1% per year.
Figure 1 | Inflation Since the Mid-1990s Fit a Well-Established Trend, Until Now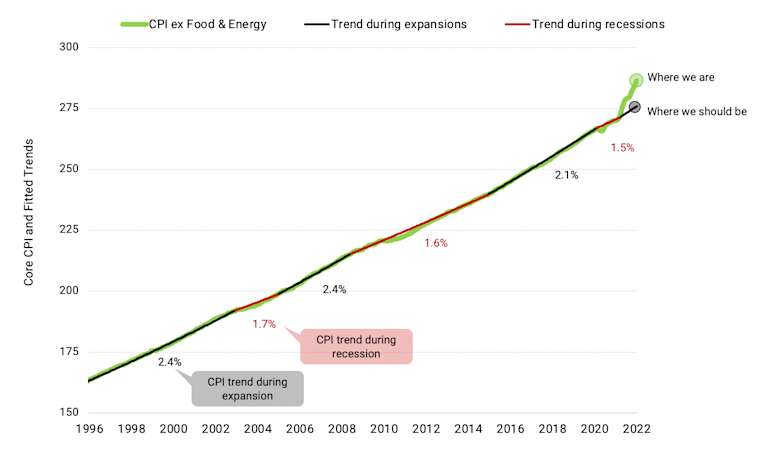 Data as of 1/31/2022. Source: Federal Reserve Economic Data.
How Consistent Is This Inflationary Trend?
We see that the fit of historical CPI levels to the trend is quite good through March 2021. Using just two scenarios—high inflation during expansions and low inflation during recessions—we see price levels generally stay within 0.5% of the trend. See Figure 2. During the Great Financial Crisis, we saw a departure when prices deviated 1% below the trend, though this gap closed within two years.
Remember, we're establishing a trend line and asking what the index level would be if it stuck to that trend. Going from 0% to 1% means the cumulative deviation from the trend is 1% over that period.
Figure 2 | Inflation Stuck to Its Historical Trend Until Surging in April 2021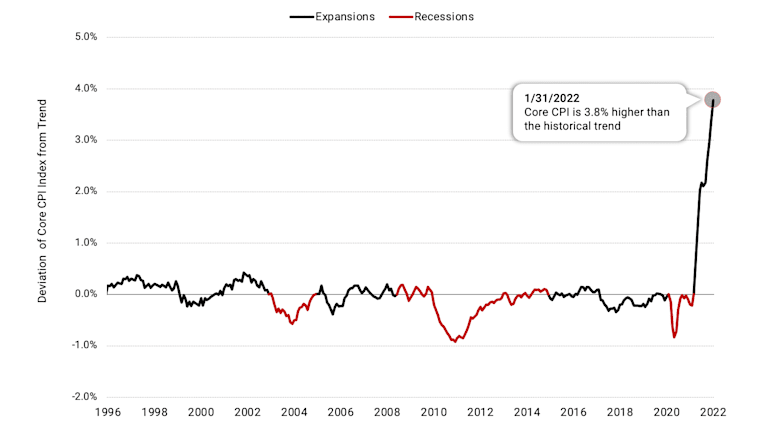 Data as of 1/31/2022. Source: Federal Reserve Economic Data.

Breaking From the Norm
To see where inflation would likely be today if it followed historical patterns, we must extend our historical trend line in Figure 1.
First, we note that over the 13 months from March 2020 through March 2021, the inflation trend was 1.5% per year. This is right in line with what we observed during previous low-inflation periods. Next, using history as our guide, we would have expected an inflation trend of 2.1% from April to January 2022.
Instead, we see that the big break from the historical trend began in April 2021. The change in the CPI has been much greater than predicted by the historical pattern: Prices have increased 3.8% more than our trend assumption predicted.¹ And that isn't an annualized number!
Closing this gap and returning to the historical average would require prices to remain unchanged for roughly two years.

We conclude that inflation has broken a pattern established over the past 26 years in a big way. The deviation of prices from this historical trend is shown dramatically in Figure 2, demonstrating the strength of the momentum away from the trend. Whether we revert to the 2.1% historical norm or enter a period of higher inflation remains to be seen.
This sharp deviation from historical inflation norms is further support for including dedicated, diversified inflation hedges in investor portfolios. 
Past performance is no guarantee of future results. Investment returns will fluctuate and it is possible to lose money.
The opinions expressed are those of American Century Investments (or the portfolio manager) and are no guarantee of the future performance of any American Century Investments' portfolio. This material has been prepared for educational purposes only. It is not intended to provide, and should not be relied upon for, investment, accounting, legal or tax advice.