Inflation-Wary Investors May Find Refuge in Companies with Pricing Power
By
Joyce Huang,
Mike Rode, CFA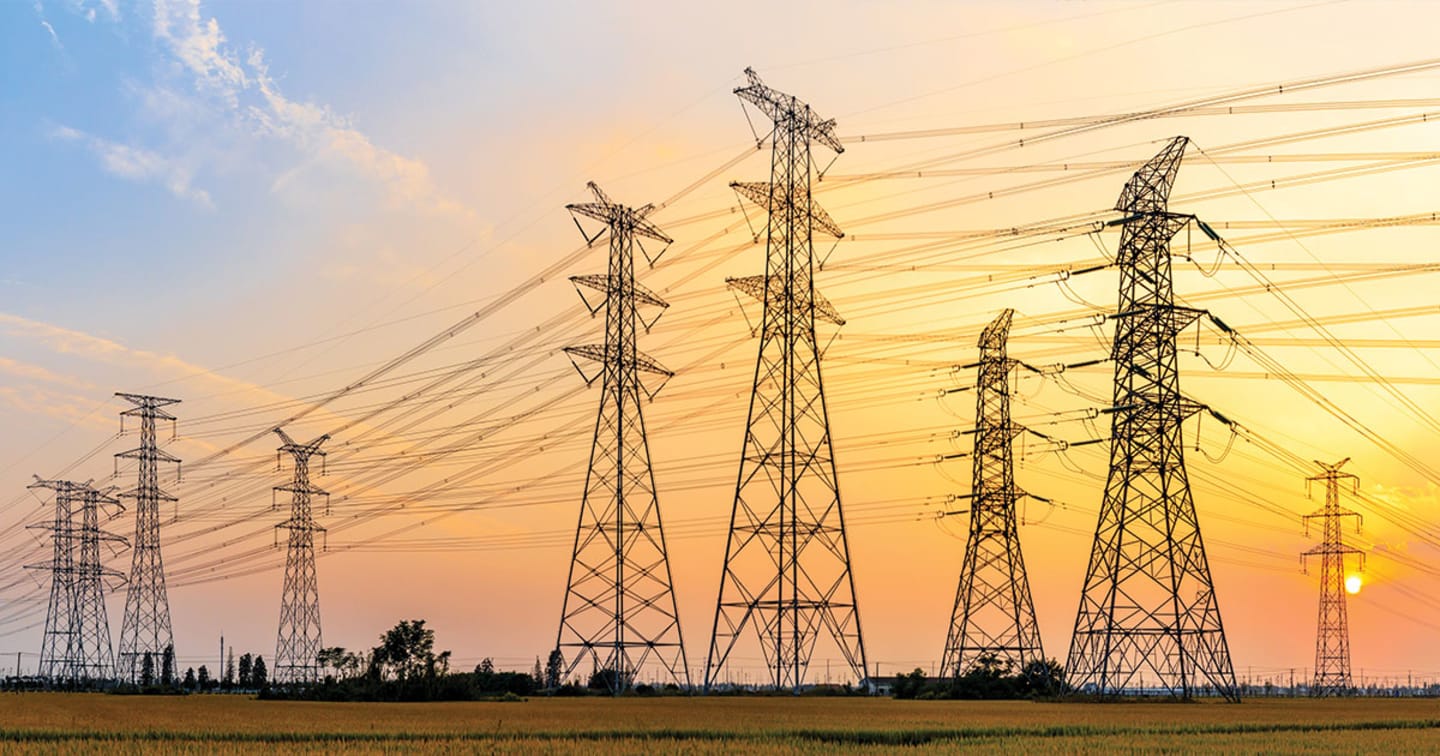 It's been 40 years since headline consumer inflation topped 7%, leaving many investors concerned about asset values.
Stocks of companies with pricing power may be well-positioned to not only withstand inflation's effects but potentially overcome them.
We believe maintaining a diversified strategy with actively managed portfolios may be an ideal way to potentially strengthen long-term purchasing power.
Stocks have historically helped to shield investors from inflation's fury. We believe choosing the stocks of companies with strong pricing power may make an even greater difference. 
Inflation's robust and rapid rise represents an unknown dynamic for many investors.
For several decades, inflation remained relatively tame and close to Federal Reserve targets. This extended period of low inflation means some investors have never steered their portfolios through steep price hikes.
After quickly climbing in 2021, annual inflation jumped to 7.5% in early 2022, the highest rate since 1982.¹ And most indicators suggest consumer prices are unlikely to ease notably any time soon.
Investors commonly want their assets to keep pace with—and preferably surpass—the inflation rate to maintain long-term purchasing power. That means investing in assets with the potential to appreciate faster than consumer prices.
Generally, stocks have offered solid inflation-fighting potential. Yet, when it comes to battling inflation, some companies are better positioned to mount an offense than others.
How Inflation May Affect a Company's Bottom Line
In theory, during periods of rising inflation, stock prices should also rise. Inflation typically accompanies a growing economy, and in this environment, prices generally go up. Higher prices should boost a company's revenues and ultimately lift its share price.
Higher Input Costs Can Lower Stock Price
However, companies aren't immune from the cost side of inflation. Rising inflation also means companies pay higher input costs. For example, Producer Price Inflation, a measure of wholesale costs, recently soared to a record-high 9.7%.
Higher input costs can squeeze a company's profit margins, eventually pressuring the company's stock price. Additionally, higher labor costs often accompany periods of rising inflation, creating another challenge for a company's bottom line.
The Pace of Price Hikes Matters
How a company responds to rising inflation depends on the pace of price hikes. Slow, steady inflation is easier for companies and the financial markets to absorb. Conversely, today's backdrop of rapidly rising, higher-than-expected inflation can burden many companies.
Identifying Inflation-Fighting Sectors
Certain sectors and companies typically have stronger pricing power than others. For those that can successfully transfer higher costs to their customers—while maintaining solid revenues—inflation should have fewer effects on profits and share price.
For example, past performance suggests companies in the real estate, energy and consumer staples sectors may remain profitable as inflation rises. These companies have historically provided strong, inflation-beating results when consumer prices are high and/or rising. See Figure 1.
Figure 1 | Sector Strength
Sector Performance Through Periods of Rising/High Inflation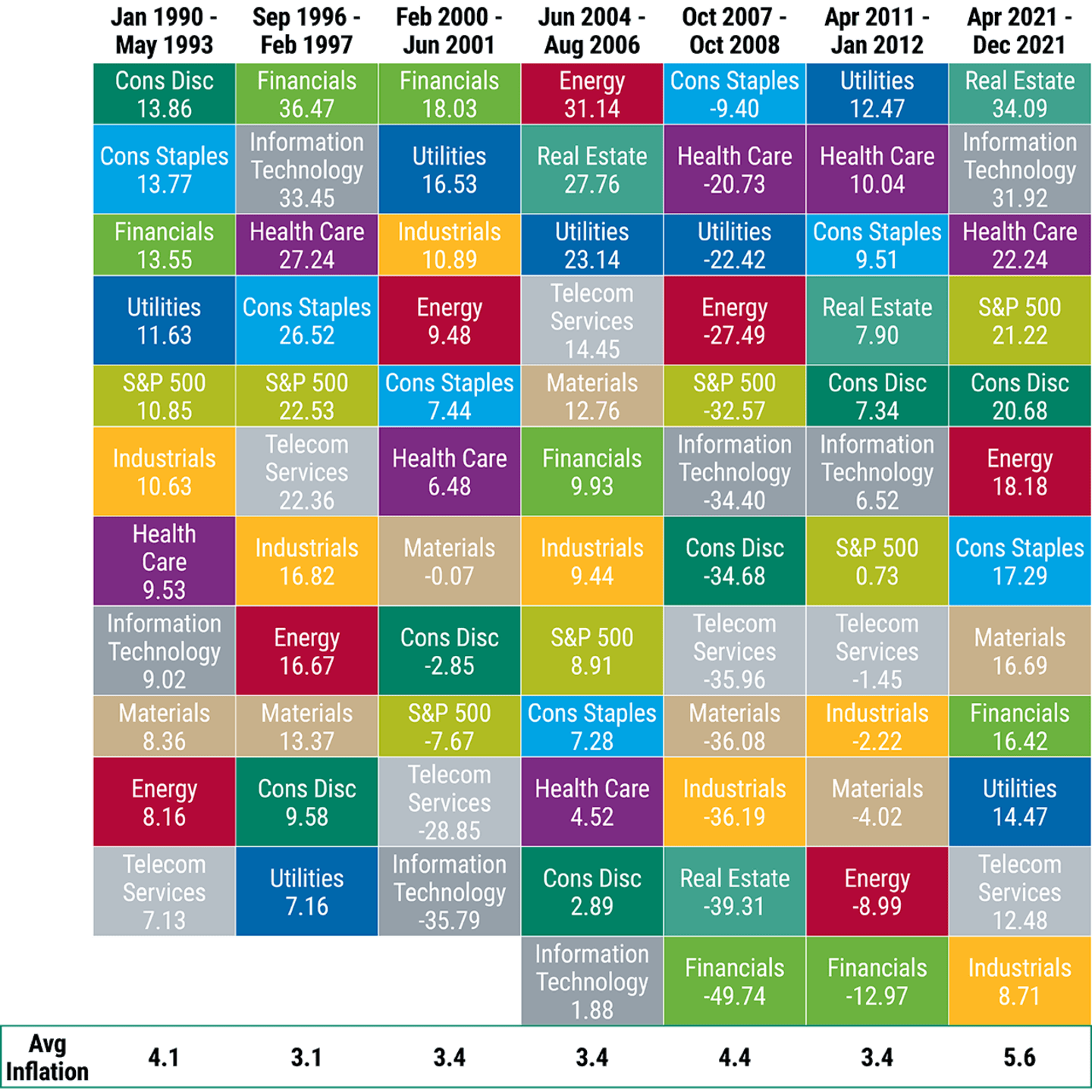 Source: FactSet. Sectors are those represented in the S&P 500 Index. Past performance is no guarantee of future results.
Given the traditional drivers of inflation, these performance trends make sense:
Energy prices directly affect consumers and have a big impact on the consumer inflation rate. As energy prices rise, energy providers pass along higher prices to customers, and energy company revenues correspondingly increase. Other commodity-related companies, including those in the lumber and steel industries, generally enjoy similar benefits.

Housing costs also tend to increase during inflationary periods. Real estate investments, including equity REITs, typically have performed well when inflation is rising. They've tended to benefit from rising rents and higher home costs.

Consumer staples stocks often shine in inflationary environments. Demand for food and other staples doesn't change much, giving these companies better pricing power than companies in more discretionary industries. And because consumer staples often represent consumer necessities, customers likely will pay higher prices.
Expenses Matter
Depending on the industry, companies generally bear a mix of fixed and variable costs. The proportion of fixed and variable costs will affect the company's ability to absorb those costs—or pass them on to customers.
For example, among typical technology companies, "people" often represent the biggest expense. Accordingly, these companies tend to feel the brunt of inflation in labor costs—a key cause of inflation's surge in 2021.
Meanwhile, among average industrial companies, expenses are mixed. Some of the company's costs may be fixed (machines, buildings, etc.) while others may be variable (labor). Therefore, the impact on profitability likely will be much less. See Figure 2.
Figure 2
Hypothetical Impact of 10% Inflation for Typical Industrial Company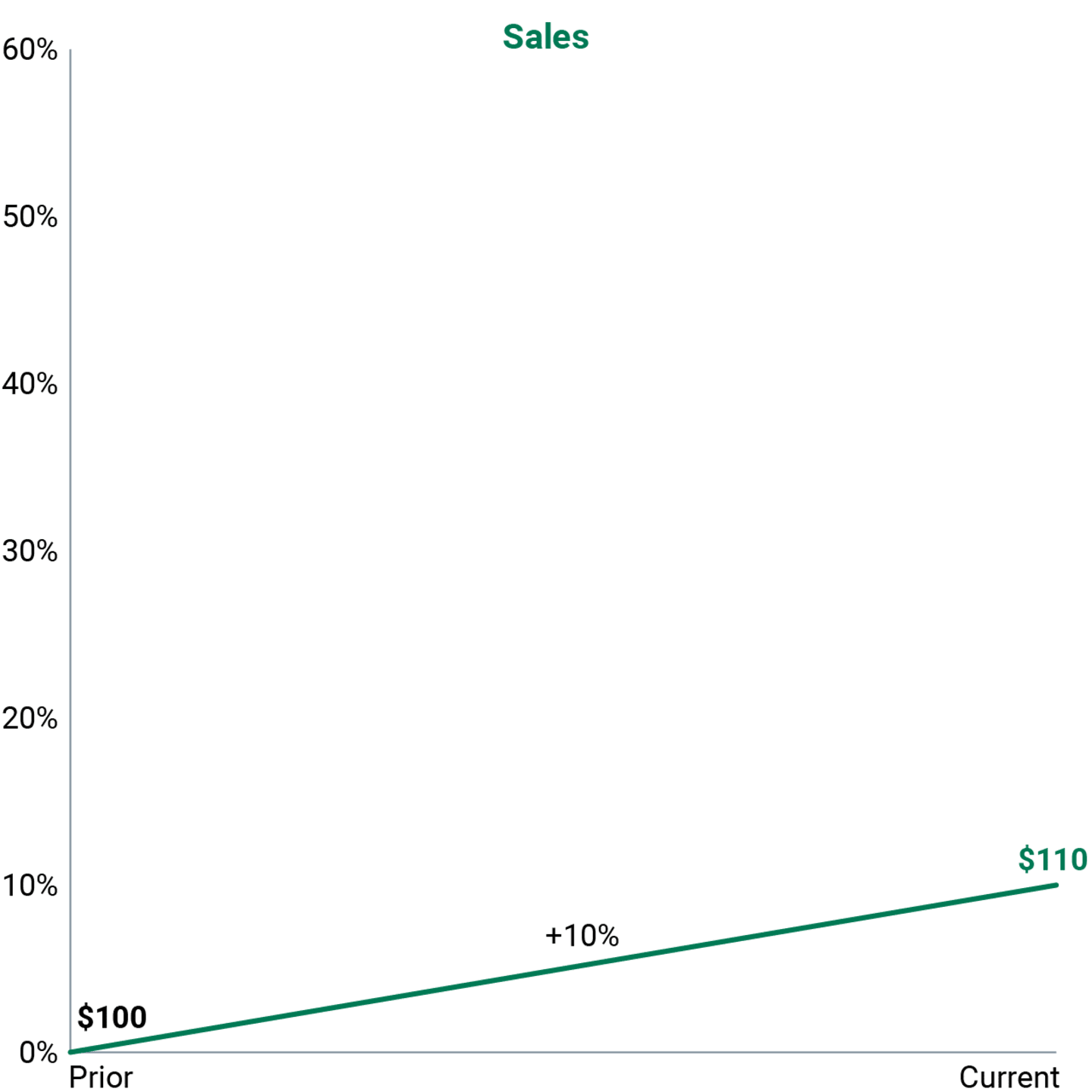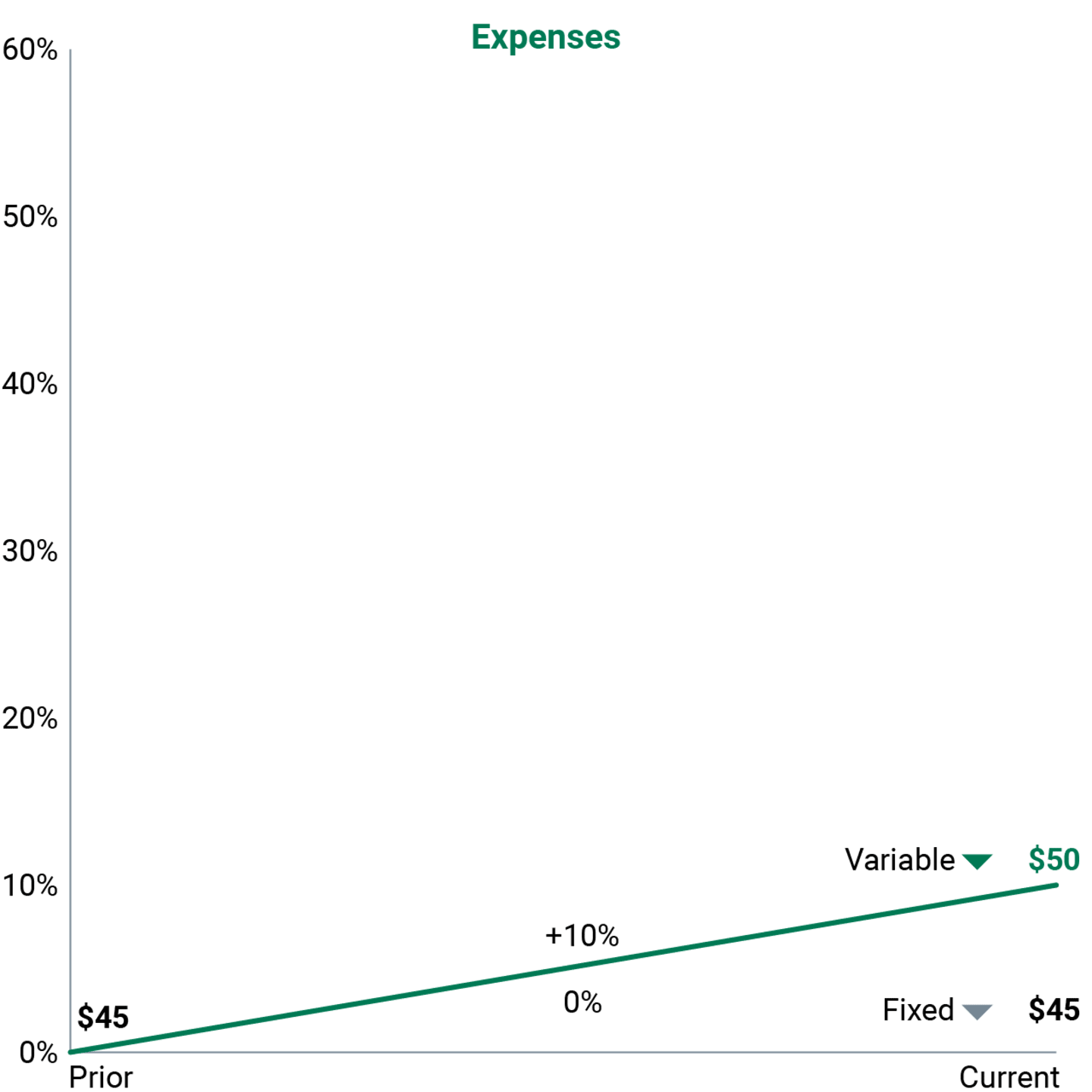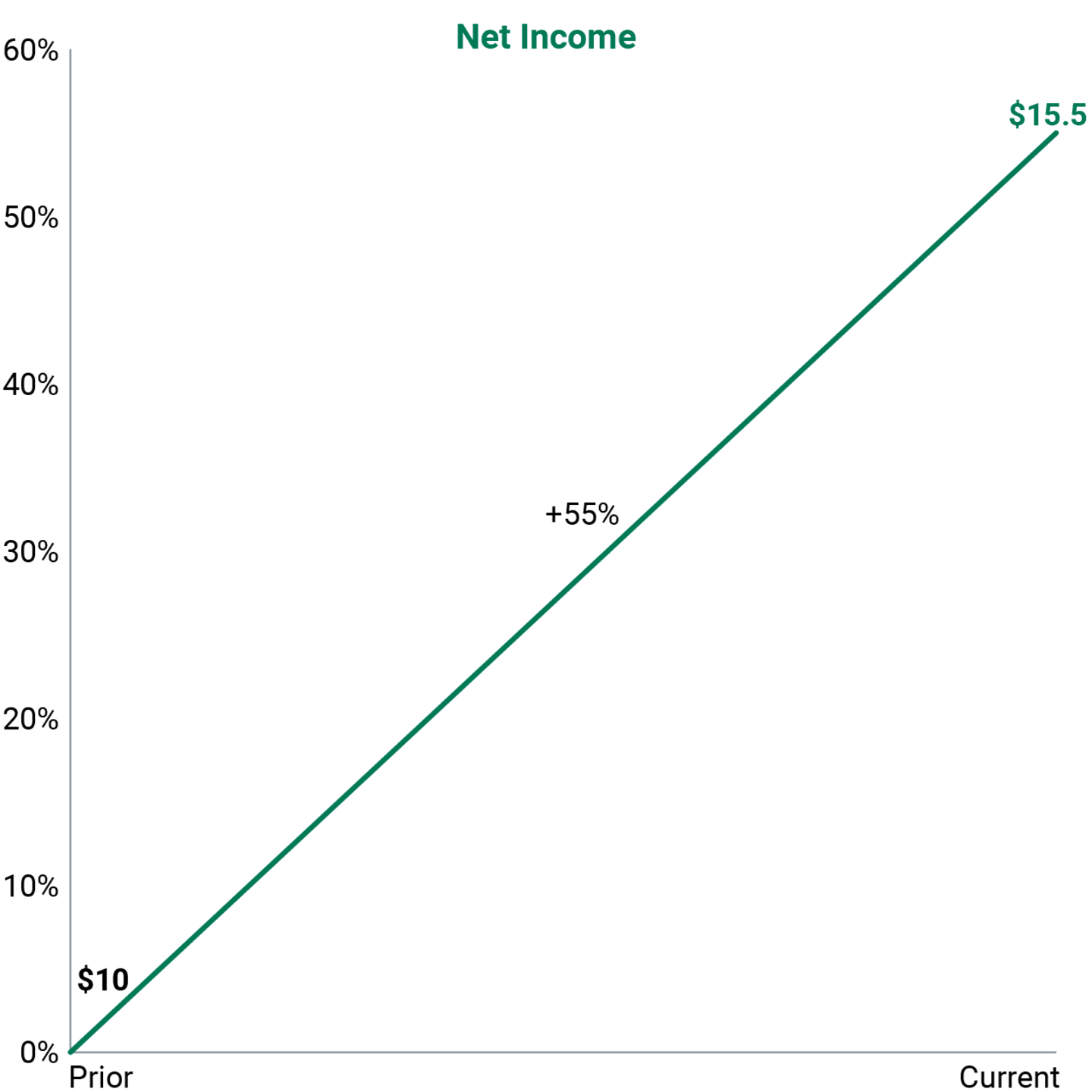 Hypothetical Impact of 10% Inflation for Typical Technology Company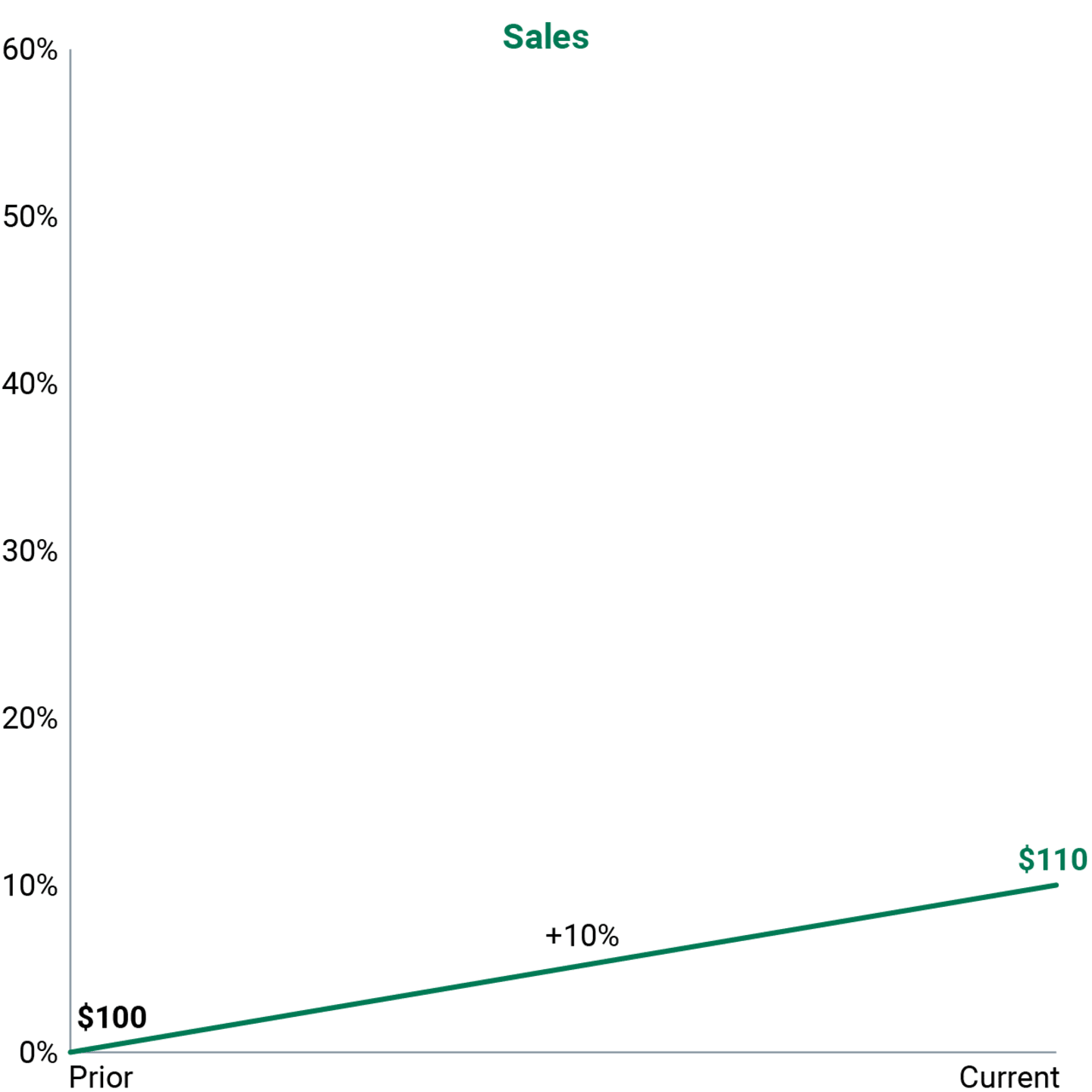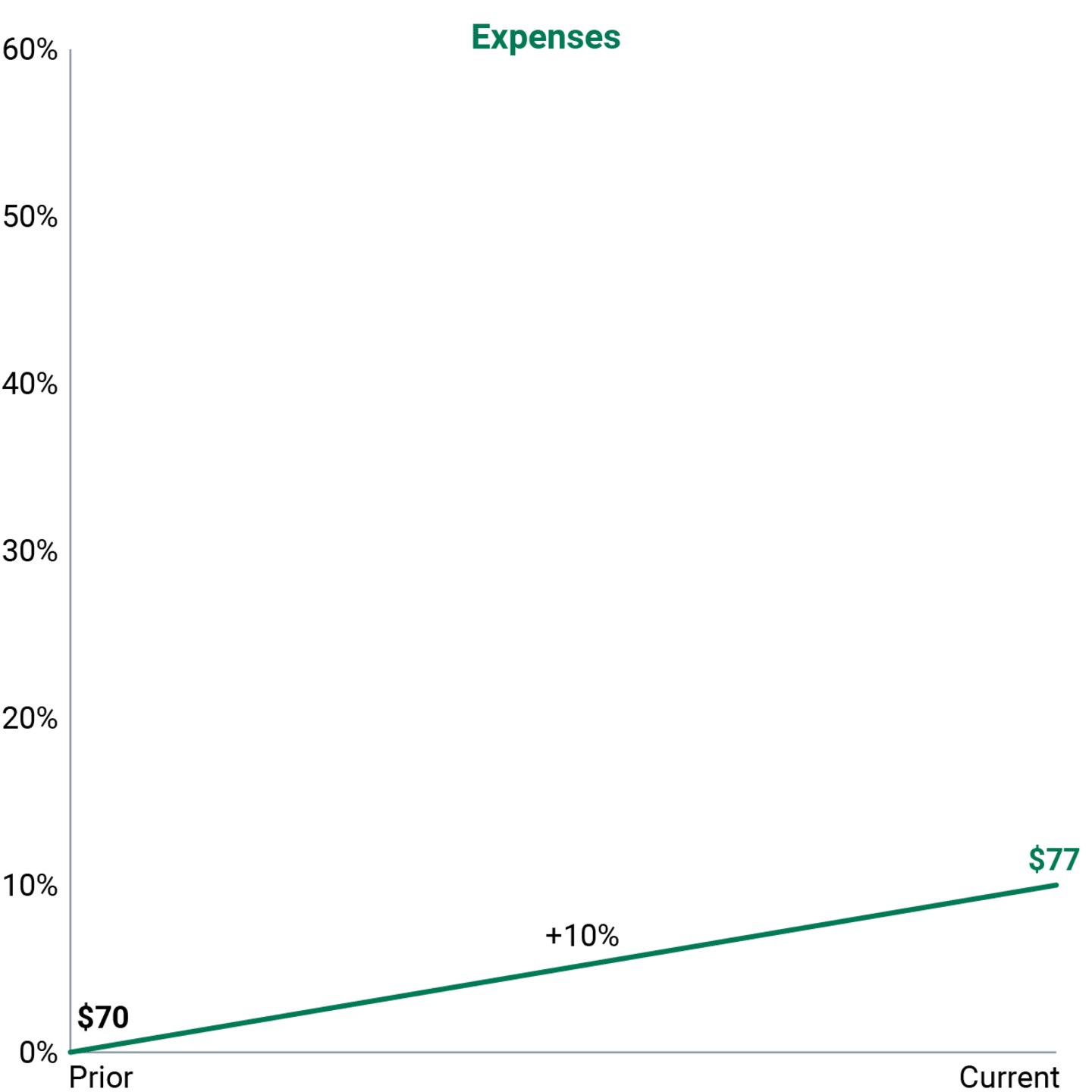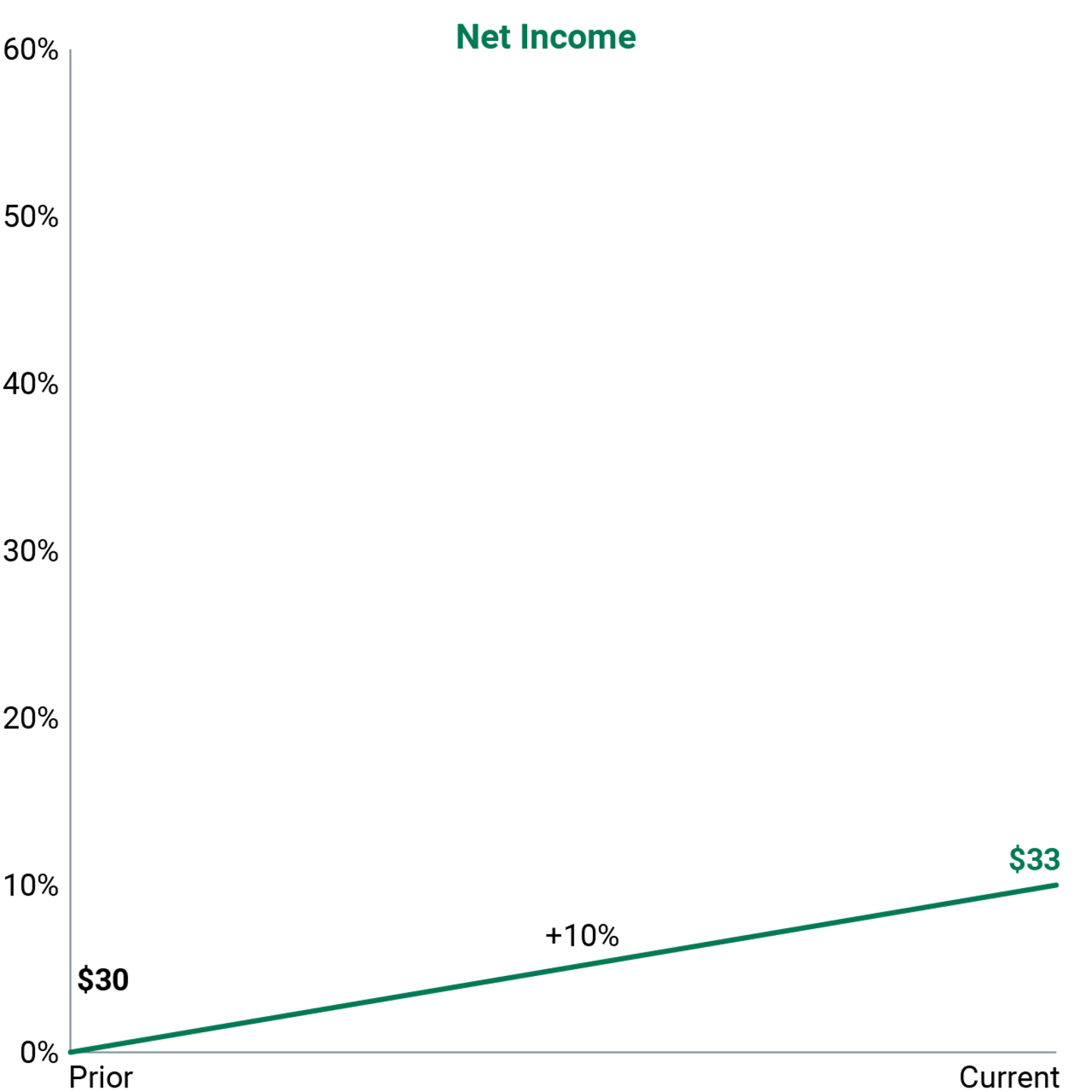 Assumption: Inflation jumps 10% across the economy including wages, input costs, and consumer prices.
Hypothetical example shown for illustrative purposes only.

Hypothetical Examples
Industrial Company
Sales increase from $100 to $110.

Prior to inflation, company operated at a 10% earnings before interest and taxes (EBIT) margin.

Half of expenses are fixed ($45) and half are variable ($45).

Post inflation, total expenses increase from $90 to $94.50 (Fixed expenses remain $45. Variable increases to $49.50).

Net Income increases from $10 to $15.50 (+55%).
Technology Company
Sales increase from $100 to $110.

Prior to inflation, company operated at a 30% EBIT margin.

Wages represent the majority of expenses and are fully subject to inflation ($70).

Post inflation, total expenses increase from $70 to $77.

Net Income increases from $30 to $33 (+10%).
Opportunities Among Value and Growth Styles
When inflation is high, investors tend to rotate away from growth stocks and into value stocks. Established companies less affected by inflation tend to populate the value universe, where current income and cash flows tend to be stronger and more desirable.
In contrast, the rising interest rates that typically accompany higher inflation often hamper growth stocks. Rising interest rates may stifle earnings expectations—and the future value of growth companies.
Nevertheless, we don't believe abandoning growth companies is a sound strategy. Instead, we believe owning stocks in growing, innovative companies with pricing power can help investors battle inflation.
Innovation Propels Pricing Power
In our view, several growth drivers should remain persistent, enabling select companies to help defend profit margins and prices. These catalysts include:
Migrating information technology infrastructure to the cloud.

Building out e-commerce capabilities.

Achieving Customer 360, a 360-degree view of a customer's interaction with a company.

Expanding the availability of technology infrastructure, software and tools to smaller companies.
Avoiding "Over-Earners"
We believe companies with sustainable earnings growth, enduring competitive advantages and strong management teams should be able to withstand higher inflation.
Companies with the foresight to favor long-term customer loyalty over short-term profits may offer attractive investment opportunities. These are companies that avoid the temptation to "over-earn," preferring to "undercharge" for their products, at least in the near term. This distinct characteristic gives these firms room to raise prices, if necessary.
Small Caps: Historical Advantages When Inflation Rises
In addition to affecting the value/growth dynamic, inflation can also influence returns from a size perspective.
Small-cap companies are generally more economically sensitive (or more cyclical) than large-cap stocks. Periods of heightened inflation typically emerge when economic conditions are strong. Given their cyclical qualities, small caps may experience faster earnings growth and higher stock prices than their large-cap peers. See Figure 3. 
Figure 3 | Small Caps Have Outperformed When Inflation Rises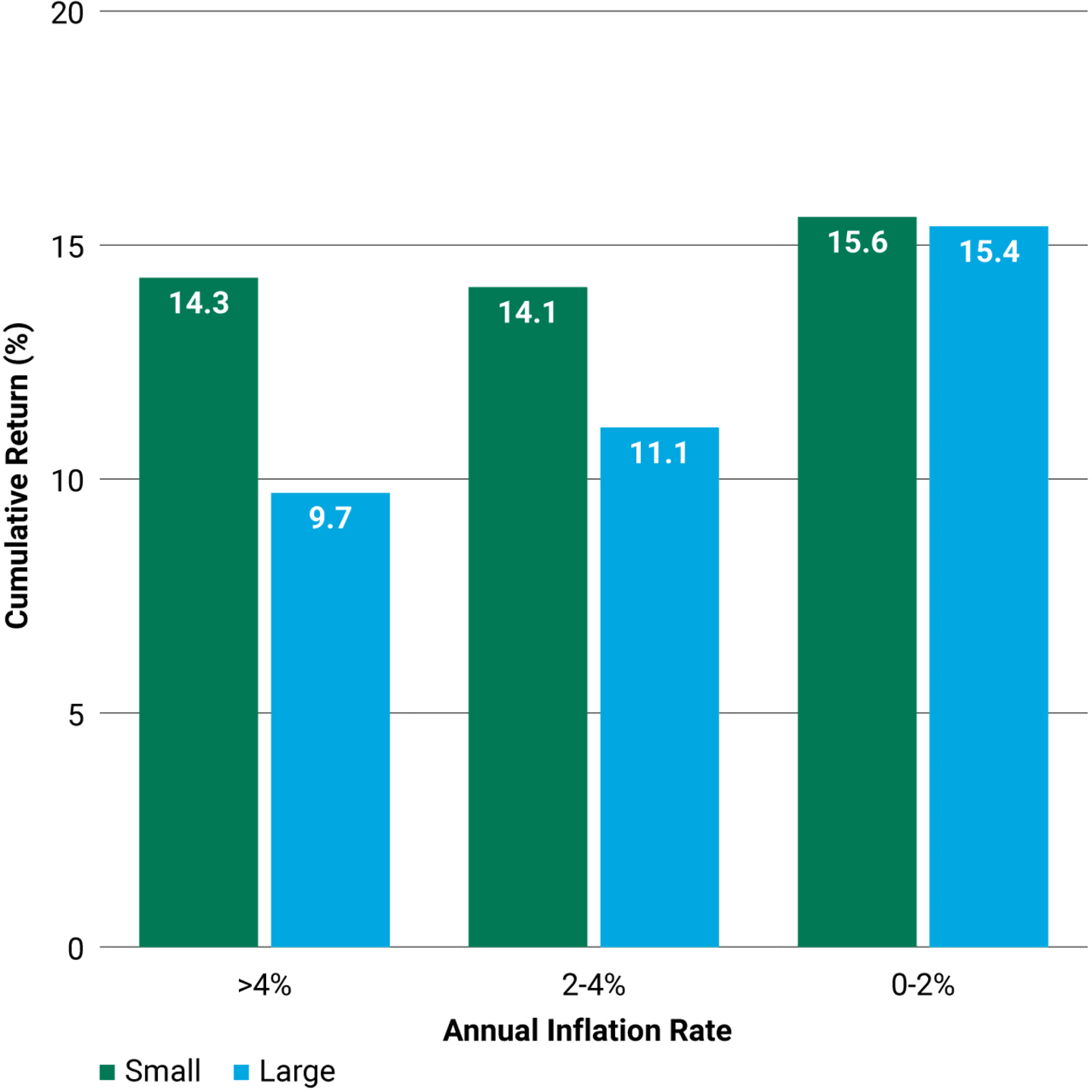 Source: CRSP, University of Chicago Booth School of Business; FTSE Russell family of indices; Jefferies. 
Data from 1/1/1945 - 12/31/2020.

Higher inflation also typically leads to higher interest rates—another backdrop in which small caps may outperform large caps. The small-cap universe has greater exposure to interest rate-sensitive companies, particularly regional banks.
Stay Diversified, Active and Long-Term Focused
While history shows stocks have helped combat rising inflation, we believe having a mix of stocks with solid pricing power is crucial.
In our view, investors should consider:
Selecting actively managed strategies, which can focus on adjusting their portfolios to favor firms with strong pricing power and appreciation potential.

Maintaining broad diversification among traditional inflation-fighting assets and companies with key competitive advantages. This approach may strengthen long-term purchasing power.

Staying focused on long-term performance and a sound investment strategy that includes regular rebalancing.
U.S. Bureau of Labor Statistics, Consumer Price Index.
Diversification does not assure a profit nor does it protect against loss of principal.
Investment return and principal value of security investments will fluctuate. The value at the time of redemption may be more or less than the original cost. Past performance is no guarantee of future results.
References to specific securities are for illustrative purposes only, and are not intended as recommendations to purchase or sell securities. Opinions and estimates offered constitute our judgment and, along with other portfolio data, are subject to change without notice.
No offer of any security is made hereby. This material is provided for informational purposes only and does not constitute a recommendation of any investment strategy or product described herein. This material is directed to professional/institutional clients only and should not be relied upon by retail investors or the public. The content of this document has not been reviewed by any regulatory authority.
The opinions expressed are those of American Century Investments (or the portfolio manager) and are no guarantee of the future performance of any American Century Investments' portfolio. This material has been prepared for educational purposes only. It is not intended to provide, and should not be relied upon for, investment, accounting, legal or tax advice.