Like your personal health, maintaining optimal financial health takes some planning—and regular exams.
More than occasionally checking account balances, you need to set aside time for an in-depth look at your investments. Have you reviewed your overall portfolio in the last six months? In the last year? If not, you may be due for a checkup.
Don't have a comprehensive financial plan?

A Prescription for Portfolio Health, Even During Volatility
Your financial health depends on a carefully constructed plan that aligns with your age, risk tolerance and goals for the future. Periodic portfolio reviews ensure your plan stays on track.
Checking your portfolio doesn't always mean making changes. Unlike medical symptoms, portfolio fluctuations may be best treated with a "wait and see" attitude. The temptation to adjust your portfolio during market volatility may result in rash decisions. Why? Focusing on recent ups and downs might cause you to buy high and sell low—the opposite of successful investing.
Making money and avoiding losses is more than just guessing at the market's direction. To keep your financial plan on course, experts advise a more disciplined approach: Review your portfolio on an annual or semiannual time frame, or whenever you experience major life events.
Prepare for Your Checkup
Gather your quarterly account statements or log into your accounts online. You'll want to familiarize yourself with all your holdings and their performance over the last six to 12 months (or since your last review).
Also make note of any additional investments or withdrawals that have had an effect on your overall account balances. You'll also need to consider whether those transactions were part of your initial financial plan or if they were a significant departure from your strategy.
Examine Any Recent Life Changes
Job changes, marriage, divorce, birth of a child, retirement, etc. can impact how you invest and are good reasons for a comprehensive review of your investment goals and portfolio. Questions to consider:
Does this event affect your previously planned long-term goals?

Will you need to adjust the amount of money you need for those goals?

Have your opinions about your risk tolerance changed?

Do you need to add other people to your financial plan or change your beneficiaries?
Certain events may significantly change your plans, but make sure you use your review to stay committed to your future.
Watch Your Weight(s)
Have your portfolio allocations lost or gained weight since your last review? Over the past few months, market fluctuations have likely caused the value—and corresponding weightings—of your portfolio holdings to increase or decrease.
An overweight stock allocation, for example, can increase the value of your portfolio. Sounds great, right? But it also simultaneously adds more risk to your portfolio than you intended—not so great.
In this case, it may be time to rebalance, or sell your winning holdings and get your portfolio allocation back to your original plan. Here's what that may look like.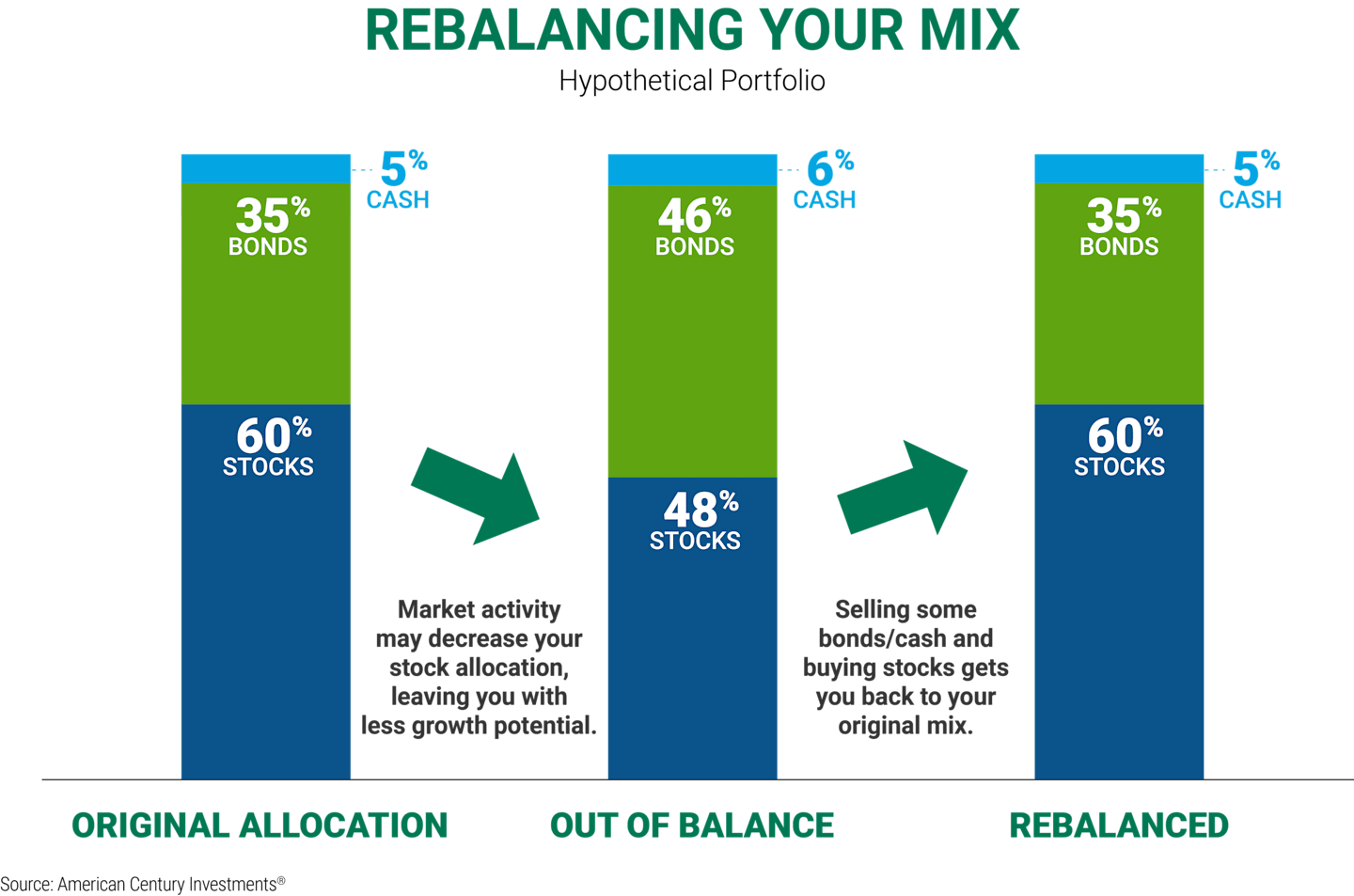 Rebalancing to Your Healthy Mix
Original Allocation: For example, you may have decided to allocate 60% of your portfolio to stocks, 30% to bonds and 10% to cash investments.
Out of Balance: If market activity causes the value of your stocks to increase, you'll have a greater percentage invested in stocks, leaving you exposed to more risk than you intended.
Rebalanced: Rebalancing—buying more bonds and cash investments and selling stocks—gets you back to your original 60/30/10 mix.

If you don't want to rebalance individual holdings yourself, learn more about asset allocation portfolios. These professionally managed, automatically diversified investment solutions come in a single portfolio—a helpful option for long-term financial goals.
Commit to Regular Checkups
A solid plan and a long-term view are important drivers of investment success. If you need help with your review or want help making changes to your portfolio after your review, we're here for you.
If you find you're in need of more in-depth professional financial planning and wealth management, our premium advice service, Private Client Group, offers professional advice and portfolio management. Learn more.
Private Client Group advisory services are provided by American Century Investments Private Client Group, Inc., a registered investment advisor. This service is generally for clients with a minimum $50,000 investment. Call us to determine the level of service that is appropriate for you. The advisory service provides discretionary investment management for a fee. All investing involves risk.
Diversification does not assure a profit nor does it protect against loss of principal.
Investment return and principal value of security investments will fluctuate. The value at the time of redemption may be more or less than the original cost. Past performance is no guarantee of future results.
Rebalancing allows you to keep your asset allocation in line with your goals. It does not guarantee investment returns and does not eliminate risk.
The opinions expressed are those of American Century Investments (or the portfolio manager) and are no guarantee of the future performance of any American Century Investments' portfolio. This material has been prepared for educational purposes only. It is not intended to provide, and should not be relied upon for, investment, accounting, legal or tax advice.