American Century Championship
NBC Sports and American Century Investments® Announce Six-Year Extension of the American Century® Championship Through 2029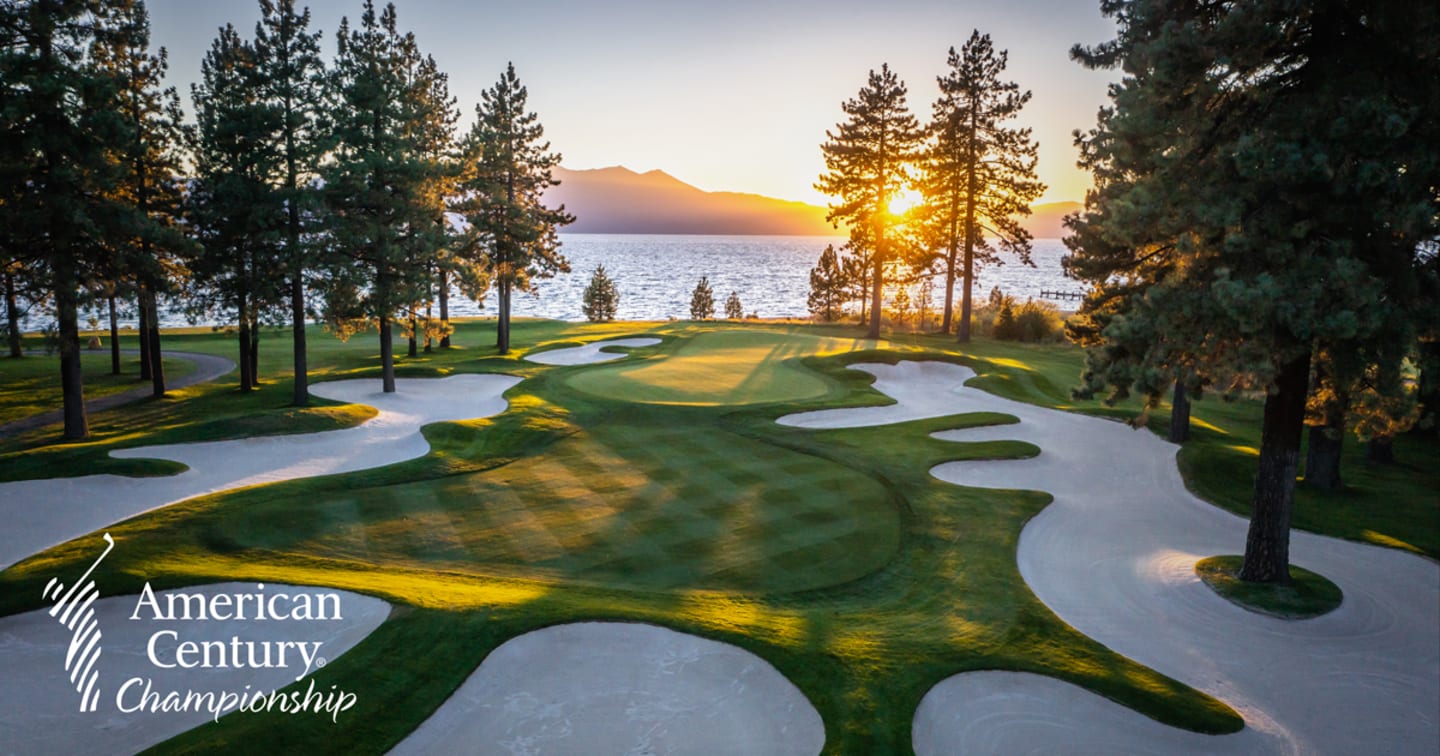 American Century Celebrating 25th Year as Title Sponsor of the Nation's Premier Celebrity Golf Championship
Field of 93 Stars Across Sports and Entertainment Return to Lake Tahoe and Edgewood Tahoe Golf Course, Airing Live on NBC July 14-16
NBC Sports and American Century Investments jointly announced today a multi-year extension of one of the most prolific partnerships in professional sports – the American Century Championship – to run through 2029, the tournament's 40th anniversary. The new agreement marks one of the longest title sponsor extensions in golf and comes as the 2023 event kicks off at Edgewood Tahoe Golf Course this week, celebrating American Century's 25th year as title sponsor of the American Century Championship. Now in its 34th year, the American Century Championship is owned, operated and produced by NBC Sports.
"As we celebrate our 25th anniversary of the American Century Championship this week with our partners NBC, Edgewood Tahoe and the Lake Tahoe Visitors Authority, I can't think of a better way to kick off this year's event and look to the future than by sharing the exhilarating news of our continued commitment to this great championship, which has become the gold standard of celebrity golf tournaments," said Jonathan Thomas, President and CEO of American Century Investments. "Our longtime partnership with the event is an ideal platform to share our incredible story where 40 percent of our profits fund research to find cures and treatments for cancer and other gene-based diseases. In addition, the event serves as the perfect backdrop for fundraising activities that benefit local and national charities."
"Over the last 25 years with American Century Investments, the American Century Championship has grown into one of the most sought-after events of the summer for our players and one of the most popular events in golf on an annual basis," said Jon Miller, President, Acquisitions and Partnerships, NBC Sports. "We've developed a tremendous relationship of mutual support through the years to build this championship into what it is today, and we look forward to continue growing this partnership for many years to come."
"Besides it being our largest sporting event of the summer, this tournament represents a special bond, trust and friendship among the various partners: NBC, American Century, the LTVA, Edgewood, our resorts and the local community," said Carol Chaplin, President and CEO of the Lake Tahoe Visitors Authority. "It's impactful as far as creating awareness of the destination and its sustainability initiatives, benefiting the local economy through visitation, as well as support for local charitable organizations. Plus, it accurately reflects our brand of 'Awe and then Some."
NBC, GOLF Channel and Peacock will televise coverage Friday-Sunday, July 14-16, with NBC Sports surrounding tournament coverage all week to deliver robust linear and digital coverage.
American Century Championship Tournament Airtimes
| | | |
| --- | --- | --- |
| Friday, July 14 | Peacock | 4-6 p.m. ET / 1-3 p.m. PT (Live) |
| Friday, July 14 | GOLF Channel | 9:30-11:30 p.m. ET / 6:30-8:30 p.m. PT |
| Saturday, July 15 | NBC, Peacock | 2:30-6 p.m. ET / 11:30 a.m.-3 p.m. PT (Live) |
| Sunday, July 16 | NBC, Peacock | 2:30-6 p.m. ET / 11:30 a.m.-3 p.m. PT (Live) |
The 2023 American Century Championship will feature 93 stars across sports and entertainment, including Hall of Famers from the NFL, NBA, NHL and MLB – active and retired players – as well as Hollywood actors, comedians and entertainers. The three-day, 54-hole tournament takes place Friday-Sunday, July 14-16 and includes a $600,000 purse, with $125,000 going to the winner, plus a charity component for local and national non-profits.
What began modestly as replacement programming for NBC in 1990, the American Century Championship is the nation's longest running celebrity golf tournament and is widely recognized as one of the premier events in golf. The American Century Championship has donated more than $7 million to a number of national and local charities. The Stowers Institute for Medical Research is the official national beneficiary. Established in 1994 by American Century Investments founder James Stowers Jr., and his wife, Virginia, the Institute is a biomedical research organization that focuses on improving human health through basic research.
For more information on the American Century Championship, visit @ACChampionship on Twitter and Instagram, and Facebook, and online at www.AmericanCenturyChampionship.com.
About NBC Sports
NBC Sports connects people to the moments that matter most and serves sports fans 24/7 with premier live events, insightful studio shows, and compelling original programming. As the sports division of NBCUniversal, NBC Sports presents premier content across linear platforms NBC, USA Network, Golf Channel, as well numerous digital sites, including Peacock. NBC Sports possesses an unparalleled collection of media rights agreements, partnering with some of the most prestigious sports properties in the world: the International Olympic Committee and United States Olympic and Paralympic Committee, the NFL, Big Ten Conference, NASCAR, INDYCAR, PGA TOUR, Notre Dame, The R&A, PGA of America, USGA, Churchill Downs, Premier League, MLB, Tour de France, Roland-Garros, and many more. It also consists of NBC Sports Next, a subdivision of NBC Sports and home to all NBCUniversal digital applications in sports and technology within its three groups: Youth & Recreational Sports, Golf, and Betting & Gaming.
About the Lake Tahoe Visitors Authority
With more than 75 plaudits and accolades from national media outlets, Visit Lake Tahoe combines the distinctive appeal of two worlds: unparalleled natural beauty and an array of world-class outdoor recreation, entertainment, nightlife and gaming. As a responsible tourism destination, it offers a balanced approach regarding social and environmental impacts to preserve its appeal for generations. For information about lodging, recreation, events, and mindful travel at Visit Lake Tahoe, call 1-800-288-2463 or log onto www.VisitLakeTahoe.com.
About American Century Investments
Who We Are

American Century Investments is a leading global asset manager focused on delivering investment results and building long-term client relationships while supporting breakthrough medical research.

Quick Facts

Founded in 1958, American Century Investments' 1,400 employees serve financial professionals, institutions, corporations and individual investors from offices in Kansas City, Missouri; New York; Los Angeles; Santa Clara, California; Portland, Oregon; London; Frankfurt, Germany; Hong Kong; and Sydney.

Management

Jonathan S. Thomas is president and chief executive officer, and Victor Zhang serves as chief investment officer.

Giving Back

Delivering investment results to clients enables American Century Investments to distribute over 40% of its dividends to the Stowers Institute for Medical Research, a 500-person, nonprofit basic biomedical research organization. The Institute owns more than 40% of American Century Investments and has received dividend payments of nearly $2 billion since 2000.