American Century Completes Transaction with 3x5 Partners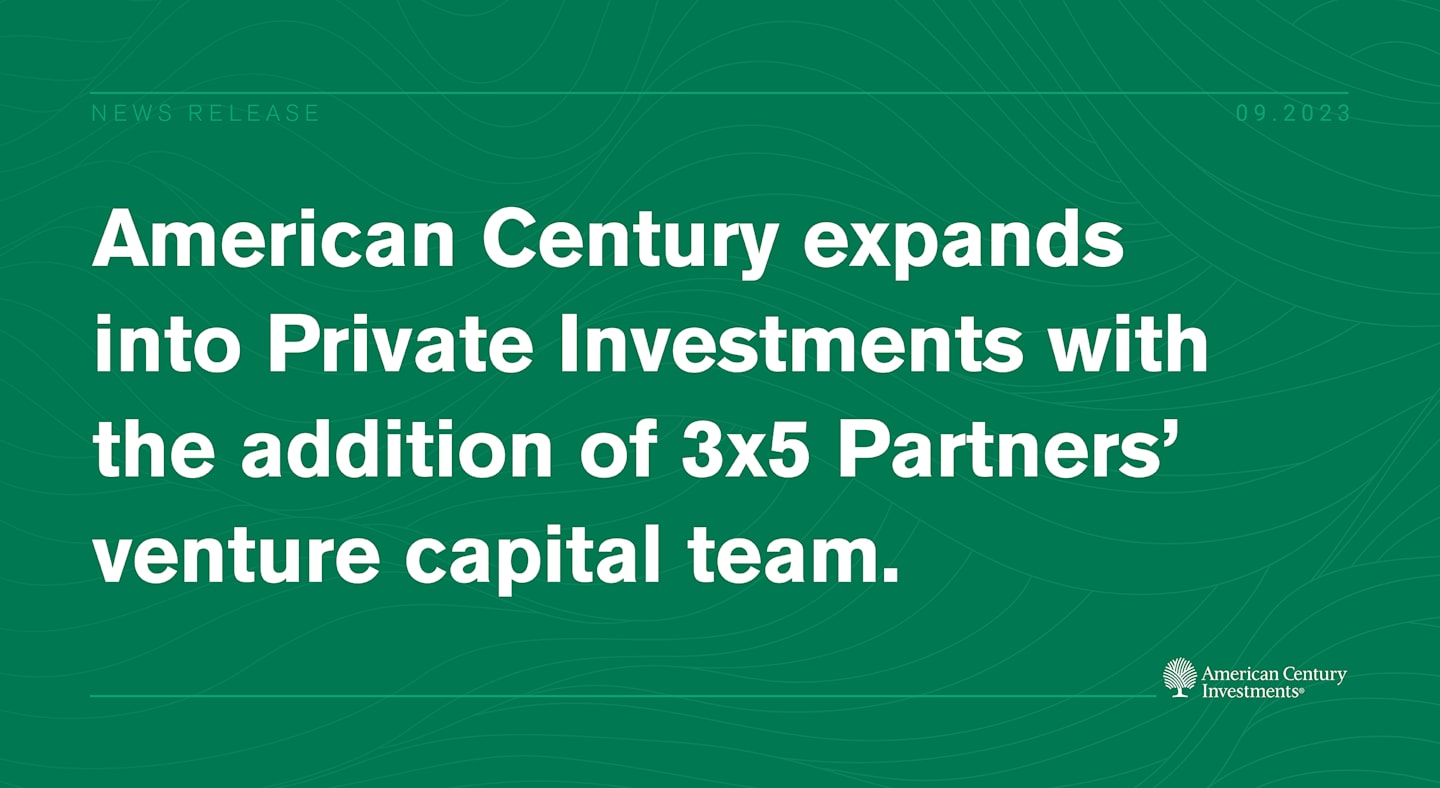 Investment team joins American Century to lead its entry into private markets
American Century Investments®, a more than $200 billion* global asset manager, completed its transaction with the venture capital team from 3x5 Partners, who joined the firm on Sept. 1. The managing partners, Nicholas Walrod, Tony Arnerich and Joe Biller, will now lead American Century's new private investment capabilities and report to Victor Zhang, the firm's chief investment officer.
American Century announced its planned entrance into the rapidly growing private markets earlier this summer.
"It's our mission to serve the needs of our clients. As they increasingly allocate to private markets, we are delighted with the completion of this transaction. We will soon be able to further meet client demand, particularly in the areas of early-stage growth investing around health care and climate," Zhang said.
American Century believes its new private investment capabilities will be of greatest interest to its global institutional clients and clients of high-net-worth financial professionals. The private investing team will continue to operate out of Portland, Oregon.
"We're pleased to join American Century," Walrod said. "Our expertise in collaborating with passionate entrepreneurs who are developing solutions in response to global healthcare and climate needs dovetails with the firm's commitment to doing well while doing good. We believe this will be a great fit as we continue our work."
Founded in 2011, 3x5 Partners sought out companies that deliver advancements in energy, food, water, shelter, health care, sanitation, and climate and environmental sustainability. The team's experience includes managing, individually or jointly, more than $500 million in the health care and climate solutions sectors.
American Century, which integrates financially material, sustainability-related factors into many of its investment processes in order to help deliver better long-term, risk-adjusted returns for its clients, has made an impact on global health for more than 20 years. In 2000, its founders gifted an equity stake in the firm to the Stowers Institute for Medical Research. Since then, the Stowers Institute has received nearly $2 billion from this unique ownership structure.
About American Century Investments
Who We Are

American Century Investments is a leading global asset manager focused on delivering investment results and building long-term client relationships while supporting breakthrough medical research.

Quick Facts

Founded in 1958, American Century Investments' 1,400 employees serve financial professionals, institutions, corporations and individual investors from offices in Kansas City, Missouri; New York; Los Angeles; Santa Clara, California; Portland, Oregon; London; Frankfurt, Germany; Hong Kong; and Sydney.

Management

Jonathan S. Thomas is president and chief executive officer, and Victor Zhang serves as chief investment officer.

Giving Back

Delivering investment results to clients enables American Century Investments to distribute over 40% of its dividends to the Stowers Institute for Medical Research, a 500-person, nonprofit basic biomedical research organization. The Institute owns more than 40% of American Century Investments and has received dividend payments of nearly $2 billion since 2000.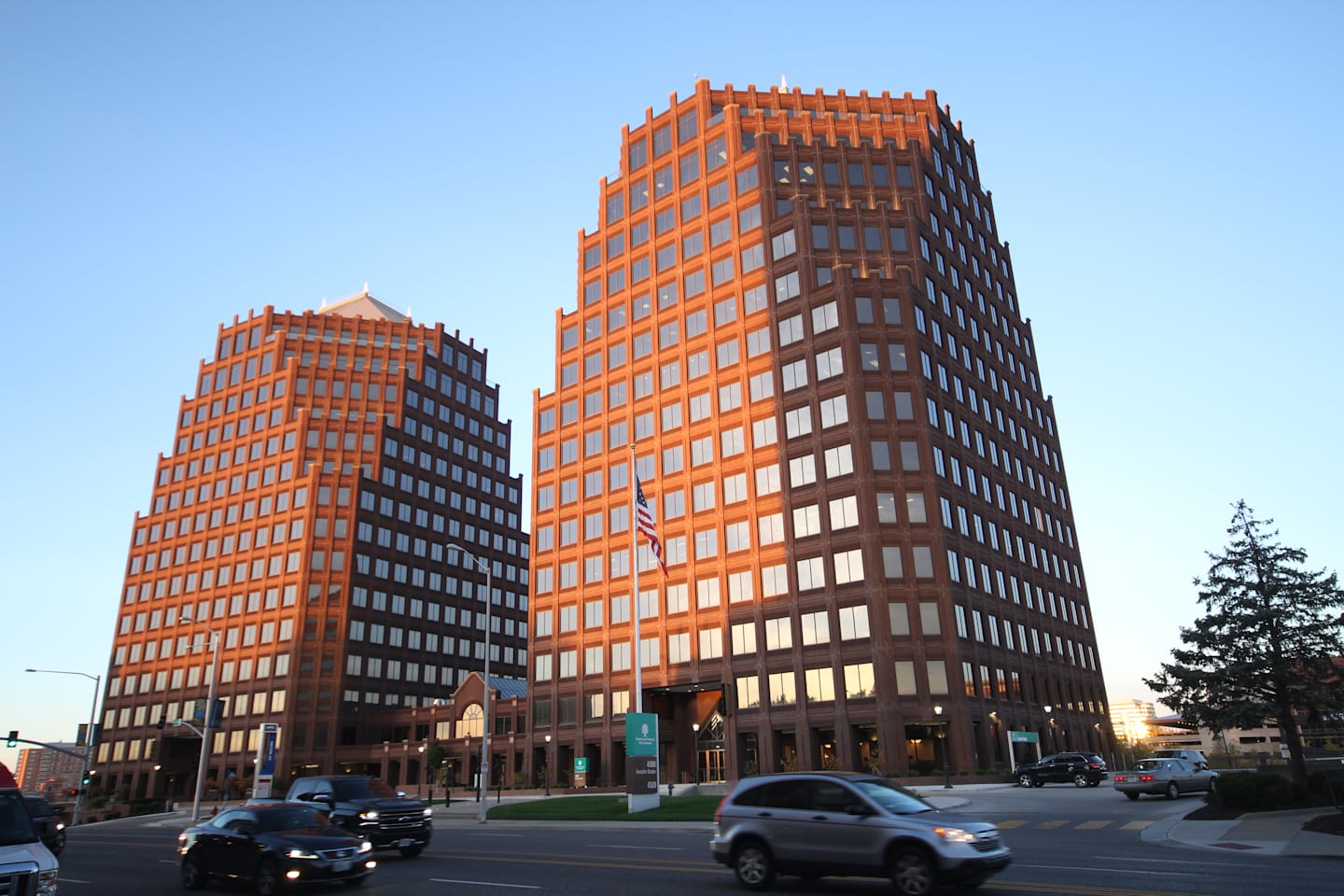 Assets under supervision as of 5/31/23.
©2023 American Century Proprietary Holdings Inc. All rights reserved.
Many of American Century's investment strategies incorporate the consideration of environmental, social, and/or governance (ESG) factors into their investment processes in addition to traditional financial analysis. However, when doing so, the portfolio managers may not consider ESG factors with respect to every investment decision and, even when such factors are considered, they may conclude that other attributes of an investment outweigh ESG considerations when making decisions for the portfolio. The consideration of ESG factors may limit the investment opportunities available to a portfolio, and the portfolio may perform differently than those that do not incorporate ESG considerations. ESG data used by the portfolio managers often lacks standardization, consistency, and transparency, and for certain companies such data may not be available, complete, or accurate.