Fast-Growing Digital Finance Companies Are Creating Long-Term Investment Opportunities
By David Cross, CFA, Jonathan Bauman, CFA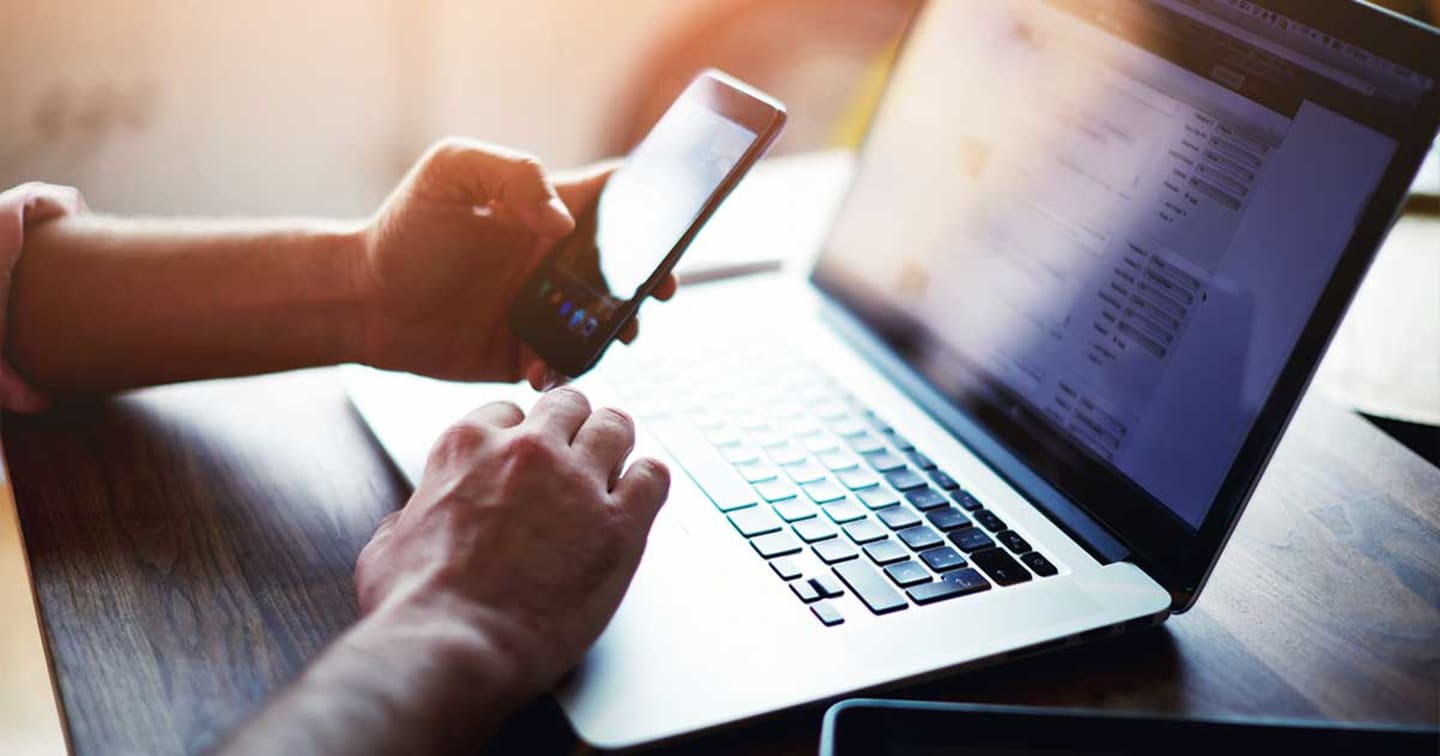 Nimble digital finance companies are disrupting the financial services industry.
With innovative mobile apps and online banking tools, digital financial services companies offer consumers a convenient alternative to traditional brick-and-mortar banks and financial institutions.
We are finding opportunities in select digital finance companies that we believe offer attractive long-term performance potential.
The Rise of Digital Financial Services
Consumers today have options beyond the proprietary service menus that brick-and-mortar banks and other traditional financial institutions offer. Innovative digital finance companies have been creating a variety of mobile apps that are easy to install and use. These apps typically make it easy to accomplish certain financial tasks.
Many digital finance companies are small and nimble, allowing them to innovate faster to create consumer-centric solutions. In our view, certain companies deploying disruptive financial technologies represent attractive investment opportunities.
Pioneering companies revolutionizing the digital finance space include Venmo, Cash App, Chime, Robinhood and Affirm Holdings.
Venmo (owned by PayPal) and Cash App (owned by Square)
These companies use peer-to-peer networks (P2P) to allow users to send each another money from mobile devices through linked bank accounts or cards. For example, the P2P service makes splitting restaurant tabs or cab fares with friends and family painless. Both firms have built relatively large customer bases. Venmo has 76 million users, while Cash App has 70 million.¹ ²
Chime
Chime provides checking and savings accounts to consumers. Chime is disrupting the banking services market by foregoing overdraft fees and leveraging the ease of direct deposits to build its customer base​. Many expect this privately held company to launch an initial public offering (IPO) of its stock sometime soon.
Robinhood
Popular trading app Robinhood aims to democratize online investing with its commission-free trades, focus on simplicity and enjoyable customer experience. The company has 31 million customers and recently listed shares in a public offering.³
Affirm Holdings
Operating as an alternative to traditional credit cards, Affirm offers consumers the ability to buy products and services over time without hidden fees. In our view, Affirm stands out in this niche due to its exceptional technology and risk-management capabilities that enable higher customer approval rates and lower the incidence of fraudulent transactions compared with traditional credit underwriting models.
These companies and other digital finance firms earn revenues, in part, through merchant, instant access and trading fees. Acquiring a large base of customers is paramount, especially for the smaller and niche companies.
Fintech Companies Have Unique Advantages Over Traditional Banks
Thanks to their proficient use of cloud computing digital finance companies typically innovate more quickly than banks.
Digital finance tools are mobile native (downloaded directly to smartphones or tablets and operating largely independent of the web) with simplified user interfaces. They are generally less expensive than the similar tools traditional banks may offer.
According to management consulting firm McKinsey, digital finance companies operate at 70% of the cost of traditional banks due mostly to their lower costs of acquiring and serving customers.⁴ They also rely less on interest income than traditional banks.
Millennials are "digital natives," and many prefer easy-to-use, personalized financial services. Digital finance tools allow millennials to conduct transactions with one swipe or tap. This demographic is a key driver of digital financial technologies and the companies behind them.
Digital finance tools can help close the financial services gap for those without conventional bank accounts. The FDIC and Federal Reserve have estimated that 20% to 25% of U.S. households are unbanked or underbanked​.⁵ These households typically lack access to basic checking or savings accounts and often incur excessive fees to access their financial resources.
Case Study: PayPal Holdings and Venmo
Founded in 1998, PayPal operates technology platforms for digital money transfers. Figure 1 shows how the company has grown, more than doubling the number of transactions from 2017 to 2020.
The company acquired Venmo in 2013 to add to its stable of digital finance services. Venmo uses peer-to-peer networking technology to simplify money transfers within a social network through a mobile app or within Venmo's website. Venmo doesn't charge users to send or receive money except when they use credit cards.
Venmo became popular in 2015 when it launched an aggressive marketing campaign encouraging people to "pay with Venmo" instead of cash or credit cards. Its increasing number of users helped Venmo become more successful and add ancillary services. It now offers a debit card through MasterCard and credit card through Synchrony Bank.
We think the Venmo narrative of starting with a single, differentiated product and expanding its customer base and services is potentially the path to long-term success for PayPal. Other companies in the digital finance industry could follow a similar roadmap.
Figure 1 | PayPal's Transaction Volume Has Grown at a Fast Pace
PayPal Transaction Growth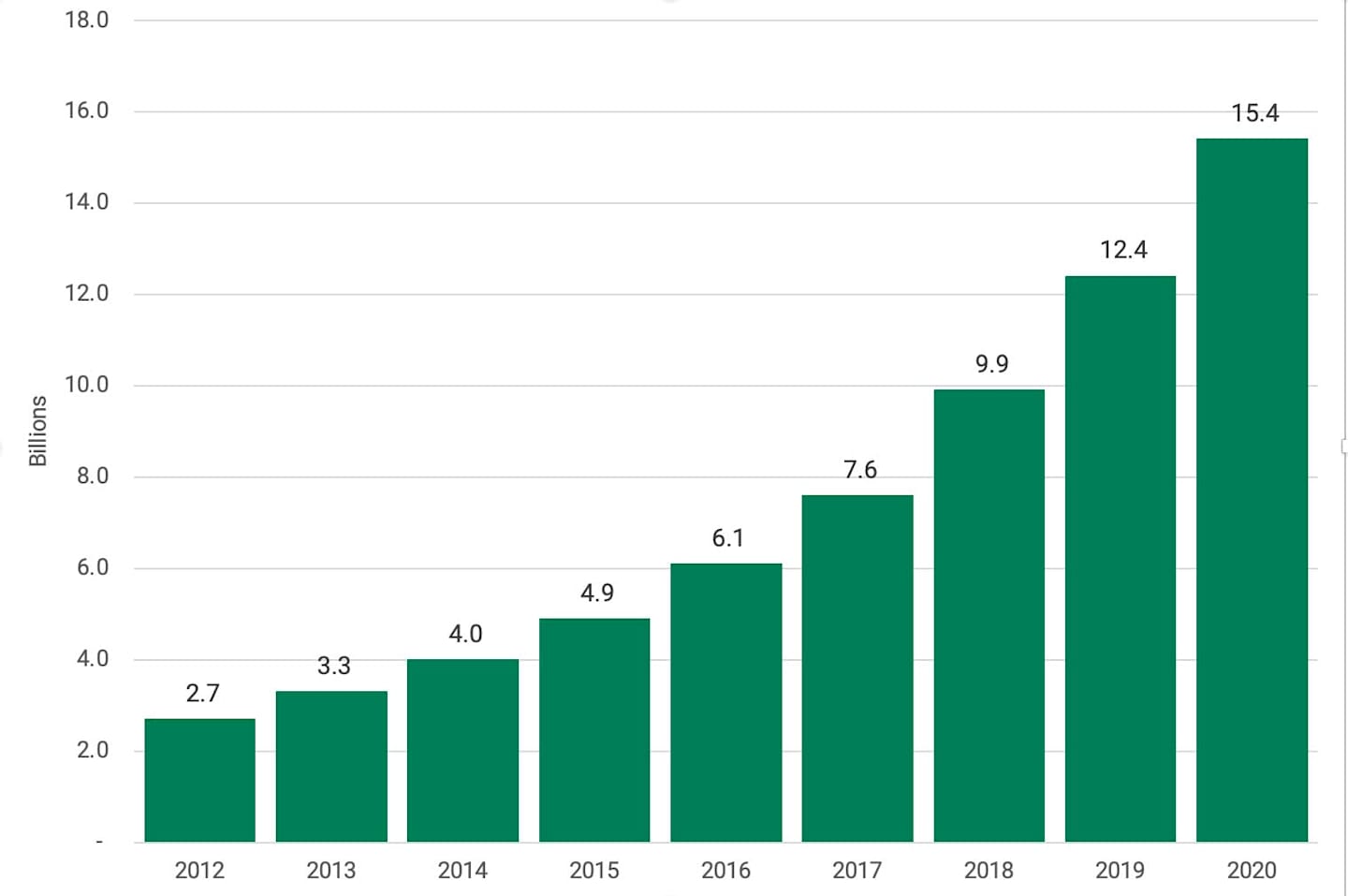 Data from 1/1/2012 – 12/31/2020. Source: PayPal Holdings annual reports.
Implications for Investing in Digital Finance Companies
While investing in digital finance companies includes a fair amount of risk, we think it offers the potential for long-term rewards. When we evaluate investment opportunities, we look at a company's current financial position and its potential to grow.
In our view, an attractive company in digital finance should exhibit these features:
Have growth at an improving rate.

Hold significant market share.

Be in an industry or subindustry with bright prospects for growth and expansion.

Have strong cash flow from day-to-day business operations.

Have a robust balance sheet that can fund growth initiatives and acquisitions.
We think select companies with these characteristics likely have upside potential over the long-term. Their proven agility and responsiveness to shifting consumer preferences should make them intriguing opportunities.
"Second Quarter 2021 Results," PayPal Holdings, July 28, 2021.
"Square Plans to Acquire Afterpay Transaction Overview," Square, Inc., August 1, 2021.
Form S-1 Registration Statement, Robinhood Markets, Inc., July 1, 2021.
"Digital Business Building: Using Innovation in Building a Bank for the Future," McKinsey & Company, November 4, 2019.
"Report on the Economic Well-Being of U.S. Households in 2019 - May 2020," U.S. Federal Reserve, last updated May 21, 2020.
References to specific securities are for illustrative purposes only, and are not intended as recommendations to purchase or sell securities. Opinions and estimates offered constitute our judgment and, along with other portfolio data, are subject to change without notice.
The opinions expressed are those of American Century Investments (or the portfolio manager) and are no guarantee of the future performance of any American Century Investments' portfolio. This material has been prepared for educational purposes only. It is not intended to provide, and should not be relied upon for, investment, accounting, legal or tax advice.