Choosing a Financial Advisor: When, What, Where & How
How can you find the right financial advisor? Learn how to choose the one that fits you.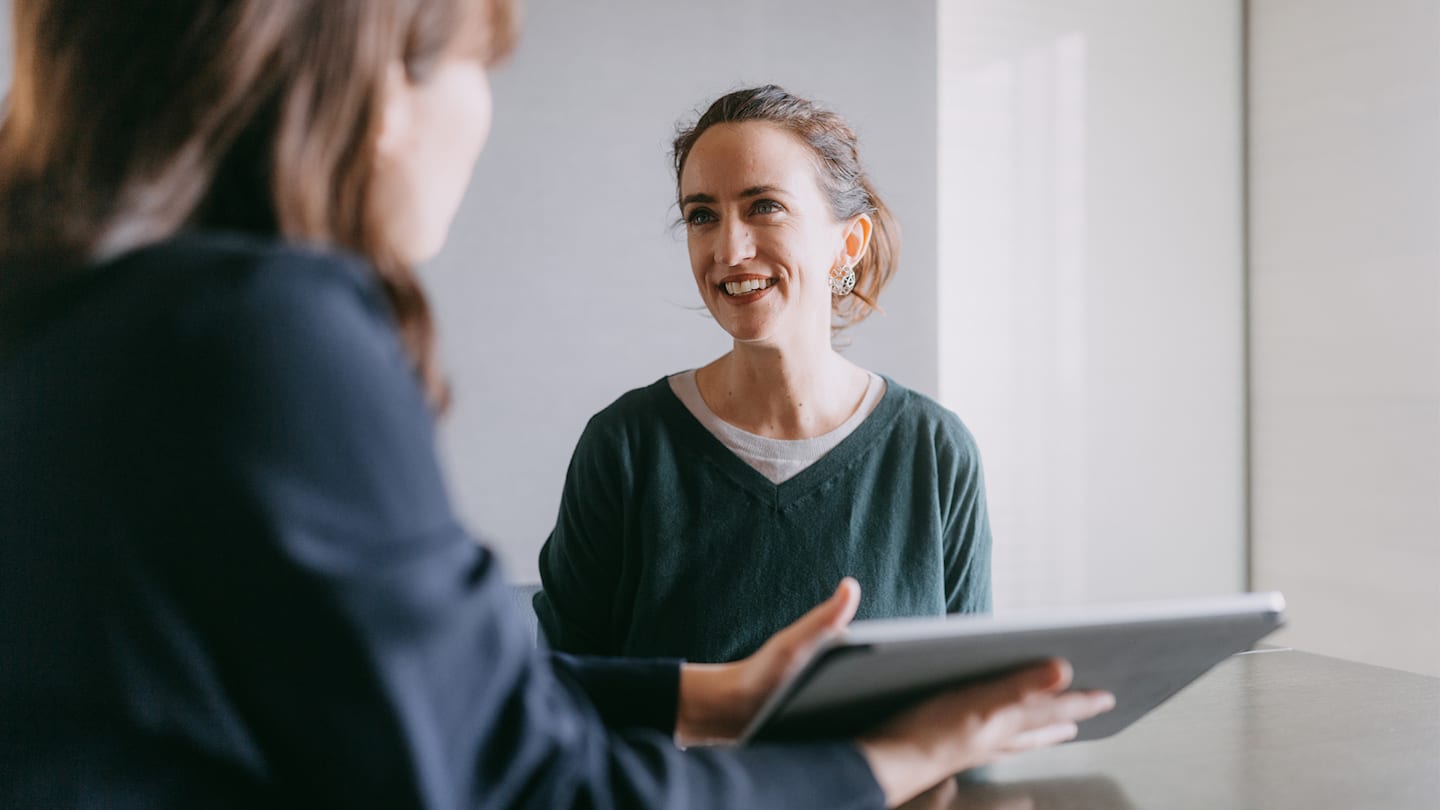 Getting financial help starts with knowing when you should seek advice.
Finding a professional who understands you and who you can trust can sound difficult.
Get tips for where to start, how to choose and what you can expect from an advisor.
Relying on a professional might sound like an easy way to simplify your finances. The problem? Finding the right financial advisor who understands your needs—and who you can trust. Here are suggestions for when to consider an advisor, what to expect when hiring one, where to start and how to choose the right financial advisor for you.
When Should You Seek Advice?
One of the most important times to seek advice is when life changes like these occur:
Family: Marriage, birth of a child, divorce

Occupation: First job, choosing benefits, changing jobs, starting a business, nearing or in retirement

Health: Long-term care needed, death or illness of a family member, aging parents

Money: Receiving an inheritance, planning your legacy, tax changes
Even if you're not experiencing a life change, you may want to consider working with an advisor if you don't have time to manage your own finances or your assets have grown to a point where you're no longer comfortable or willing to manage them yourself.
What Types of Financial Services Do You Need?
Different financial advisors have different areas of expertise. Areas they may be able to help you with include:
Investing and retirement planning: A financial advisor can make sure you're maximizing retirement accounts such as 401(k) and IRA contributions, as well as help you determine the appropriate investment products and funds based on your risk tolerance.

Budgeting and debt management: A financial advisor may help you to build a monthly budget to help retire high-interest debt in a timely fashion and realistically build investment and savings strategies, based on your long-term goals.

Portfolio tax questions: Some advisors can give detailed strategies to plan for and mitigate the impact of taxes on your investments, whether it be for managing your tax-advantaged retirement accounts such as your 401(k) or minimize the impact of capital gains taxes.

College savings strategies: Financial planners can help you develop a college savings strategy and choose a tax-advantaged account, such as a 529 college savings plan.

Estate planning: Some financial planners can help plan your financial legacy to ensure your loved ones are financially protected.
What Can I Expect from an Advisor?
While styles may vary, the most important result should be a sound financial plan. At a minimum, advisors should help:
Establish your goals. Short-term goals are those you want to accomplish in the next year, such as building an emergency fund or purchasing a new car. Mid-term goals are for the next three to five years—like purchasing a home. Long-term goals are further out, such as retirement.

Understand what kind of investor you are. When you'll need the money for each goal and how you feel about risk. Your advisor should respect your comfort with risk and build your portfolio accordingly.

Create, implement and monitor your plan.

Create a comprehensive financial plan for your future based on your discussions.

Implement your plan and begin your investments.

Monitor your investments and recommend changes, if necessary.

Adapt your plan as your circumstances change (e.g. marriage, divorce, retirement).

Regular check-ins. Your advisor should schedule regular reviews and seek you out when significant changes occur in the investing environment.
How to Choose a Financial Advisor
Finding the right advisor takes homework. Friends and family can make suggestions, but ultimately you need to find a professional who has qualities that make you feel comfortable sharing information about your life and money. We suggest an advisor who:
Works to understand your personal circumstances, values, investing style, tax situation and goals. They should respond promptly when you experience a life change. Ask the advisor how he or she will help you set priorities and support your goals.

Is a good fit. Make sure the advisor's expertise matches what you need most. If the advisor works mostly with corporate clients and you aren't one, it might not be a good fit.

Helps you stay focused. It's easy to get sidetracked by market news—good and bad. It's an advisor's job to help you stay resolute on your goals.

Develops and monitors a personal plan for you and adjusts it when needed. Find out how often the advisor makes significant changes with other clients, and how that affects the fees you may pay. How often can you expect your advisor to check in with you?

Helps you understand fees and expenses. Fees should be transparent. Walk away if they're not.
Understanding Advisor Fees and Expenses
There are several different types of ways that financial advisors charge for their work, often dictated by how much hands-on services they provide:
Fee-only financial planner: As the name suggests, fee-only planners charge only for the time spent working with the client.

Fee-based financial planner: A fee-based financial advisor charges a flat rate for their time, but also may collect commissions from products their clients use.
There are also different types of financial advisory products on the market which, again, give different rates depending on the degree of personal service provided.
Digital or Robo-advisors: These financial advisory products use algorithms and online questionnaires to automate financial services given. These services charge annual rates as low as 0.25% of your total assets under management or can be based on the size of your account.

Online financial planners: These financial advisory companies give a mix of automated financial advice and management like robo-advisors but also some limited options for one-on-one advice. Services like these can range from 0.5% to just under 1% annual fees based on your assets in your account or may charge a flat fee for a consultation with the advisor.

Traditional financial advisors: These professionals provide one-on-one advice, planning and management, typically charging annual fees of around 1% of assets under management. They are especially good for more specialized and complex financial management.
No matter which type of provider you choose, users may also need to pay the fees of any funds you invest in (known as the fund's expense ratio).
Picking the Right Financial Advisor for You
Advisors can be affiliated with large or small firms or be independent (run their own advisory business). Both types have advantages, but in the end, it's your comfort level that matters. Review the advisor's qualifications with these questions:
How much do you charge for your services? Are there any commissions I need to know about?

How long have you been in the industry?

Do you have a succession plan? What happens to my money if something happens to you or you leave the firm?

Do you work in teams or on your own?

What's the average length of time a client stays with you?
You can also do your own research. The BrokerCheck website, sponsored by the Financial Industry Regulatory Authority (FINRA), provides the career history of an advisor, including where they've worked and for how long, as well as any regulatory issues or client complaints. You can also do a simple Google search as well.
Preparing for Your First Financial Advisor Meeting
Your work isn't over once you set your first meeting with a financial advisor. To make sure you're prepared, be ready to discuss goals, your current and expected family situation and what you need from your portfolio.
Making the decision to work with a financial partner is significant. Finding the right one is even more important. If you have an advisor, we suggest you talk about any questions this article may have sparked.
American Century's advisory services are provided by American Century Investments Private Client Group, Inc., a registered investment advisor. These advisory services provide discretionary investment management for a fee. The amount of the fee and how it is charged depend on the advisory service you select. American Century's financial consultants do not receive a portion or a range of the advisory fee paid. Contact us to learn more about the different advisory services. All investing involves the risk of losing money.
Private Client Group advisory services are provided by American Century Investments Private Client Group, Inc., a registered investment advisor. This service is generally for clients with a minimum $50,000 investment. Call us to determine the level of service that is appropriate for you. The advisory service provides discretionary investment management for a fee. All investing involves risk.
Annual Investment Advisory Fee is 0.90% for balances $5 million and under and 0.70% for balances over $5 million. American Century Investments Private Client Group charges a single annual fee based on the value of your assets under management with us. The single fee includes our Private Client Solutions, along with any underlying trading costs, commissions, and custody services related to our recommendations. American Century Investments' financial consultants do not receive a portion, or a range of the advisory fee paid by clients. Client-oriented trades outside of our recommendations and other activities like wire transfer fees, may result in additional cost.
This material has been prepared for educational purposes only. It is not intended to provide, and should not be relied upon for, investment, accounting, legal or tax advice.