Bonds and Income: How It Works

Bonds Are Designed to Provide Steady Stream of Income
Bonds are essentially loans issued by governments or corporations. These issuers agree to pay investors (lenders) interest on a regular basis for a set time period. That's why many investors look to bonds as a steady income source.
Bond issuers repay the principal at the maturity date.
A bond pays interest periodically (usually twice a year) until its maturity date. 
The bond's assigned coupon interest rate is applied to its principal value to calculate payments.
The interest payments provide investors with the potential for a steady income stream.
Here's a hypothetical example:
An investor buys a 3-year bond issued by ABC Company at face value for $10,000 (essentially lending the company $10,000).

The coupon rate on the bond is 4%.

The issuer makes $200 interest payments twice a year (4% of $10,000, divided into two payments).

The $10,000 principal will be repaid in full at maturity (3 years).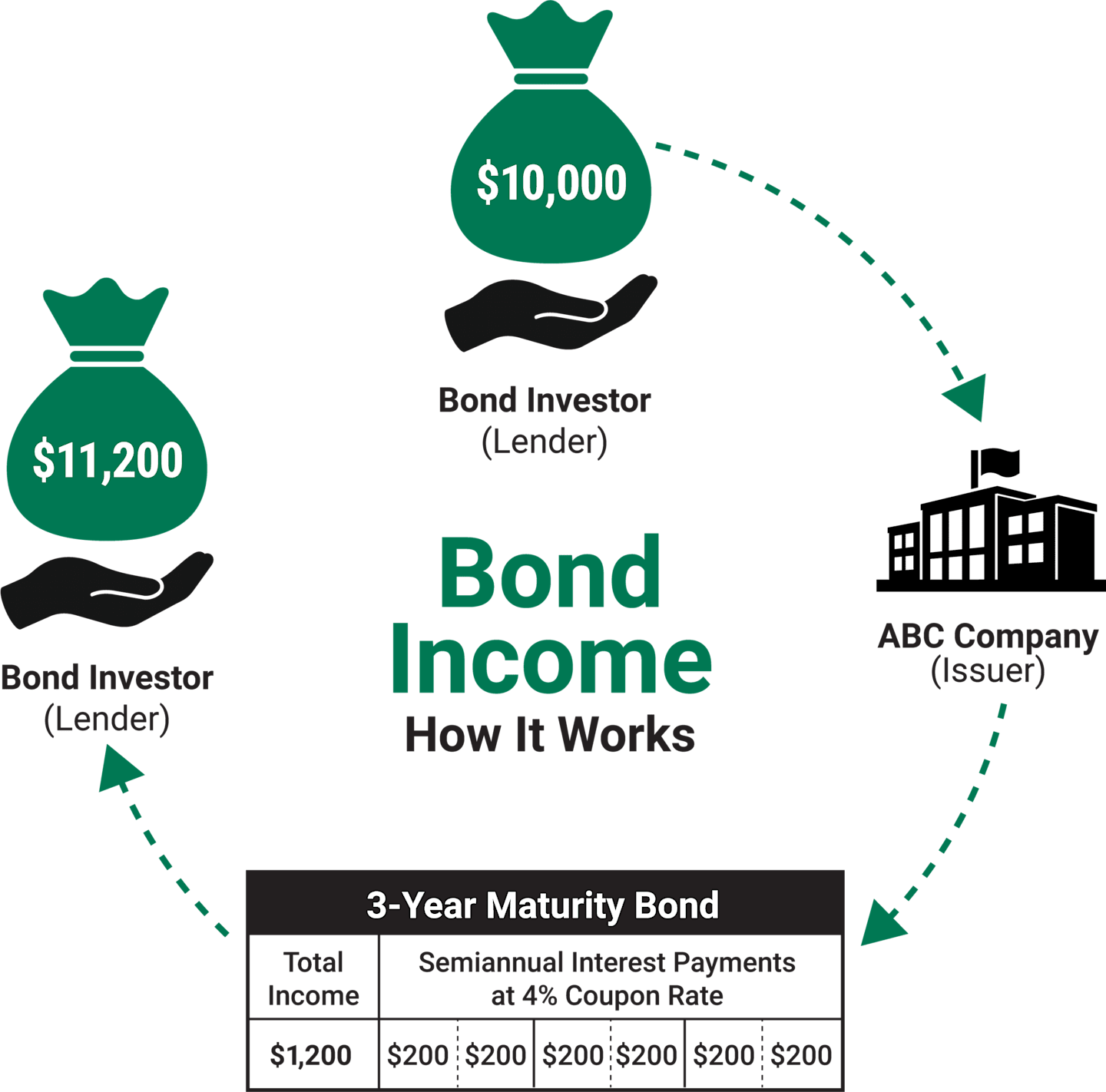 This hypothetical situation contains assumptions that are intended for illustrative purposes only and are not representative of the performance of any security. There is no assurance similar results can be achieved, and this information should not be relied upon as a specific recommendation to buy or sell securities.
How Can You Use Bond Interest Payments?
Supplement your salary.

Bond payments can complement your current employment income.

Provide income in retirement.

No more paycheck? Look to bonds to add regular income.

Reinvest interest payments.

Redirecting bond income to other investments can help grow your portfolio.

Meet other cash flow needs.

Having another source of income can help you pay for additional expenses.
What Are the Risks?
Interest rate risk.

As interest rates rise, bond prices fall.

Default risk.

Issuers could default and fail to make interest payments or repay the principal.

Inflation risk.

The interest rate on the bond might not keep up with the inflation rate.

Liquidity risk.

If you sell the bond before maturity, you might have to sell for less than the price you paid.
Investment return and principal value of security investments will fluctuate. The value at the time of redemption may be more or less than the original cost. Past performance is no guarantee of future results.
This material has been prepared for educational purposes only. It is not intended to provide, and should not be relied upon for, investment, accounting, legal or tax advice.
Generally, as interest rates rise, the value of the securities held in the fund will decline. The opposite is true when interest rates decline.