Do I Still Need a Budget in Retirement?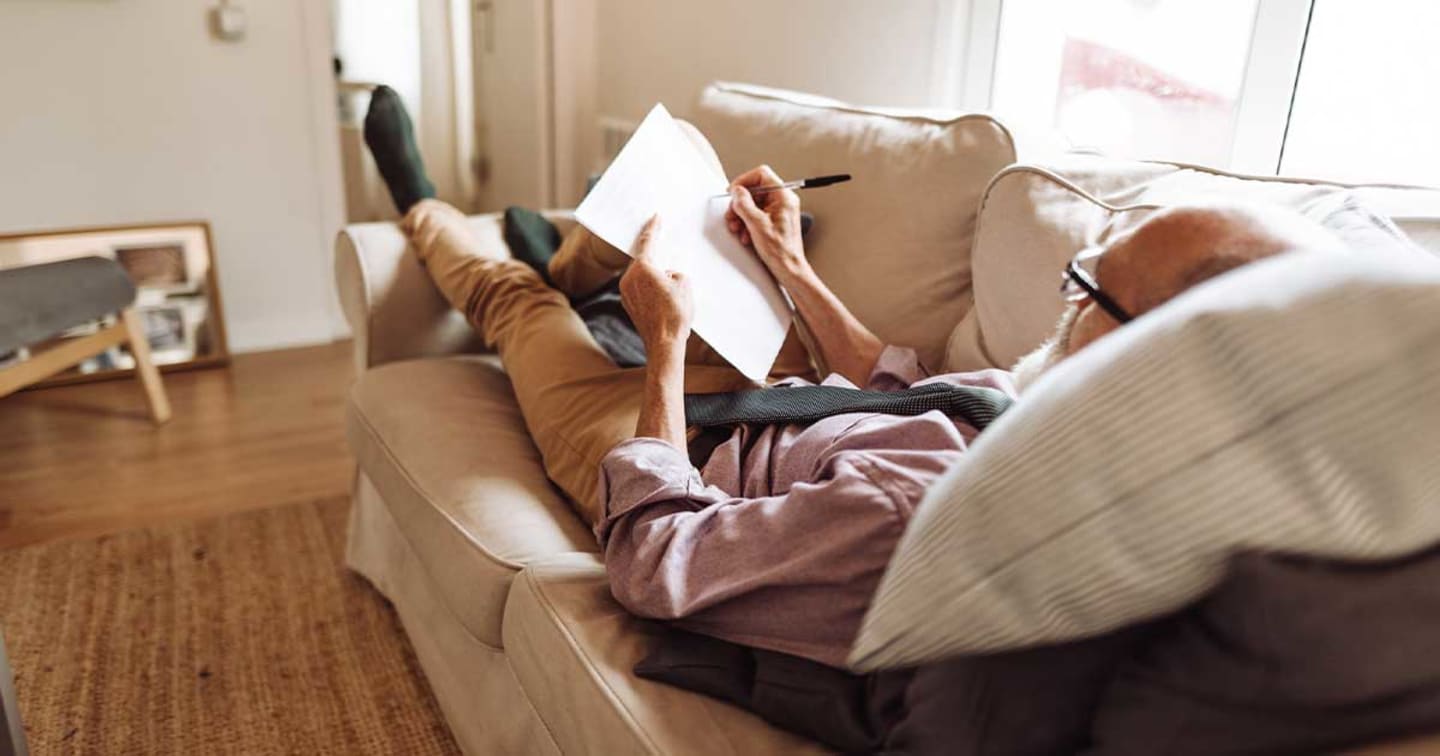 When it's time to stop working—or if you already have—don't retire an important piece of your financial plan: Your budget. A plan for spending and saving may be even more critical when you no longer receive a steady paycheck. A good budget will help cover you in each phase of retirement. The crux of it is to help make your money last.
The Budget Burden
Budgeting can get a bad rap because it takes time and commitment to follow through. It may also feel restrictive. However, most people report that they have a budget—80% across all age groups say they do.
Saying you have a budget and using it may be two different things. In another survey, 65% said they had no idea how much they had spent last month.* Younger people are less likely to know how much they are spending.
Which Generation is Most Likely to Know How Much They Spend?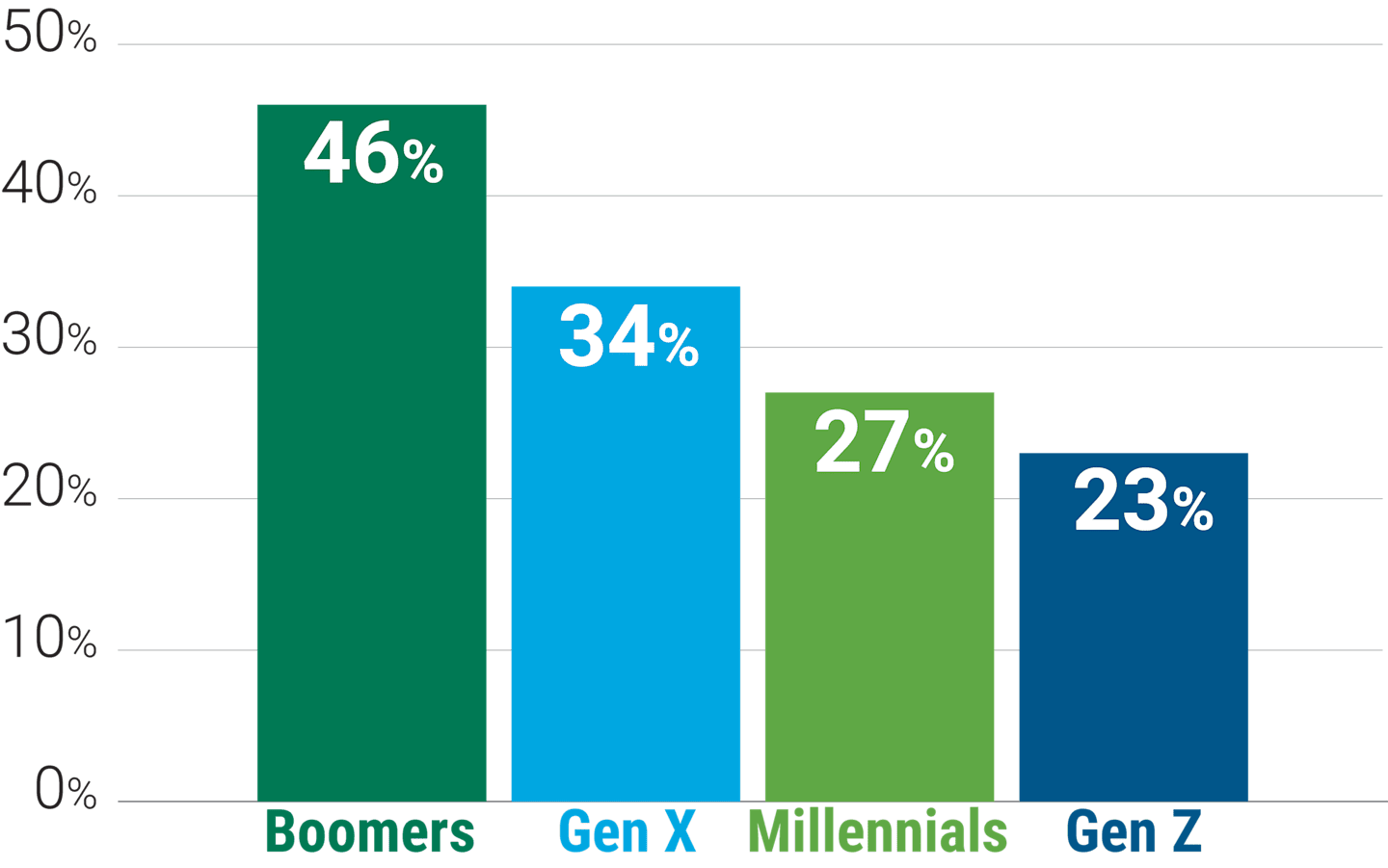 Source: Intuit Mintlife, December 2020.

Why a Retirement Budget is a Must
Budgeting gives a realistic view of how much income you have and how much you can spend in retirement. And it helps address an anxiety many retirees have: The fear of not having enough. It's a legitimate concern because statistics show that even though retirement income amounts are rising, many retirees may find themselves coming up short, especially as they live longer.
of 2020 retirees are at risk of running out of money.**
Even if you are confident in how much money you have saved for retirement, you still need a budget. Budgeting will help you understand the boundaries of your income and expenses.
Will Your Spending Habits Change in Retirement?
Some say to budget 70% to 80% of your pre-retirement expenses for retirement. However, that thought may be falling out of favor. Current research shows that retirement spending patterns vary by age, and you won't necessarily spend less.
For example, younger retirees and those just retired tend to spend more in the first two years than they did while working. That may be attributed to having more time to travel and do more things. As retirees age, they spend less than before retirement. Older retirees tend to focus on essential needs such as healthcare over discretionary ones.
Why You Need a Budget
Regardless of how much you make, budgeting is the only way to take control of your money and it's the only way to be in control of your own choices.
How to Create A Good Retirement Budget
Now that we've established a budget is a "must" for retirement, let's talk about how to do it. I think the most important thing is to take time to create one. It may feel like a chore, but sticking to a well-thought-out plan can make a difference in your financial health and lifestyle in retirement. Just remember to include EVERYTHING so nothing is left to chance.
One thing to note, your budget will need to change through retirement. A common view is that there are five retirement stages—each relating to your state of mind, based on research by gerontologist and author Ken Dychtwald. These phases work well with my budget lens because of the connection between emotions and your finances.
Is my budget ready for retirement?
Complete this quick checklist to help you have a better idea. Then talk to a financial consultant to fill in any budget gaps or confirm the one you have. Let's get started.
Budget for Each Phase of Retirement
The first stage of retirement is "imagination," and it's a time when you accumulate savings, typically 15 to five years before. For my budget discussion, I'll start with the second phase when it's crucial to start planning for income.
Anticipation – Your Pre-Retirement Budget
About three to five years before retirement, people start anticipating their next steps—maybe with excitement, maybe with regret. At this stage it's important to estimate a budget to help answer some important questions:
Will you need to work in retirement?

Can you afford the retirement lifestyle you want?
Here are some keys to budgeting in this stage:
Understand and discuss with a financial professional your plans for Social Security. There are ways to maximize these benefits, so you want to plan ahead.

Consider your debt situation. While you don't necessarily need to be debt-free, this is an expense that may best be addressed while you're still working.

Can you find ways to save more? This is important as you consider your retirement income.

Consider expenses that may decrease and new ones that may crop up. Don't ignore the possibility of larger medical expenses as you age. You will also need a plan for how you will take Medicare.

Determine a good withdrawal strategy from savings and investments, starting with how much you withdraw each year. This is where you'll need to adjust expenses or income to balance the budget.
Liberation – Your Year One Retirement Budget
The first year in retirement is estimated to be the time of most upheaval, both emotionally and financially. You no longer receive a regular paycheck, but you have lots of freedom, which could be a reason why many retirees do spend more in the first two years.
However, if there was ever a time to stick to your budget, it's now. Not that you shouldn't enjoy yourself, but the last thing you want to do is overspend. 
Here are some things to consider for your budget while you enjoy your liberty:
Did your estimated budget hold up? It's time to track your expenses and see where you may need to adjust. Ask yourself: Am I using too much of my savings too quickly?

If you're younger, consider delaying Social Security to get more income from your benefit.

Do you need more income, such as getting a part-time job? Even if you're already drawing Social Security, you can still earn a certain amount each year.

Does your budget allow you to keep adding to your investment portfolio?

If you haven't already, should you budget for long-term care insurance? The costs are more affordable if you purchase a policy while healthy.
Reorientation – Your Two-to-15 Years Retirement Budget
In this stage, many begin to settle in to the retirement they want. They also may reinvent or transform themselves by doing something they've always wanted to do. The important thing to ask yourself regarding money is can you afford the "new" you? It will take a budget to find out.
Here are some other considerations:
If you reach age 72** during this phase, what will you do with the required minimum distributions the IRS requires you to take from retirement accounts? If you don't need it to cover expenses, this could be a good way to invest in a taxable account or support a grandchild's education.

Continue to consider your expenses and changing needs. As your spending patterns change, make sure your budget reflects it.

People in this phase begin to think about their legacy. An estate plan is important but thinking about what you want to leave behind may affect what you spend and your budget.
**If you were born on or before July 1, 1949, you were required to begin required minimum distributions (RMDs) at age 70½, and you must continue to take them even if you are not 72 yet. This is in accordance with RMD provisions that went into effect on January 1, 2020, under the Setting Every Community Up for Retirement Enhancement. (SECURE) Act.
Reconciliation – Your 15 Years and Beyond Retirement Budget
In this phase, retirees come to terms with their lives. It could be described as contentment. Your expenses may also decrease. Maybe you won't travel as much as you did before. On the other hand, you may see increases in other expenses such as health care. 
Other things to consider:
Will you or a spouse need short- or long-term assisted living? How will these significant expenses affect your budget?

Legacy thoughts may become even more important to you, so you'll want to think through whether you want to reduce expenses to leave more.

Evaluate how much is in your savings and investment accounts. Have you been overspending? Some may be underspending out of fear.
A Final Plea for a Good Retirement Budget
There's a lot to think about for a budget in retirement and they can change depending on which phase you are in, your healthcare needs, and your living situation. If you need help with your budget, please talk to someone—it's that important. Remember we're here to help. 
Survey: 65% of Americans Have No Idea How Much They Spent Last Month, Intuit Mintlife, December 2020.
Source: newretirement.com based on US Census Bureau's Current Population Survey (CPS) Annual Social and Economic (ASEC) Supplement. The CPS is a joint effort between the Bureau of Labor Statistics and the Census Bureau. January 2020.
This material has been prepared for educational purposes only. It is not intended to provide, and should not be relied upon for, investment, accounting, legal or tax advice.