Electric Vehicle Race Is Gaining Speed
Which automakers are well-equipped to meet the surging demand for battery electric vehicles?
By Scott Renze, CFA, Jonathan Bauman, CFA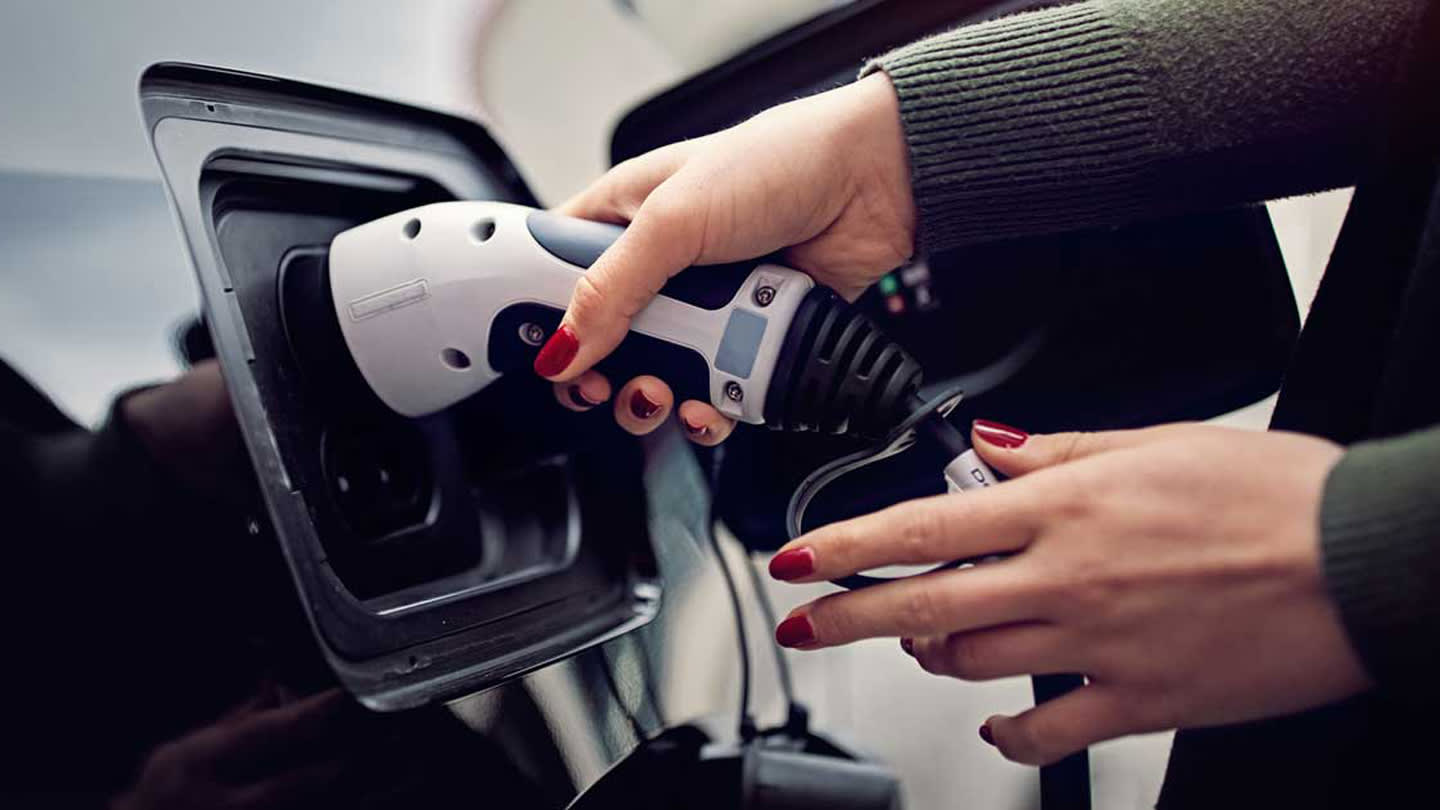 As battery electric vehicles (BEVs) grow in acceptance globally, we are finding opportunities in select companies.
Ecofriendly consumers, purchase incentives and improved performance of new models are boosting demand.
While market leader Tesla, legacy manufacturers and startups may find success, we believe only those electric automakers that meet or exceed consumer expectations may prove to be smart investments. 
All-electric, or battery electric vehicles (BEVs), are growing in popularity worldwide. BEVs comprised about 3.6% of new light-duty passenger vehicle sales as of March 2021, according to research firm BloombergBNF—a 100% increase over 1.8% the previous year.
As shown in the chart below, the firm predicts electric vehicles will make up 11% to 12% of auto sales by 2025 and approach 70% by 2040.
Projected Sales of New Battery Electric Vehicles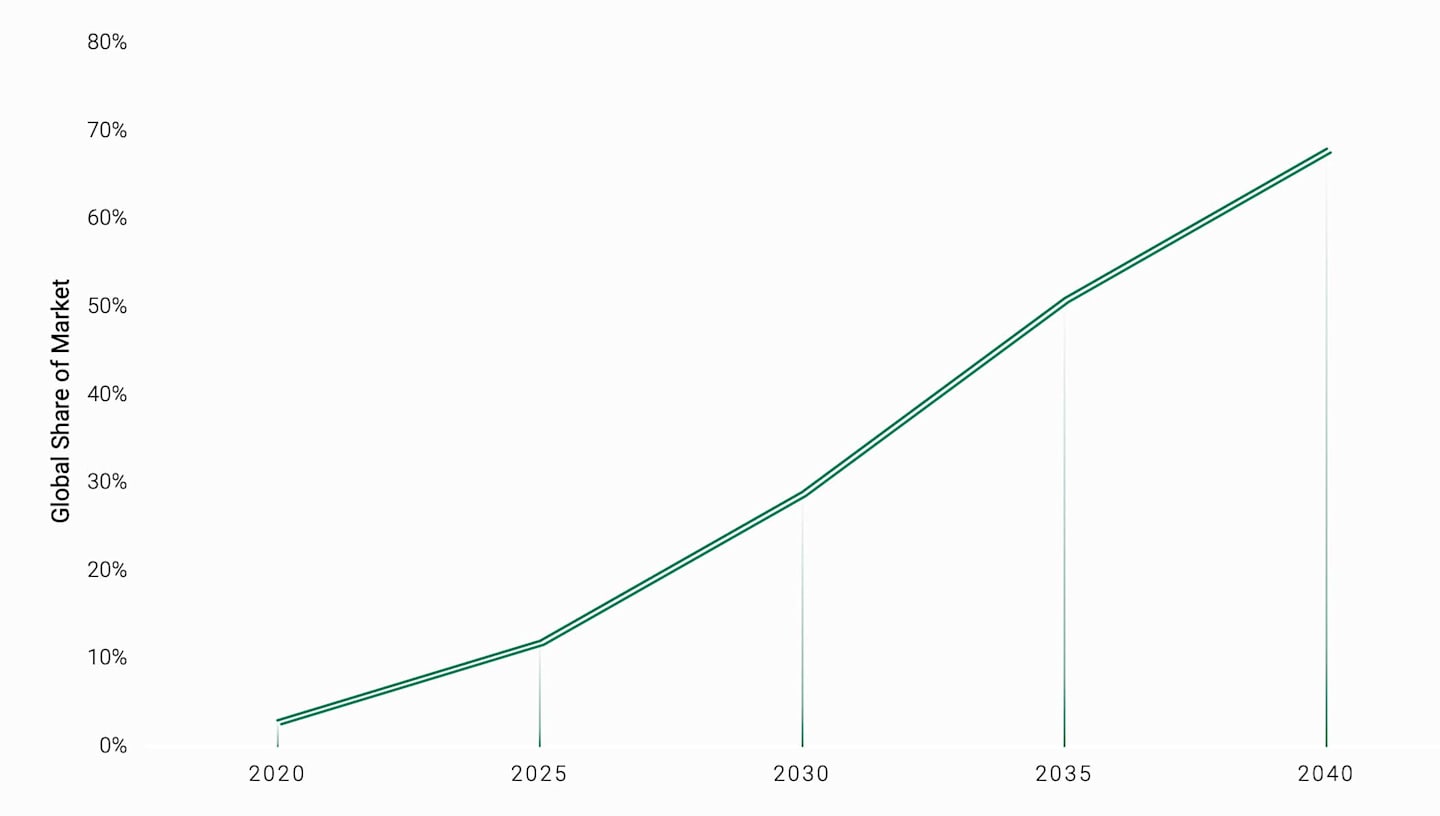 Data as of 6/30/2021. Source: Bloomberg New Energy Finance Projections.
Which companies have the best chances of winning the BEV race—or at least be among the leaders? We think certain manufacturers are better poised than others to go the distance, ultimately viewing their competitors in the rear-view mirror.
What's Fueling the Battery Electric Vehicle Race?
The U.S. Environmental Protection Agency (EPA) estimates a "typical passenger vehicle" driven 1,500 miles per year emits about 4.6 metric tons of carbon dioxide annually. Many people buy or lease electric vehicles to be kinder to the environment.
Fully electric vehicles don't burn fossil fuels, so they have no tailpipe emissions and help achieve cleaner air. Beyond the environmental benefits, regulatory carrots and sticks are helping boost consumer acceptance of BEVs.
Carrots in the form of purchase incentives are widespread. These enticements are especially generous in Europe, where direct purchase subsidies and tax exemptions are common. The U.S. currently has a tax credit up to $7,500 on eligible BEVs. Other federal and state programs are also under consideration to help persuade people to buy electric cars.
For example, one federal proposal would expand tax credits for union-made, zero-emission models assembled in the United States. This program would mostly benefit General Motors, Ford and Stellantis. (Stellantis is the new company resulting from the merger of Peugeot and Fiat Chrysler.)
Tax credits and price discounts help address the price premium for BEVs, which tend to be more expensive than traditional internal combustion engine (ICE) vehicles.
Sticks in the form of government mandates are also in play. These include:
China requires manufacturers to meet certain carbon dioxide emissions targets to boost BEV and hybrid auto sales. Certain Chinese cities impose annual quotas on new vehicle license plates to help lessen congestion and pollution, but exempt BEVS to boost sales.

Europe has strict emissions regulations intended to help the EU achieve carbon neutrality by 2050. Many EU countries have proposed prohibiting ICE sales over the next 10 to 20 years.

The Biden administration campaigned on an environmentally friendly platform and intends to make 50% of all new passenger cars and light truck sales zero-emission vehicles by 2030.

Individual states have historically been leaders in the U.S., legislating emissions reduction targets or bans on fuel-burning engines. In 2020, California Gov. Gavin Newsom issued an executive order requiring all new passenger vehicles to produce zero emissions by 2035.
Critical Success Factors for BEV Manufacturers
It's expensive for automakers to design and manufacture electric cars, and the competition is growing. In our view, these factors are among the most important for automakers' success:   
Battery performance and cost. The performance and cost of the rechargeable lithium-ion battery system is crucial. Battery technology continues to improve, and costs have decreased significantly over time.
Driving range. The range of electric batteries has improved, lessening many owners' "range anxiety" relative to conventional ICE vehicles. Automakers must continue to innovate and bolster BEVs' driving range to improve consumer adoption.
Price and margin. While subsidies and tax credits are helping tackle BEVs' price premium today, manufacturers must price BEVs at the same level as traditional gas engine models to compete long term. Sticker prices must include appropriate margins for manufacturers.
Performance and reliability. Acceleration, safety, design and comfort are key elements of the electric vehicle ownership experience. Consumers expect BEVs to be comparable or superior to traditional ICE vehicles. BEVs' short- and long-term reliability continues to be a major question mark, particularly for new brands and models.
Brands We Deem to Be Electric Vehicle Contenders
Numerous manufacturers are now producing or planning to produce electric cars. As investors, we are focusing on companies we believe have viable futures and whose stock is now or likely to be publicly traded.
Tesla Leads the Pack
We view Tesla as the BEV benchmark for other automakers seeking to make market inroads. The company has many advantages, including strong brand recognition, high market share, advanced battery technology, manufacturing scale and advanced software/artificial intelligence. The company appears positioned for growth well into the future with its attractive designs and leadership position.
But Tesla has challenges in maintaining its market share. To meet its goals, the company must successfully increase production at two new factories in Texas and Germany. The company also faces increasing competition, with many new brands and models set to debut over the next few years.
In a more crowded marketplace, the company's share of total BEV sales will inevitably fall. Nevertheless, we believe Tesla will remain a global leader and continue to see significant long-term growth as BEVs gain in popularity worldwide.
Legacy Automakers Have BEV Opportunities and Challenges
Believing BEVs are the future of transportation, the largest car companies in the world, including General Motors (GM), Ford and Volkswagen (VW), have committed billions to their electric vehicle platforms. GM aspires to sell only electric vehicles by 2035. Ford aims for 40% electric by 2030 while VW plans for 70% electric in Europe and 50% in the U.S. by 2030. Most other manufacturers, including Toyota, Daimler, BMW and Honda, have similar plans.
These traditional automakers bring enormous scale, brand awareness and marketing expertise to the electric vehicle landscape. But they also grapple with challenges in managing their existing facilities and workforces and the cannibalization of legacy models during the transition to electrification.
GM expects to have 30 new BEV models by 2025, excluding its hybrids that combine fuel-burning engines with electric power. While some see hybrids as a bridge to the future, GM is "all in" on electrification. The company's collaboration with LG Chem on battery technology may prove to provide the legacy automaker an edge. Market share may be GM's biggest challenge. It held just under 9% of the global automotive market in 2020, and we think it must capture a significant share of the BEV market to be successful.

Ford CEO Jim Farley committed to creating BEV versions of the company's renowned brands. Ford introduced an electric SUV late in 2020 and is launching an electric version of its popular F-150 pickup truck, the best-selling vehicle in the U.S. Massive new production sites in Tennessee and Kentucky will build electric pickup trucks and the batteries to power them. Ford plans to devote more resources to electrified vehicles than ICE vehicles starting in 2023.

VW is a relative latecomer to the BEV market, but the second largest producer of autos globally has stepped up its BEV plans following its diesel engine emissions scandal. The company plans to build battery factories in Europe and create a charging station network, expecting BEVs to account for half of all sales by 2030. Management believes VW's combination of industry and government connections, financial prowess and engineering expertise gives the company the fortitude to challenge BEV leader Tesla and others.
While these legacy companies have their own unique circumstances, we think it could take several years for them to earn attractive returns on their BEV investments. The inability to successfully transition to the BEV future is a risk for legacy manufacturers even though they have existing ICE auto sales to support the shift.
New Electric Vehicle Entrants Start the Race with Clean Slates
Innovative startup companies are also vying for market share. They have the advantages of new designs (versus redesigned existing models), no legacy assets to manage and a primary focus on technological innovations. Nevertheless, they too have challenges in growing their businesses and scaling operations to compete effectively in an increasingly packed market.
Most startups lack the brand awareness and customer loyalty that Tesla and legacy producers enjoy. Strong interest in initial public offerings is impressive but does not guarantee future funding for their aggressive growth plans. We expect startups to grow the fastest, but it will be challenging for them to scale production and reach profitability.
The number of startup BEV manufacturers in the public markets has expanded quickly. Lesser-known companies, such as Faraday Future and Lordstown Motors, have struggled to capture much attention while these two firms have attracted significant interest from the market:
Lucid is a California-based BEV producer that recently offered shares of its stocks to the general public. Its Air model is remarkable as the first BEV to receive a 520-mile range rating from the EPA. Many people see the company's sleek design, superior performance metrics and innovative manufacturing approach as potential advantages in the rivalry to gain market share. But its hefty base price starting at $77,400 may determine if Lucid can appeal to a broad market or be a niche company like Ferrari and Porsche.

Rivian is a company that, while not yet publicly traded, has captured the attention of BEV enthusiasts with its sleek pickup truck and SUV. The company also plans to produce electric commercial delivery vans, with an initial order from Amazon for 100,000 vehicles. The company's initial public offering is expected to raise between $5 billion and $8 billion, making it one of the largest initial public offerings of the last decade.
Our Considerations for Investing in Electric Vehicle Manufacturers
Investing in electric vehicle manufacturers involves risk, but we think select companies offer the potential for long-term rewards. When we evaluate an investment opportunity, we look at a company's current financial position and its potential to grow.
In our view, an attractive electric vehicle manufacturer should exhibit these characteristics:
An edge in the market—design, technology or manufacturing.

Potential for building market share over time.

An improving rate of growth.

Potential for expanding margins long term.
We are finding intriguing investment opportunities in auto companies competing in the race to electrification. We believe consumer adoption of electric vehicles will become commonplace throughout the globe over the next decade. 
References to specific securities are for illustrative purposes only, and are not intended as recommendations to purchase or sell securities. Opinions and estimates offered constitute our judgment and, along with other portfolio data, are subject to change without notice.
The opinions expressed are those of American Century Investments (or the portfolio manager) and are no guarantee of the future performance of any American Century Investments' portfolio. This material has been prepared for educational purposes only. It is not intended to provide, and should not be relied upon for, investment, accounting, legal or tax advice.