4 Reasons Why Investors Should Prepare for Higher Inflation
Despite Federal Reserve claims that recent price hikes may be temporary, several trends suggest inflation may remain elevated, highlighting a potential risk to investors.
By Robert Gahagan, Miguel Castillo, Jim Platz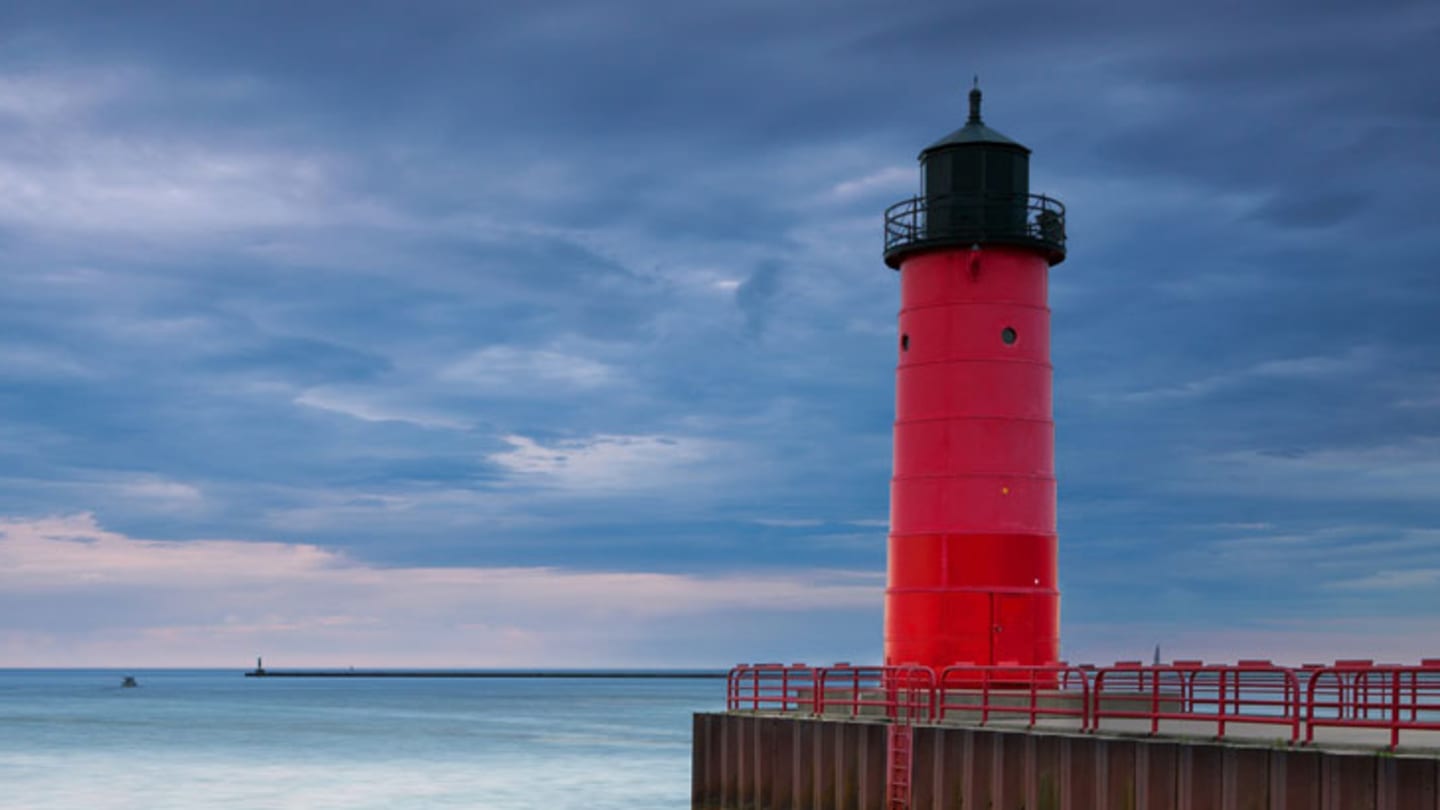 Inflation has soared to levels not seen since 1990, affecting a range of everyday consumer goods.
Although some inflationary pressures may ease as the economy recovers from the pandemic, others appear more enduring.
These include rising housing and energy costs, onshoring trends and government spending.
We believe inflation will settle above pre-pandemic levels, underscoring the importance of investing in asset classes with inflation-protection potential.
From groceries to gasoline, cars to computers, consumer costs have climbed to multi-year highs in recent months.
Initially, the Federal Reserve (Fed) insisted soaring prices were transitory, an effect of emerging from pandemic-driven shutdowns. But policymakers recently have been signaling their frustration with an elevated inflation rate that's proving to be persistent rather than passing.
While we agree that some costs may moderate in the near term, we continue to believe inflation will remain higher than pre-pandemic levels. In our view, this scenario underscores the importance of planning to protect your portfolio's long-term purchasing power.
Why Has Inflation Surged?
The reopening of the U.S. economy from pandemic-related shutdowns fueled a rapid and sharp rise in consumer prices.
Annual headline inflation, as measured by the Consumer Price Index (CPI), started 2021 at 1.4% before soaring to a 13-year high of 5.4% by July. In October, headline CPI reached 6.2%, its highest level since November 1990, on a range of price hikes. See Figure 1.
Figure 1 | Consumer Prices on the Rise: Headline Inflation & Select Underlying Components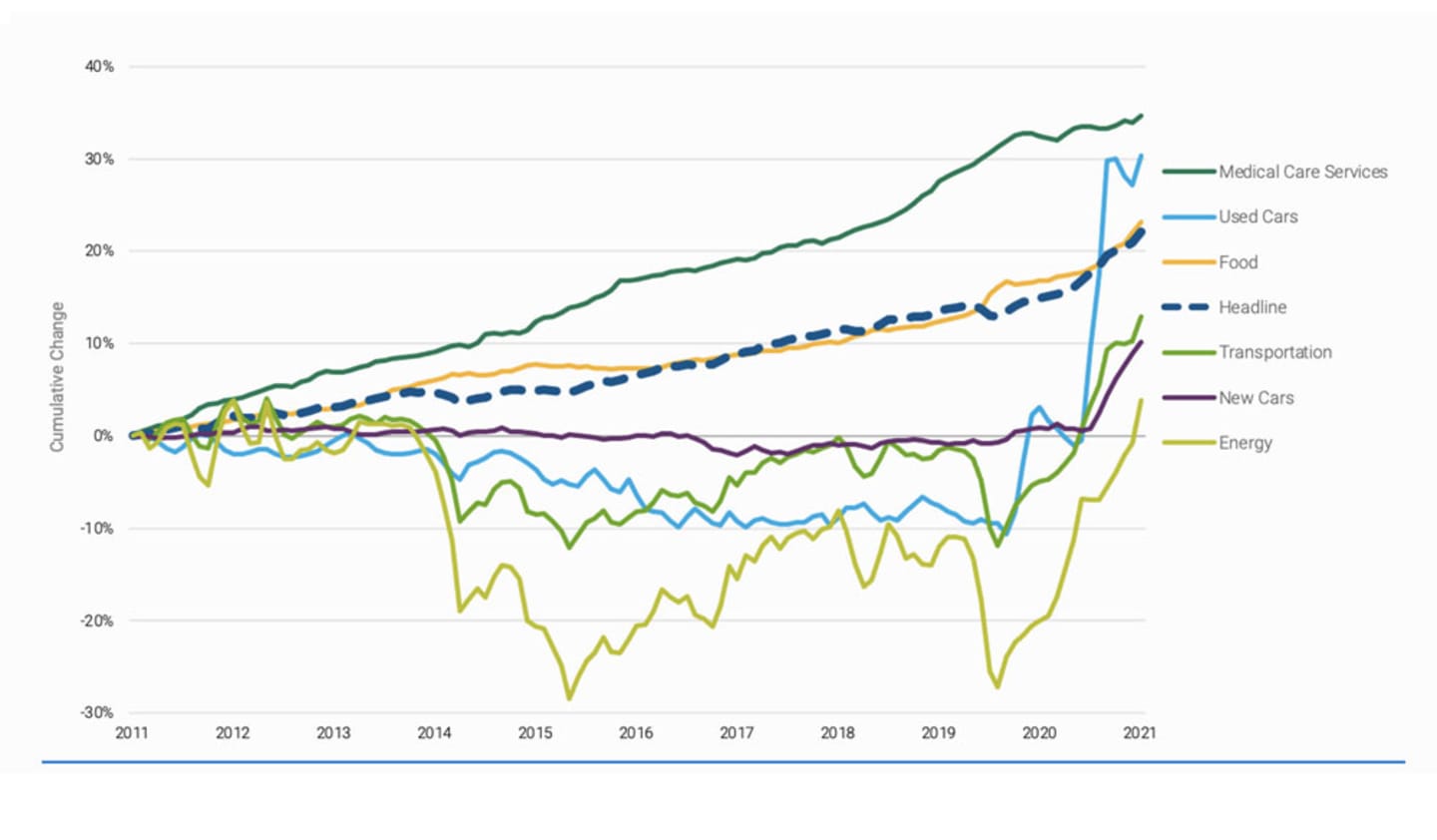 Data from 10/31/2011 – 10/31/2021. Source: FactSet.
Today's high annual inflation rate is partly due to the muted inflation recorded a year ago, when the pandemic stifled economic growth. But beyond the base effects from 2020's weak inflation rates, several culprits are behind the surge:
Global supply chain bottlenecks.

Pent-up consumer demand.

Higher labor costs as companies seek to overcome labor shortages.

Soaring energy and other commodity prices.
The Fed's Case for Transitory Inflation
The Fed has mostly downplayed inflation's rapid rise, suggesting the recent surge will prove fleeting. As the economy gathers steam and labor disruptions ease, the central bank believes supply chains will improve and prices will normalize.
Once these temporary factors fade, the Fed looks for core inflation (minus volatile food and energy prices) to cool to 2.3%, close to its 2% target.
However, recent comments indicate some central bank policymakers may be growing more concerned about longer-lasting inflation.
Core Goods Are Affecting the Average
In October, core inflation (excluding volatile food and energy prices) was 4.6%. But this rate doesn't tell the whole story.
Looking deeper, as Figure 2 shows, there's a disconnect between the surge in core goods prices compared with the relatively modest rise in core services. Prices for core services had been notably higher for several years before the pandemic. But relatively low goods prices helped subdue the effects of higher services prices on the overall inflation rate. 
Figure 2 | CPI Core Services vs. Core Goods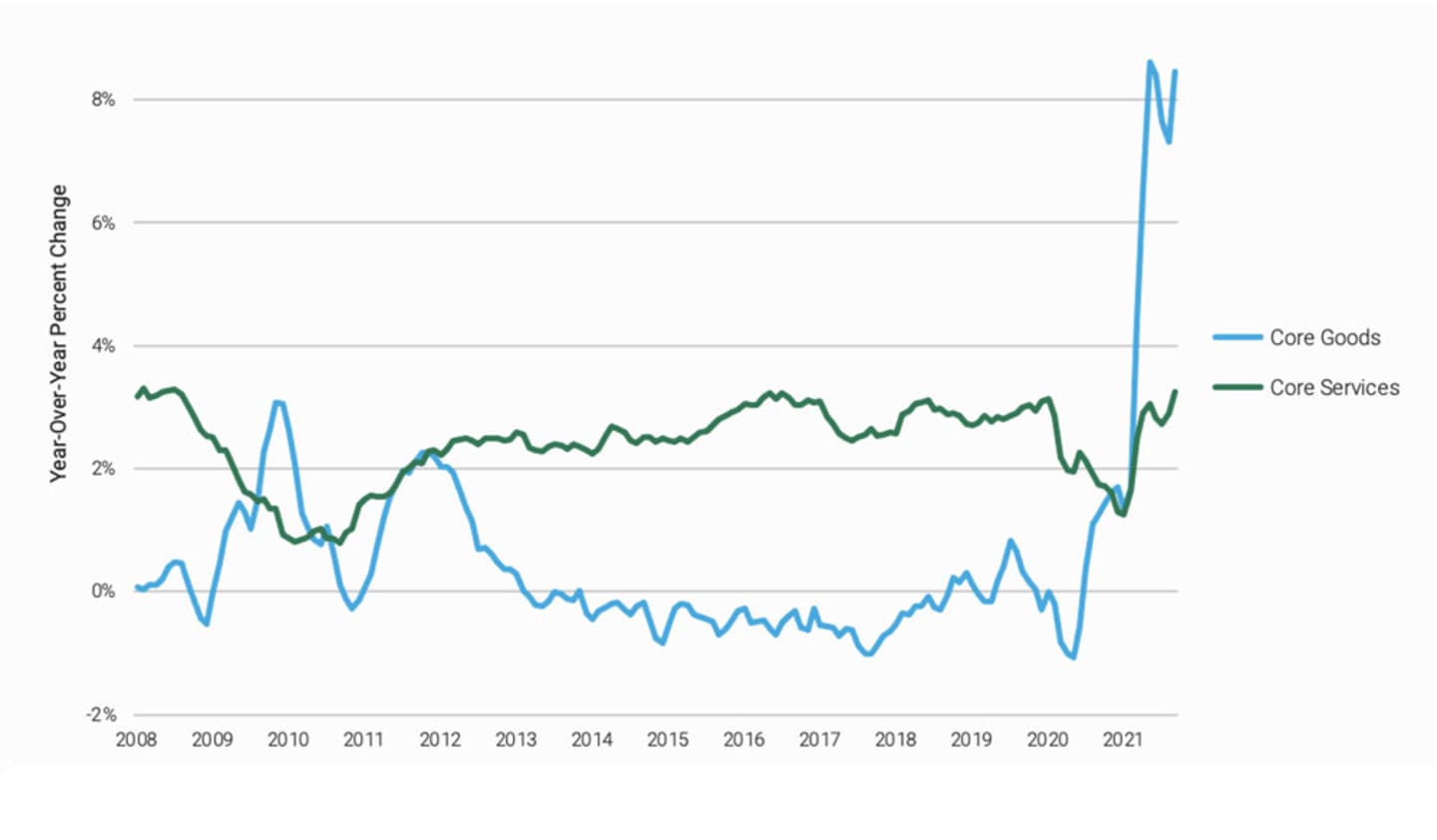 Data from 2/29/2008 – 10/31/2021. Source: FactSet, BLS. Data is seasonally adjusted.
Our Four-Point Case for More Persistent Inflation
We generally agree with the Fed that some COVID-induced pressures will ease.
However, we also believe other longer-term inflation drivers remain at play. These more persistent factors, including rising housing costs, onshoring trends, soaring energy prices and aggressive fiscal and monetary policy, may trigger elevated inflation rates for years to come.
It's important to note we're not forecasting runaway inflation or the double-digit rates of the 1970s. But we do expect core inflation eventually will settle near 2.6% and may even climb to 3%. Here are four reasons why:
1. Housing Costs
Housing costs, a large component of CPI core services, continue to rise, with no sign of slowing. Two key catalysts are at work:
Demand for homes is outpacing available supply, driving costs higher.

Given housing supply constraints, rental properties are in demand, and rents are rising.
According to a recent Realtor.com report, there are approximately 140 million homes in the U.S. But to meet current housing demand, the report claims the nation needs 5 million additional homes.¹
Given this backdrop, it's easy to see why home prices have skyrocketed recently. For example, in August, U.S. home prices increased at an annual rate of nearly 20%, according to the S&P CoreLogic Case-Shiller U.S. National Home Price Index. See Figure 3.
Figure 3 | Home Prices Soar: S&P CoreLogic Case-Shiller U.S. National Home Price NSA Index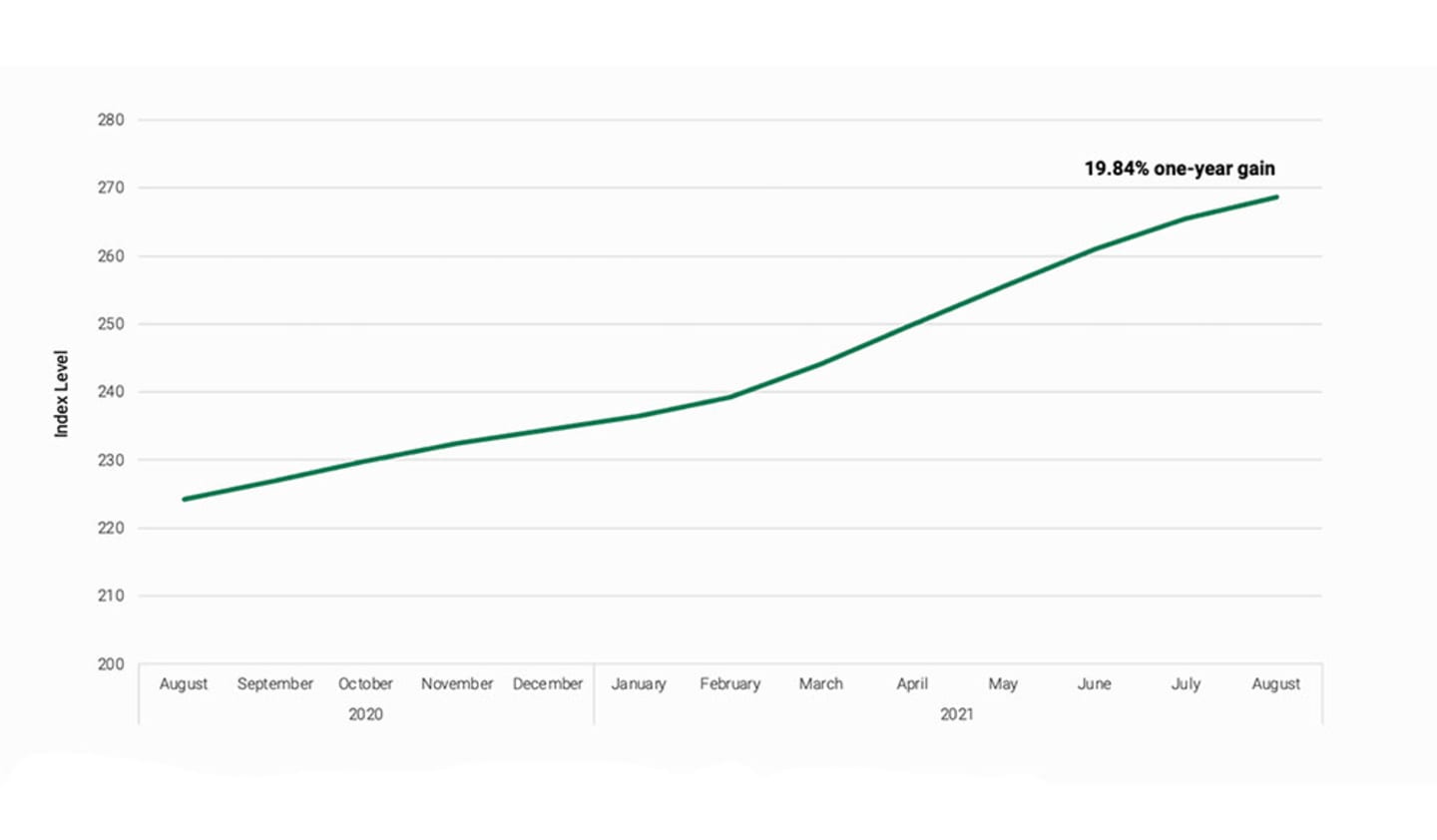 Data as of 10/26/2021. Source: S&P Dow Jones Indices LLC.
Meanwhile, rents also continue to climb According to housing data provider Zillow Research, U.S. rent averaged $1,888 per month in September, nearly 13% higher than a year earlier.
2. Onshoring
Outsourcing manufacturing to China and other emerging markets has helped lower labor costs and keep a lid on U.S. inflation for many years.
But the COVID-19 crisis revealed the risks companies took in exchange for low-cost goods and labor. Shipping bottlenecks and backlogs combined with U.S. labor shortages have left a record number of container ships waiting to unload their cargo at U.S. ports. 
Now, many firms are considering bringing their manufacturing and other operations closer to home—a trend likely to drive prices higher. What's more, onshoring is also a process that will take many years to complete.
3. Energy Prices
Energy prices have powered up worldwide in recent months, as demand saps supply. In the U.S., energy prices rose 30% year over year, according to the October 2021 CPI. This same report showed gasoline prices jumped 50% and natural gas rose 28%.
Against this backdrop, heating costs are set to surge this winter compared with 2020-2021. According to the U.S. Energy Information Administration, propane costs will rise by 54%, heating oil by 43%, natural gas by 30% and electricity by 6%.²
Higher energy prices affect much more than consumers' heating bills and gasoline costs. They trigger higher prices for food, electronics, airline travel, public transportation and many other items. And ultimately, higher energy costs can stifle consumer spending and weaken overall economic growth.
4. Monetary and Fiscal Policy
We believe a shift in policy framework from the Fed and the federal government will contribute to higher inflation over time.
The pandemic highlighted this change. The Fed and Congress combined have pumped more than $9 trillion in aid to individuals, municipalities and corporations facing COVID-19-related hardships.³
Fiscal and monetary policy worked in tandem to increase the money supply and deliver direct payments to offset loss of income and stimulate economic growth. In previous financial crises, policymakers forced yields lower, making low-cost debt the preferred path to economic recovery.
In addition, Congress recently approved another $1.2 trillion in federal spending when it passed the Infrastructure Investment and Jobs Act in early November. 
Rising costs are a consequence of all this spending. Inflation becomes a greater risk when the economy has more dollars chasing fewer goods.
How Can you Prepare for Elevated inflation?
Persistent inflation can erode your portfolio's purchasing power over time. Even if inflation settles at the low end of our expected range, your long-term buying power remains at risk due to inflation's compounding effects.
For example, a consistent annual inflation rate of 2.6% would cut the value of $1,000 to just $598 in 20 years. You can use American Century Investments' inflation calculator to see the effects of different inflation rates over time.
Review Your Financial Plan
We recommend you first review your financial plan, keeping a few key questions in mind:
What adjustments do you need to make to your budget to absorb higher costs over time?

What inflation rate are you currently using for investment planning?

Should you adjust your expected portfolio withdrawal rate in retirement or change your expected retirement date?

Can you increase your savings rate to account for higher inflation?

Does your investment mix fit a higher-inflation environment?
Consider Assets With Inflation-Fighting Potential
If you answered "no" to that last question, consider a mix of investments designed to deliver return potential that surpasses the expected inflation rate.
Common inflation hedges include:
Stocks. Perhaps the most popular inflation hedge, stocks seek long-term growth that surpasses the inflation rate. Additionally, rising prices may mean rising profits for companies, which can boost their share prices.

TIPS. Treasury inflation-protected securities (TIPS) offer interest rates indexed to the inflation rate. So, when inflation rises, so does the interest payment on TIPS. And compared with core bonds, TIPS have historically offered better inflation protection. See American Century Investments' recent article

Real Estate. Property prices and rental income typically rise along with inflation. You can capture these potential gains by purchasing real estate directly or by investing in real estate funds or real estate investment trusts (REITs).

Commodities. Select commodities, including energy, raw materials and metals, are generally considered inflation hedges, because they tend to experience price gains as inflation rises. But it can be inconsistent ride. The broad commodities market has demonstrated volatile performance, sometimes sharply outpacing inflation, sometimes lagging it.
As Figure 4 illustrates, each of these asset classes has delivered historical returns that surpass the prevailing inflation rate. However, those with higher-risk profiles have experienced much more volatility than others. We believe the best way to protect against inflation is to maintain broad, diversified exposure to these asset classes. 
Figure 4 | Staying Ahead of Inflation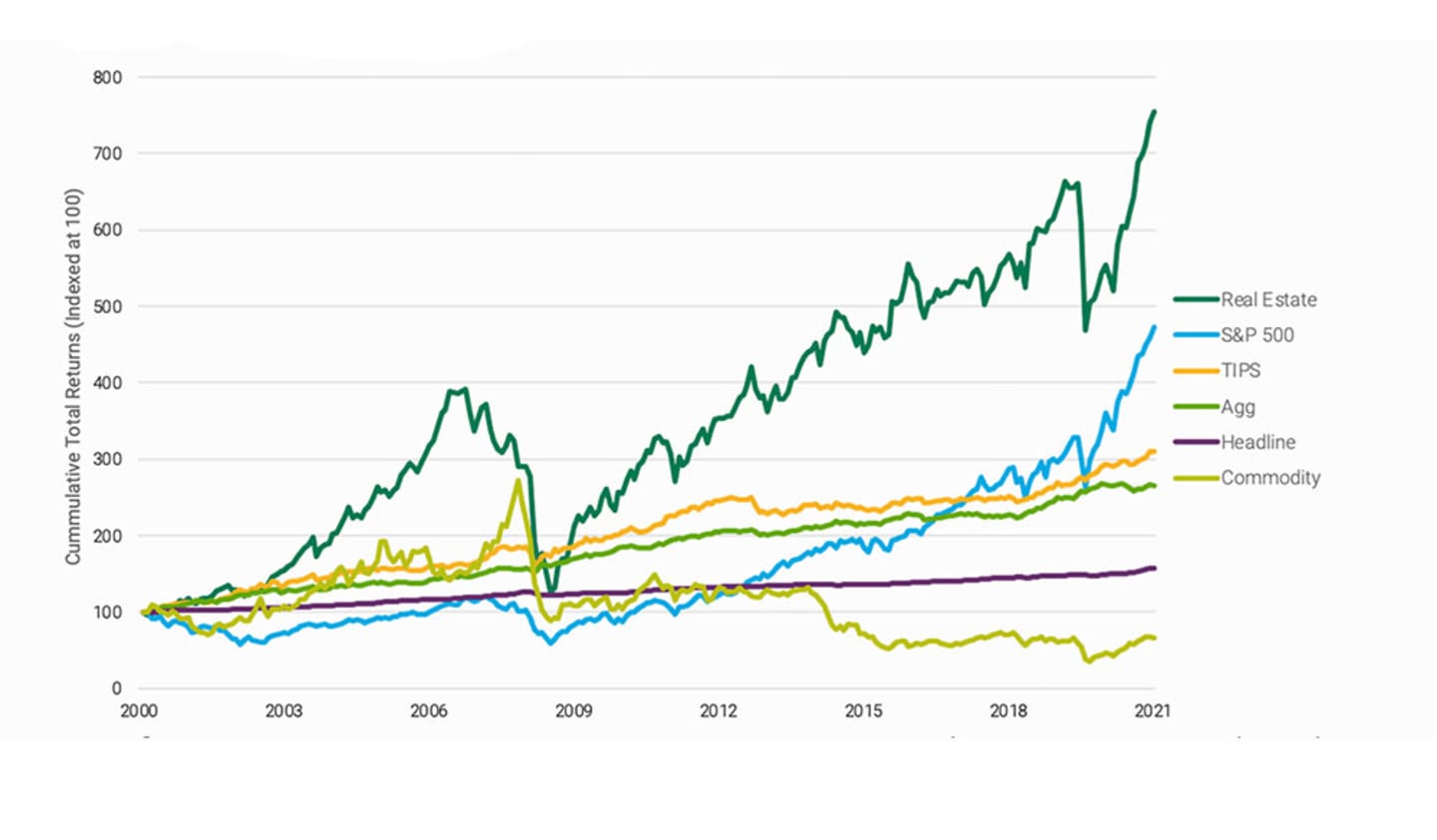 Data from 9/30/2000 – 9/30/2021. Source: FactSet. Real estate: S&P Developed REIT Index; TIPS: Bloomberg Barclays U.S. TIPS Index; core bonds: Bloomberg Barclays U.S. Aggregate Bond Index; headline inflation: Consumer Price Index; commodities: S&P Goldman Sachs Commodities Index.
Get Help from an Investment Professional
Of course, your allocations to each type of investment will depend on many factors. Your financial advisor can help you review those factors to determine the mix of investments that may be most appropriate for your specific situation.
Matthew Frankel, "Housing shortage: 5 million more homes needed for supply to catch up to demand," USA Today, September 24, 2021.
"Short-Term Energy Outlook," U.S. Energy Information Administration, October 13, 2021.
Consists of spending, tax cuts, loans, grants and subsidies, per the Committee for a Responsible Federal Budget, covidmoneytracker.org.
The opinions expressed are those of American Century Investments (or the portfolio manager) and are no guarantee of the future performance of any American Century Investments' portfolio. This material has been prepared for educational purposes only. It is not intended to provide, and should not be relied upon for, investment, accounting, legal or tax advice.
Investment return and principal value of security investments will fluctuate. The value at the time of redemption may be more or less than the original cost. Past performance is no guarantee of future results.