Investment Opportunities in a Post-COVID World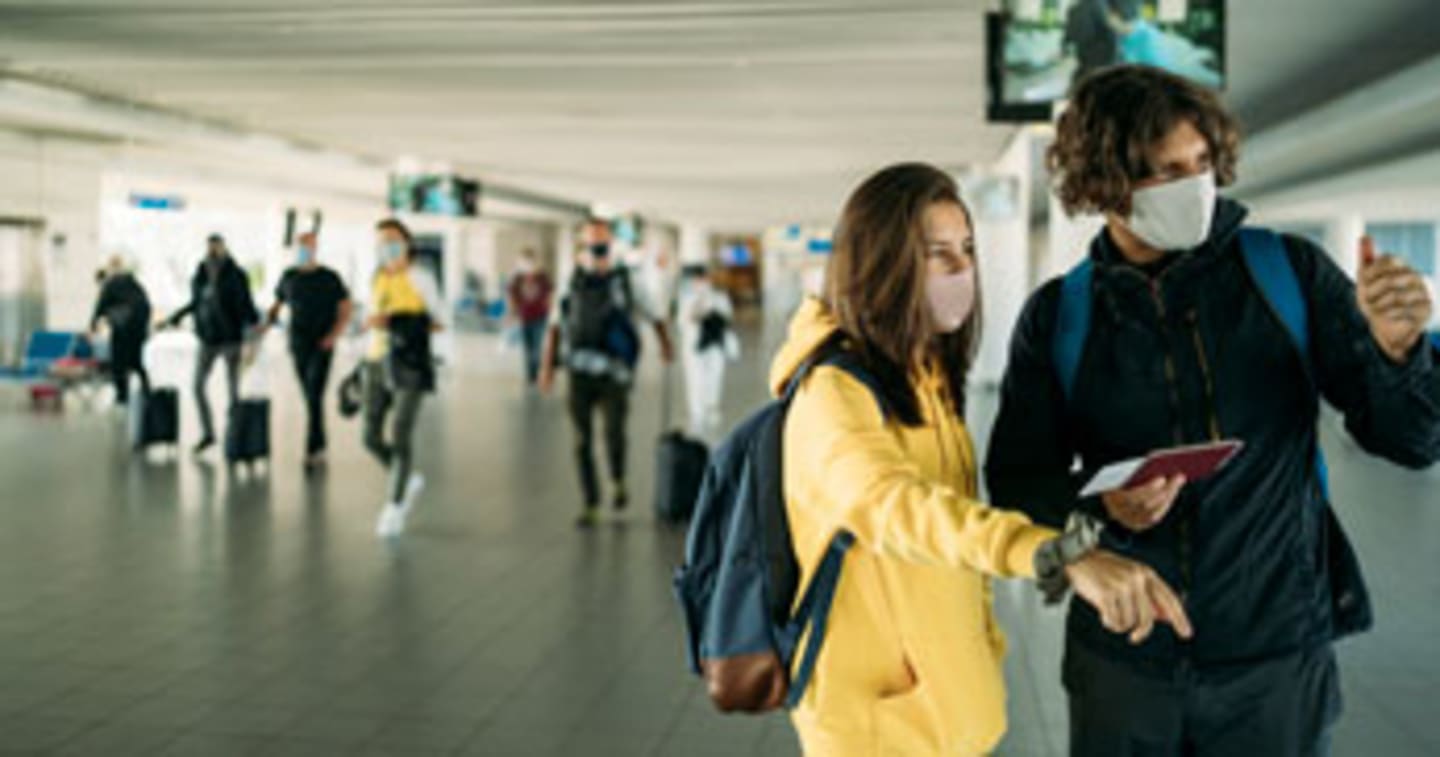 Travel stocks aren't created equal–we see clear distinctions between likely winners and losers coming out of the coronavirus pandemic.
We think leisure travel might take off sharply because upper- and middle-income households have significantly underspent their income/stimulus since March 2020, meaning they have the financial wherewithal to meet pent-up travel demand.
In our view, business travel is likely to remain depressed because corporations have demonstrated the viability of remote work and realized the attendant savings in travel costs.
Why We Think Select Travel-Related Stocks May Present Attractive Opportunities
We believe we can win by "playing the long game"—that is, having a three-to-five-year focus on a company's fundamentals instead of what we consider the market's overemphasis on short-term results. Think of it this way—we view business opportunities and stock valuations as movies playing out over time, rather than snapshots of single moments in time. 
By virtue of its parks and resorts business, Disney is one company we think will likely benefit from a rebound in travel by middle- and upper-income consumers. Vacation rental platform Airbnb, a rapidly growing company disrupting the accommodation subsector, is another example.
Further afield, electronic payment networks, such as Mastercard and Visa, that generate substantial profits from cross-border leisure travel are likely beneficiaries of renewed interest in travel. Another likely beneficiary we see is Google parent Alphabet because a material portion of its digital advertising revenue derives from travel.
A potential beneficiary we see that you might not have associated with travel is skin care and fragrance maker Estée Lauder Companies (ELC). According to the company's most recent quarterly 10-Q report filed with the U.S. Securities and Exchange Commission, roughly one-quarter of ELC's profits come from its travel retail business (e.g., duty-free shops in airports).
Ultimately, the opportunity we see is identifying high-quality secular growth companies that could also exploit and benefit from cyclical economic trends.
The Pandemic's Profound Impact on Travel Spending
COVID-19 and the steps to contain it have resulted in massive human and economic costs. But the business impacts of the crisis haven't been evenly distributed. While certain sectors and industries saw business increase in 2020, others, like travel, came to a virtual standstill. 
According to the U.S. Travel Association, travel spending in the U.S. declined by nearly $500 billion, or 42%, in 2020. International and business travel spending fell by 76% and 70%, respectively, for the same period. Similarly, Transportation Security Administration data show the agency's passenger screening average was down more than 53% year over year as of year-end 2020.¹
In addition to those fundamental challenges, the downturn in travel-related stocks has been more pronounced than downturns resulting from past shocks. In Figure 1, we compare the performance of travel and leisure stocks in the current pandemic with the period following September 11. What we see is that roughly three months after the 9/11 tragedy, travel and leisure stocks returned to parity. We're now a year out from the COVID-19 outbreak, yet these stocks remain significantly below parity.
Figure 1 | Travel Stocks Haven't Gone Anywhere During the Pandemic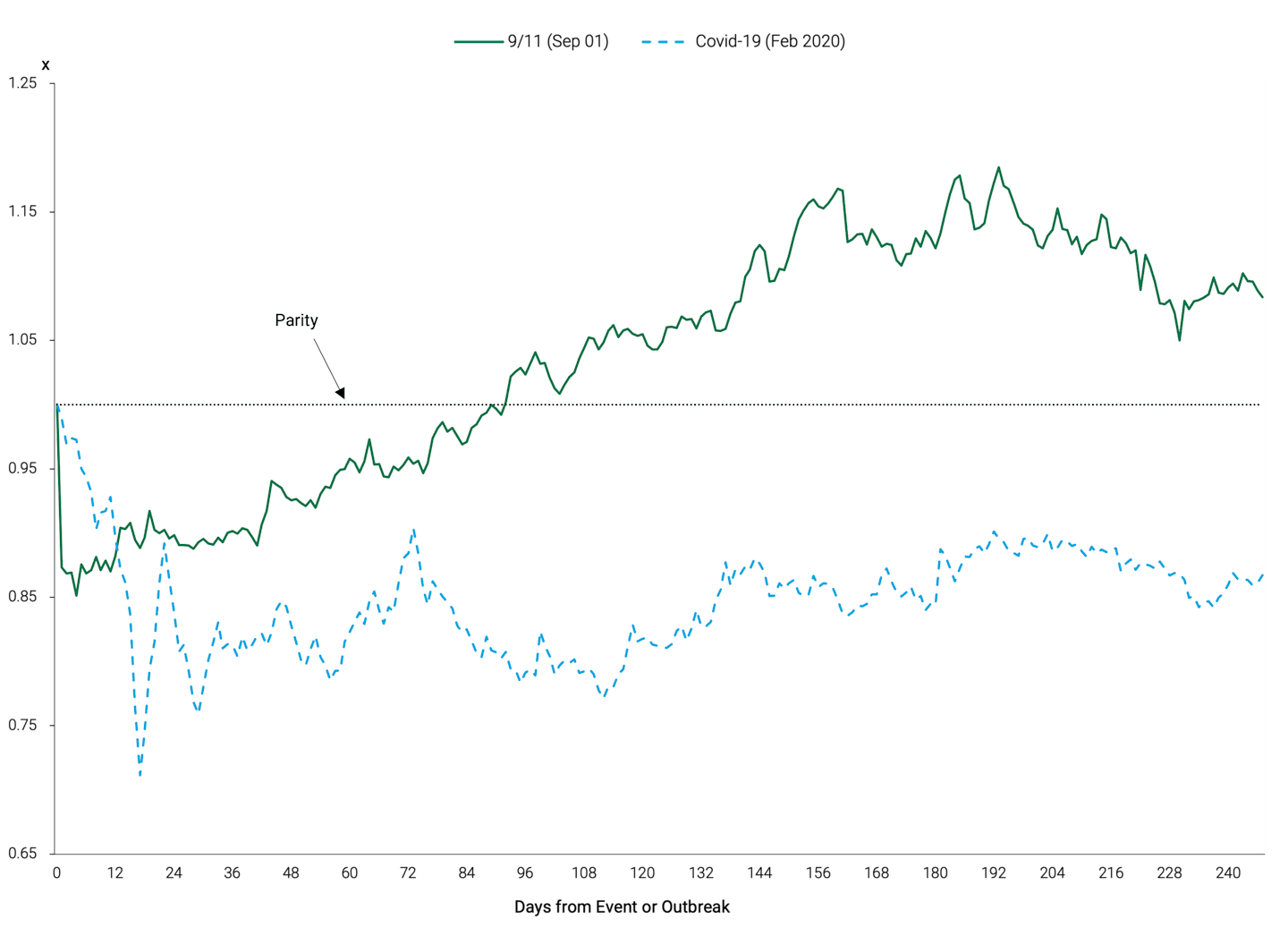 Data from 1/1/2001 - 2/16/2021. Source: Empirical Research Partners Analysis. Indexed to onset of the shock. Drawn from the largest 1,500 leisure and travel stocks, including hotel, cruise, resort, casino, restaurant, leisure product and airline. Relative returns after exogenous shocks daily data compounded: Capitalization-weighted data.
Upper-Income Leisure Travel Could Be Positioned for a Rapid Recovery …
As we look ahead to a future with effective vaccine distribution and eventual herd immunity, we believe travel is poised to rebound sharply. Not all travel is created equal, however. In our view, leisure travel is likely to recover much faster than business travel for various reasons, including significant pent-up demand. Travel Association survey data as of January 2021 show nearly half of American travelers expect to travel for leisure in the next three months, while a similar proportion reports being excited about the prospect of future travel.
As a result, we think it's reasonable to expect that as we experience significant uptake in vaccine rates across the adult population, we will see a major recovery in leisure travel demand. As vaccinations become ubiquitous, we expect to see the international borders reopen, enabling travelers to see family, friends and the world once again. 
We believe a certain subset of consumers is well positioned to lead the travel recovery. Our intuition is that high-income individuals typically love to travel, can afford to travel and have been unable to do so for an extended period. Data from Kift Research show the top 20% of Americans by income account for 50% of all travel spending.
As a result of the pandemic, these same consumers have severely underspent their incomes/stimulus since March 2020. This underspending likely means they have both the desire and financial wherewithal to satisfy pent-up demand for travel as we reach herd immunity. Figure 2 illustrates the extent to which spending has lagged among high-income earners during the pandemic. We believe this underspending means these consumers have accumulated significant dry powder to support a meaningful rebound in demand for the activities they missed most, including travel.
Figure 2 | High-Income Earners Could Have the Will and Means to Fuel a Sharp Rebound in Travel Spending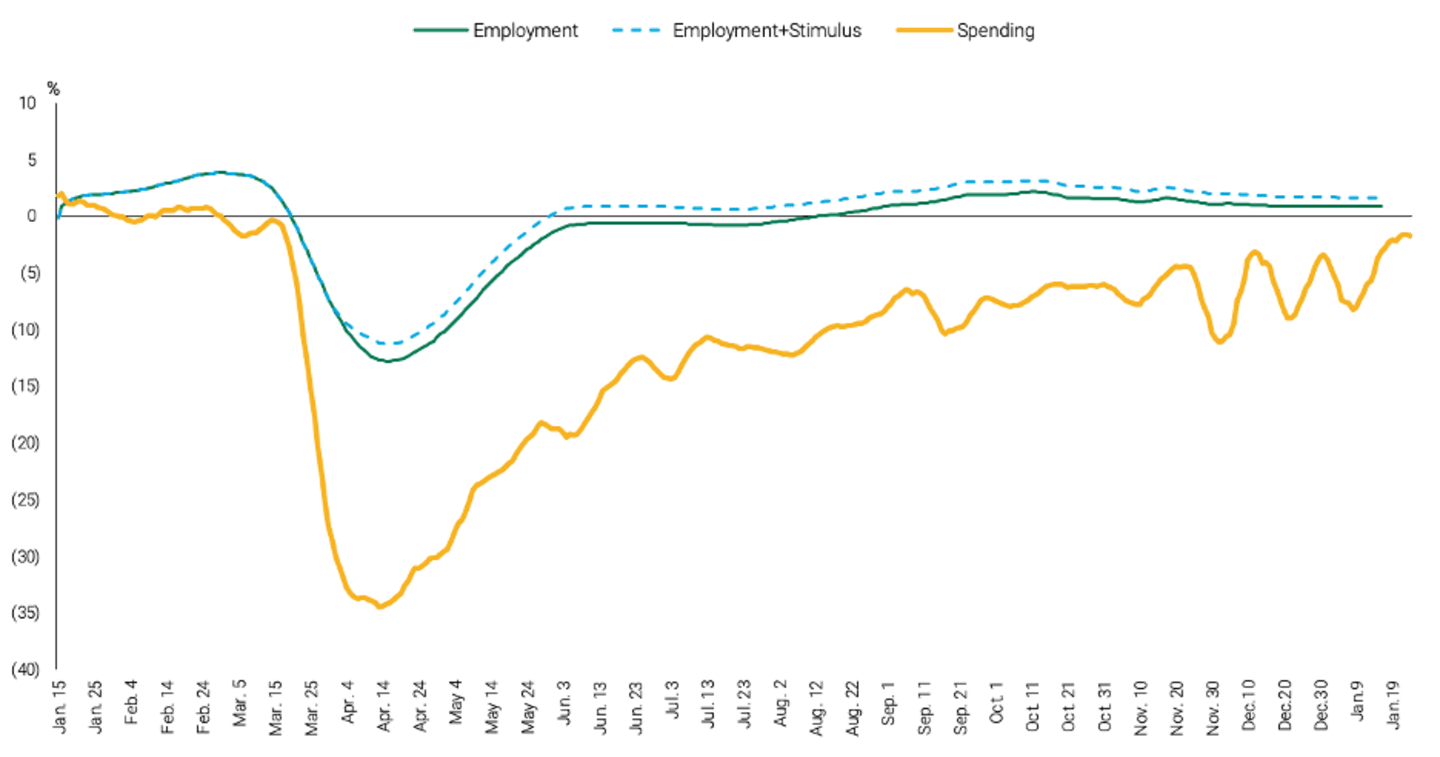 Data from 1/15/2020 - 1/24/2021. Source: Tracktherecovery.org, Empirical Research Partners Analysis and Estimates. The top quartile of income spending and employment growth indexed to January 2020. Spending and stimulus data smoothed on a 10-day basis.
Middle-income consumers have also underspent their incomes/stimulus, just not to the same degree as upper-income consumers. In contrast, many lower-income consumers have overspent their incomes/stimulus as finding durable employment has typically been more challenging for this demographic.
The implications of this reality extend far beyond travel. In general, we expect a K-shaped economic recovery in which middle- and upper-income consumers rebound quickly, and lower-income echelons likely endure a longer, more difficult recovery.
… Business Travel, Not So Much
While we anticipate a significant snapback in upper-income leisure travel, we can't say the same for business travel. According to the Global Business Travel Association, just 6% of businesses surveyed have resumed noncritical business travel. And just one-third of businesses expect to resume such travel in the next five to eight months.²
Why is business travel so different? First, many businesses have adapted during COVID to virtual meetings that have generally proved to be a reasonable substitute for traditional face-to-face meetings. Second, many companies have noted the significant savings from reduced travel budgets. We believe these firms will want to at least partially maintain these cost savings post-pandemic to benefit their bottom lines. Additionally, we expect many companies to err on the side of caution by putting employee safety at the forefront of their decisions about when to return to normalized levels of work travel. So, it's hard to define what "normalized" work travel will look like after we achieve herd immunity but suffice it to say we believe it will materially lag the rate of consumers' return to leisure travel.
Even Secular Growth Companies Can Ride a Cyclical Wave
On one hand, the prospect of herd immunity may raise the outlook for growth and suggest a positive outlook for economically sensitive stocks more broadly. But, on the other hand, we've tried to show that even in travel–one of the pandemic's most disrupted industries–the rebound will likely be uneven.
We believe this argues for a highly selective investment approach focused on identifying high-quality companies with sustainable competitive advantages. Such distinctions explain why we we're not investing purely from a thematic perspective. Rather, we are looking to use the current challenges facing these stocks to find companies that could compound value for our shareholders over long-term, multi-year horizons.
"COVID-19 Travel Industry Research," U.S. Travel Association.
"COVID-19 Weekly Travel Data Report," U.S. Travel Association.
This material has been prepared for educational purposes only. It is not intended to provide, and should not be relied upon for, investment, accounting, legal or tax advice.
References to specific securities are for illustrative purposes only, and are not intended as recommendations to purchase or sell securities. Opinions and estimates offered constitute our judgment and, along with other portfolio data, are subject to change without notice.
The opinions expressed are those of American Century Investments (or the portfolio manager) and are no guarantee of the future performance of any American Century Investments' portfolio. This material has been prepared for educational purposes only. It is not intended to provide, and should not be relied upon for, investment, accounting, legal or tax advice.