U.S. vs. Europe: A Tale of Two Inflations
Who has an easier path to recovery?
By
Bernard Chua, CFA,
Jim Shore, CFA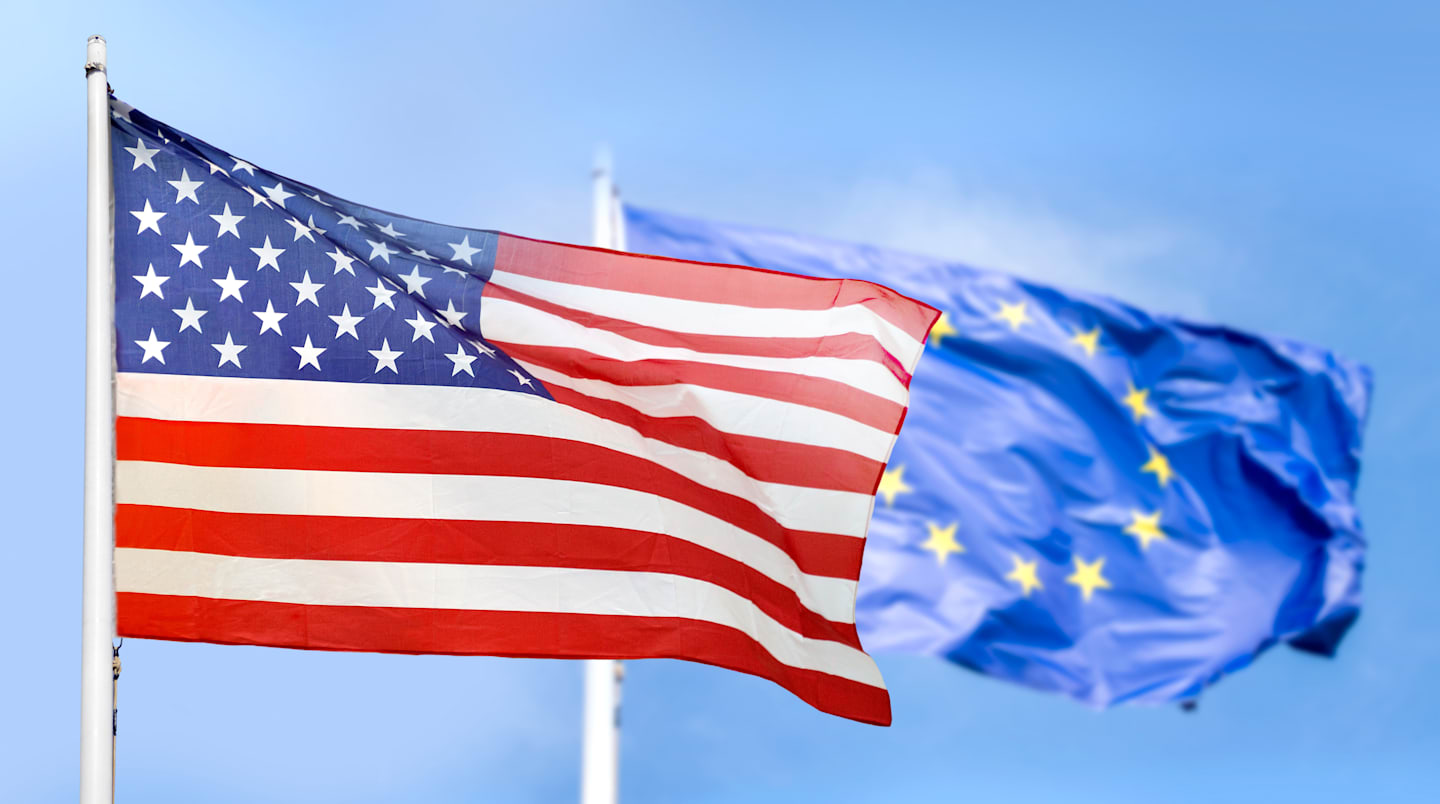 Headline inflation rates in the U.S. and Europe are similar, but the composition of the underlying data in the two regions differs greatly. Demand is driving significantly higher U.S. core inflation, while energy prices are a more significant factor in European headline inflation.
Differences in headline inflation rates reflect divergent fiscal and financial responses to the pandemic. They also help explain central banks' varying approaches to combatting higher prices.
For global investors, the persistence of core inflation in the U.S. could be more problematic than the potentially transitory energy-driven data out of Europe.
Not All Inflation Is Created Equal
Headline inflation in the U.S. and Europe recently topped 8%, the highest level in four decades. A closer look reveals that while overall inflation was similar, the components of U.S. and European inflation, particularly core inflation, are quite different. How each region got to where it is, and the steps to resolve this situation have important investment implications for global equity investors.
U.S. Demand-Pull Inflation vs. European Cost-Push Inflation
Core inflation, which excludes volatile energy and food prices, has been significantly higher in the U.S. than in Europe. Higher core prices are notable because economists generally consider core inflation data a better predictor of more persistent inflation.
The data indicates U.S. inflation is more demand-driven due to the rise in consumer spending as the pandemic waned. Wage inflation has also had a significant impact due to the competition for workers. (Yet data suggests wage inflation is easing in the U.S., and real wages have started to decline in the face of higher prices.)
In Europe, higher energy costs are a much larger component of inflation numbers. As shown in Figure 1, this reflects a 39.1% year-over-year rise in fuel prices compared to 34.6% in the U.S. as of May 31, 2022. It's important to note that energy prices, including natural gas and gasoline, are rising from a higher base in Europe.
The war in Ukraine has exacerbated already strained supply chains, especially those involving natural gas, commodities and wheat. Even though higher energy costs are having an outsized effect on European economies, the impact is potentially transitory since resolving the war would help alleviate supply shortages and bring down prices.
High energy prices have a comparatively more minor yet significant impact on the U.S. Pain at the gas pump and spikes in travel costs (e.g., airfares, hotel prices) are altering spending patterns.
Figure 1 | U.S. vs. Europe: Data Paint Different Inflation Pictures
Inflation Components - Eurozone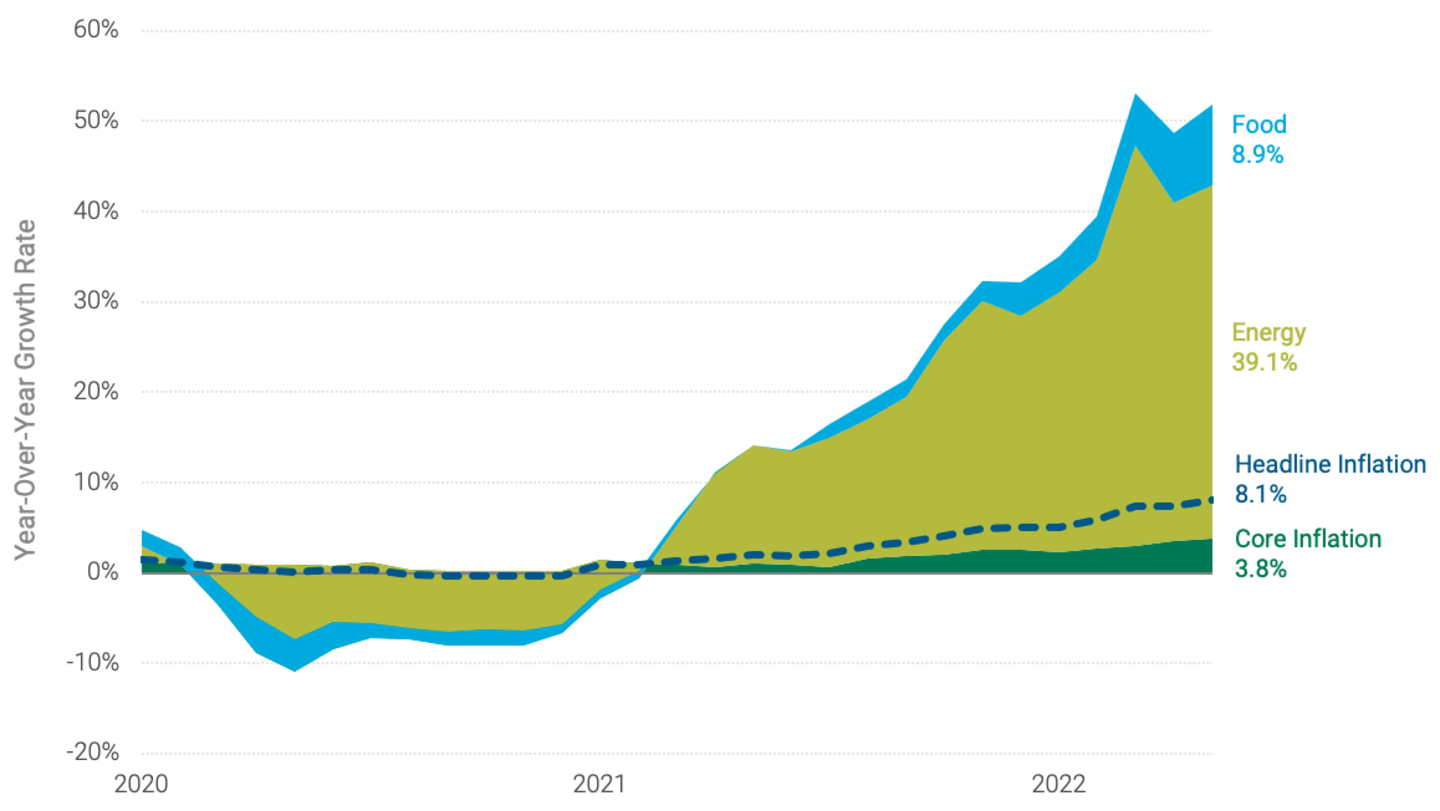 Data from 1/31/2020 – 5/31/2022. Source: FactSet, Eurostat. Headline inflation in the eurozone is based on the Harmonised Index of Consumer Prices (HICP), the European Central Bank's measure of consumer price inflation. Core inflation is the HICP excluding food and energy.
Inflation Components - United States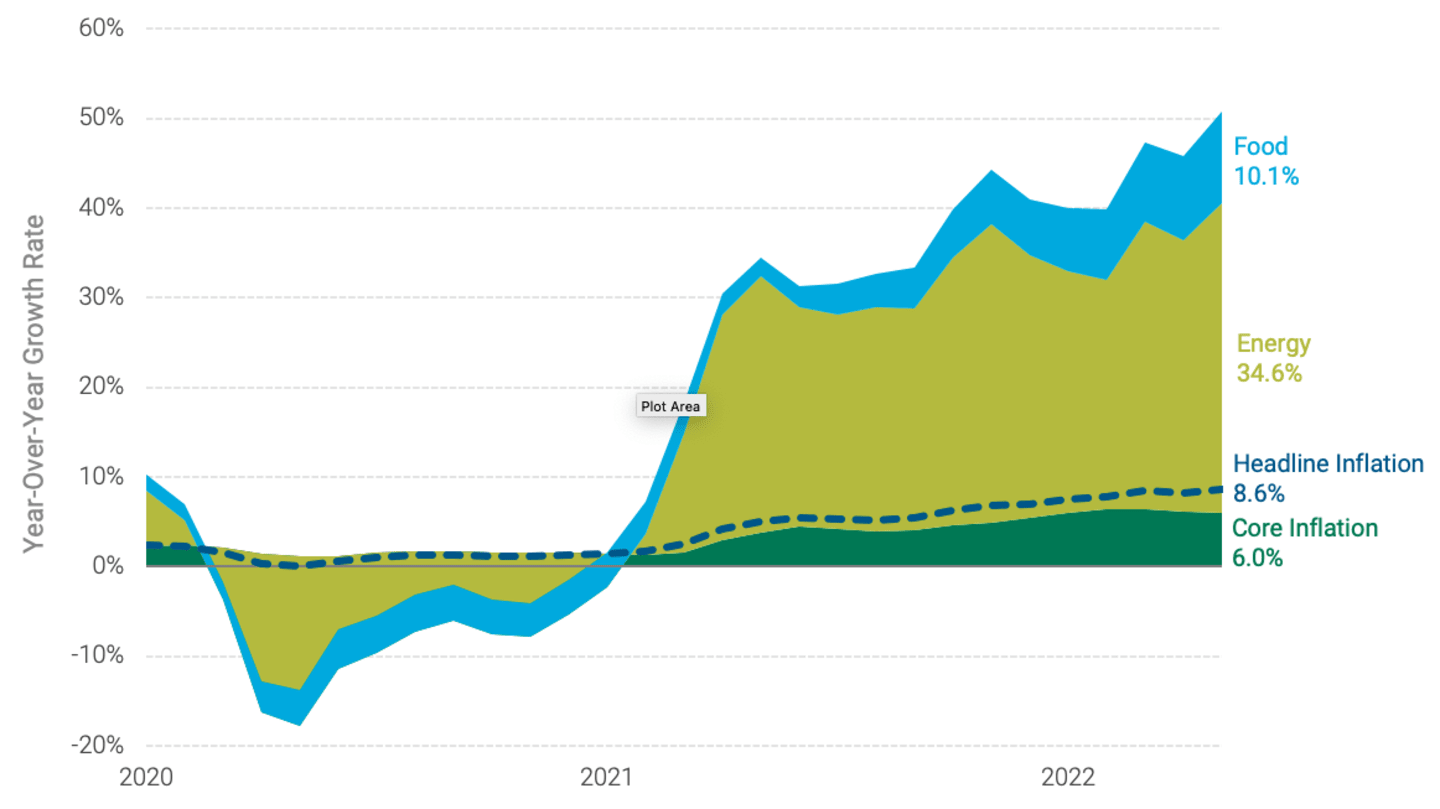 Data from 1/31/2020 – 5/31/2022. Source: FactSet, Bureau of Labor Statistics (BLS). Headline inflation in the U.S. is based on the Consumer Price Index (CPI), the BLS measure of consumer price inflation. Core inflation is the CPI excluding food and energy.
Differing Responses in U.S. and EU Created Fork in the Inflation Road
Governments and central banks worldwide moved swiftly in 2020 to support their economies in response to the pandemic. They implemented fiscal and monetary stimulus measures to encourage demand and preserve jobs. Differences in the number and frequency of these moves critically affected the subsequent inflationary response in each country.
Did Stimulus Checks Atop QE Cause U.S. Inflation?
The U.S. government supplemented quantitative easing with more than $5 trillion in direct stimulus payments, according to the Congressional Budget Office. This massive response supported the economy and helped bring about the sharp V-shaped recovery in spring 2020. However, the size and frequency of stimulus payments increased the national debt and heightened inflationary pressures.
The U.S. response also helped fuel the "Great Resignation," in which millions of workers left their jobs or declined to return when their employers rehired. The subsequent competition for qualified workers in all industries contributed to wage inflation greater than in Europe.
Europe Implemented a More Measured Response
While the European Central Bank (ECB) and individual European governments initiated similar support mechanisms, inflation in Europe was initially less severe than in the U.S. for two reasons:
Interest rates across Europe hovered near, or even below, zero, so the ECB and Bank of England had little room to move.

The magnitude of the stimulus was much smaller than in the U.S., both in absolute and relative per capita terms. Subsequently, recovery was slower, and inflation was lower.
Contrasting Responses to Inflation May Lead to Different Outcomes
The Federal Reserve's (Fed's) faster and more aggressive response meant that recovery and subsequent inflation occurred sooner in the U.S. In contrast, the ECB announced a larger-than-expected 50-basis point increase – its first hike in 11 years – in late July. Extrapolating, we expect inflation to peak in the U.S. before it does in Europe.
The U.S.'s lower reliance on energy imports (relative to Europe's dependence on natural gas from Russia, for example) should also lower relative inflationary pressures as the Northern Hemisphere heads into colder autumn and winter weather.
Inflation Forecast: How Will It Play Out?
How inflation plays out in the U.S. and Europe depends on how well the central banks manage the give and take between slowing demand and supporting growth.
U.S. An aggressive Fed has moved decisively and is telegraphing more hikes through 2022 and 2023. However, if it's too aggressive, the Fed could choke off growth and bring on recession in the U.S. If it's not bold enough, the central bank could fail to get inflation under control before it leads to even more economic softening.

Europe/U.K. Even though the ECB and Bank of England were less aggressive in their initial response, they are now moving in the same direction as the Fed. Each is attempting to achieve the balance of a soft landing as prices continue to climb.
A lot depends on the war in Ukraine. Europe could recover quickly if the conflict is resolved and energy and commodity shortages ease. But prolonged war could heighten inflationary pressures heading into the colder winter months.
Higher core inflation in the U.S. could be more concerning to global investors because it's potentially more persistent. This data reflects higher consumer prices, rising rent/housing costs and higher wages. Early evidence suggests aspects of core inflation in the U.S. may be plateauing, but it's uncertain when it may subside.
U.S. housing is feeling the effects of higher mortgage rates, and supply is improving as rates rise. Weekly jobless claims are inching up, and we note news of layoffs, especially in technology.
Meanwhile, energy costs are a primary driver of European inflation. Any resolution of the energy bottlenecks could lead to a rapid deceleration in European inflation data, which would create a better environment for investors.
International investing involves special risk considerations, including economic and political conditions, inflation rates and currency fluctuations.
The opinions expressed are those of American Century Investments (or the portfolio manager) and are no guarantee of the future performance of any American Century Investments' portfolio. This material has been prepared for educational purposes only. It is not intended to provide, and should not be relied upon for, investment, accounting, legal or tax advice.
This material has been prepared for educational purposes only. It is not intended to provide, and should not be relied upon for, investment, accounting, legal or tax advice.