American Century® Fixed Income Funds
Pursuing conviction-driven outperformance


Clients around the world look to us to pursue consistent results with portfolios of individually researched bonds.

Investment Philosophy
We believe consistently strong risk-adjusted results can be achieved through a diversity of active positions that seek to exploit inherent inefficiencies in the bond market. We rely on the power of fundamental research –augmented by quantitative methodologies – to seek consistent excess returns over a full market cycle. 
Investment Process
We pursue these opportunities by following a systematic, repeatable process that's driven by fundamental research. This research-driven approach is complemented by proprietary quantitative models and tools designed to increase the team's efficiency.
Outlook
Integrates analysis of economy, markets and policies to establish top-down views on global economic growth, inflation, central bank policies, and interest rates
Asset Allocation
Considers economic fundamentals and technical rich/cheap sector analysis to determine relative value
Expected return scenario calculations converted to information ratios and ranked by relative attractiveness
Security Selection
Analysts identify attractive issues through deep fundamental research based on sector-specific analytic frameworks
Portfolio managers, analysts and traders collaborate to manage sector exposures, issuer weights and security selection
Risk Management
Risk Management team independently reviews portfolio holdings' compliance with risk budgets
Proprietary tools help test and monitor portfolio exposures, apply scenario analysis and evaluate potential trades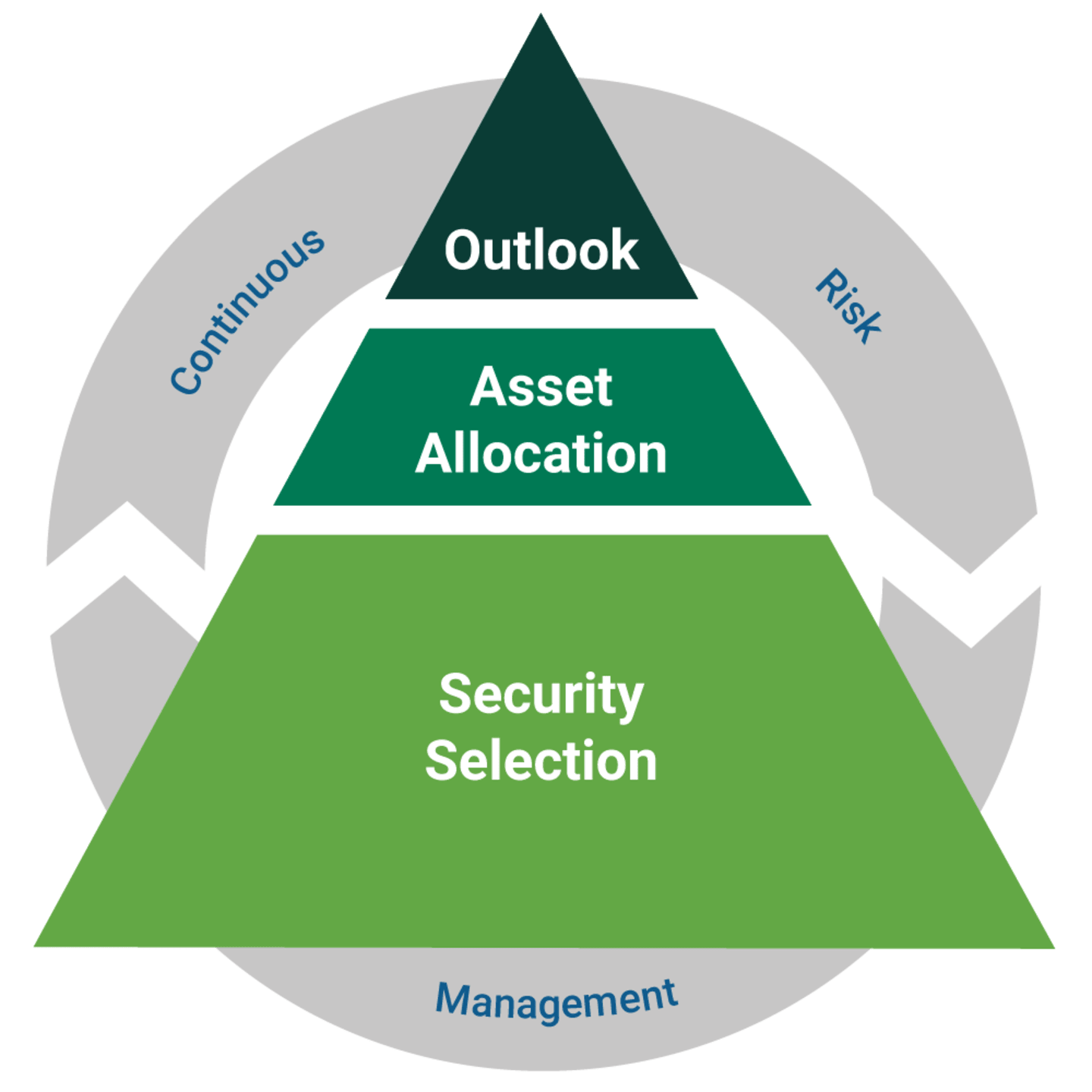 Why American Century?
Whether you're looking for income, diversification, inflation hedging or tax-managed solutions, our fixed income portfolios seek to benefit from strong markets while pursuing reduced drawdowns in declining markets.

Global Expertise, Nimble Execution
We believe our efficient, scalable size allows our team to identify and invest in attractive issues that can have a material impact on portfolio performance.
Focused on Consistent, Repeatable Results
We pursue excess returns over full market cycles by emphasizing risk management while seeking to capitalize on high-conviction opportunities.
Rooted in Active Management
We build portfolios bond-by-bond through in-depth proprietary research, seeking to avoid risks inherent in indexed strategies.
47
investment professionals
21
years average industry experience
11
years average team collaboration
$41.7
billion in assets under management
Source: American Century Investments.
All data as of 12/31/2022.
Global Fixed Income Investment Committee
Senior leaders set outlook for global economic growth, interest rates, yield curve, inflation and the risk environment
Sector-Aligned Teams
Rates & Currencies • Government Securities • Corporate Credit • Securitized Credit • Municipals • Emerging Markets • Cash/Cash Equivalents
With Portfolio Managers, Analysts and Risk Management
Strategy in Focus: Short Duration Strategic Income
Seeking attractive income regardless of the interest rate environment.
Municipal Bonds: Building Blocks for Diversified Portfolios
Helping address challenges many investors face today.
Exchange Traded Funds (ETFs) are bought and sold through exchange trading at market price (not NAV), and are not individually redeemed from the fund. Shares may trade at a premium or discount to their NAV in the secondary market. Brokerage commissions will reduce returns.
Investment return and principal value of security investments will fluctuate. The value at the time of redemption may be more or less than the original cost. Past performance is no guarantee of future results.
Diversification does not assure a profit nor does it protect against loss of principal.
The information is not intended as a personalized recommendation or fiduciary advice and should not be relied upon for, investment, accounting, legal or tax advice.
Mutual Funds: American Century Investment Services, Inc., Distributor.
Exchange Traded Funds (ETFs): Foreside Fund Services, LLC - Distributor, not affiliated with American Century Investment Services, Inc.